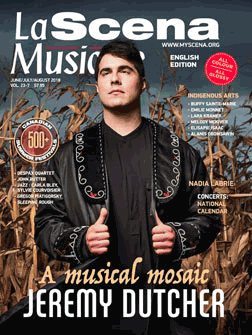 This page is also available in / Cette page est également disponible en:

Francais (French)
From July 20 to 22, Ottawa will welcome the fourth edition of the Capital Ukrainian Festival. More than 500 artists from all corners of the country as well as the United States and Ukraine will ­converge for this three-day weekend event.
Jane Kolbe, the organizing committee's ­president, wants the event to be a truly global and multicultural experience. There will be ­traditional music to be heard, songs to be sung and dances to be seen. But the program also ­offers a wide array of cultural activities for young and old, including a village market, a food court, a beer garden, art workshops and guided tours.
Last year's edition made its way into the top-100 list of cultural events in Ontario. Not bad for an upstart! Kolbe attributes the success to the wide reach of its cultural and artistic programming. In its first two years, the festival was ­acknowledged for its originality by making the short list of finalists for the Ottawa Tourism Prizes.
"Our estimates tell us that some 6,000 tourists took part in the festive activities scheduled over that weekend," Kolbe says, "all of which are aimed at celebrating the cultural diversity of our country."
An Opportunity to Inspire and Bring Together
Given its multidisciplinary character and the breadth of artists featured, the festival is ­conceived with the Canadian multicultural ­perspective in mind. Of course there is an ­important Ukrainian component to the program, strengthened by participants from that country.
The creative essence of this event is what makes it so inspiring and enticing. This is what motivates Kolbe and her team to seek new programming angles from year to year. Not only do they bring together traditional and modern music styles that combine Ukrainian and Canadian influences in ­interesting ways, but they diversify the ­presentations by incorporating everything from stage performances of folk dance ­ensembles to cooking and handicraft ­workshops.
High priority is put on activities for the whole family. One attraction is a zoo. As Kolbe notes: "We offer a broad and comprehensive cultural and artistic experience that caters to a wide range of tastes." This scope of activities tailored to all age groups explains its growing popularity.
Of its many features, one is bound to attract the attention of readers of this magazine: the increased place given to classical music in its program, both in operatic and chamber music concerts, a number of which are co-presented with Ottawa Chamberfest.
Translation by Marc Chénard
For program details, go to: capitalukrainianfestival.com
This page is also available in / Cette page est également disponible en:

Francais (French)