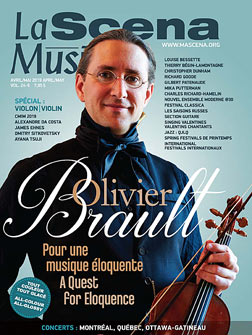 Reality television has launched the careers of several pop stars who have become household names. From 2016 to 2018, Radio-Canada in Montreal applied that formula to the classical music scene in a show called Virtuose. The brainchild of host Gregory Charles, Virtuose showcased prodigies aged 11 to 17 playing top-drawer classical music. This May, two past winners, pianists Emily Oulousian and Zhan Hong Xiao, will be featured with the McGill Chamber Orchestra in a program called Young Virtuosos playing Mozart's Concerto for Two Pianos under conductor Boris Brott.
"Mozart probably wrote the concerto to play with his sister, Nannerl," says Brott. "The Mozart double concerto is high-spirited and playful and romantic in a classical sense."
Brott has been very impressed with Oulousian and Xiao. Fascinated by their "technical talent and extraordinary musicality," Brott adds that this particular piece is "an ideal vehicle for these two young virtuosos."
Oulousian credits her mother for starting piano at age 5. "She brought me to the piano bench," she says. Oulousian admits that she didn't always love playing piano: "My mom even threatened to give away my piano to one of my friends if I didn't start practicing."
Xiao also recalls having a somewhat turbulent road to loving his instrument. "I started playing at 9," he says, "which some people consider to be late." He attended choir school, where piano instruction was mandatory. "I didn't like it at first, but gradually through listening to classical music, I fell in love."
"I remember hearing Beethoven's Für Elise and thinking 'I want to play this one day,'" Oulousian giggles. She started competing at age 7 and won her first competition at age 10. "I had to make lots of sacrifices, but it made me a more curious, more disciplined person. It also kept me away from screens, which is a real issue with young people these days."
After progressing through their studies quickly, Oulousian and Xiao enrolled in the Conservatoire de musique de Montréal under the tutelage of Richard Raymond. "He brought me to another level in musicality and technique," Oulousian says.
"He taught me to think before you play," Xiao recalls. "It's so easy just to sit down and bang at the keyboard." Showing his thoughtfulness, he says: "It's a bad habit to sit down and play mindlessly. You need to have an idea, think out the piece before you practice. It's more efficient. You save so much time."
Raymond speaks proudly of his students. "Emily is very outgoing with a great personality and has a wide variety of interests in life. She is pursuing a DEC in Health Sciences at Brébeuf as well as studying at the Conservatory."
Xiao is a bit of a different creature. "Zhan is totally immersed and involved in music," Raymond says. "He is very serious, intelligent and kind. He has huge potential. He recently played Tchaikovsky's First Piano Concerto as part of the Virtuose prize with the Orchestre Métropolitain at the Maison Symphonique, and he did a fantastic job!"
"Somehow, Gregory Charles heard about me and my sister, Sarah," Oulousian says of how she got involved with Virtuose, "I came into the show for the experience. It's a great way to promote classical music versus all the pop culture, and see people of all different backgrounds and all different ages doing it."
The following year, Xiao entered the competition. "Emily won the year before and we both have the same teacher," recounts Xiao of his Virtuose experience. "It's great exposure, it's hard for classical musicians to get TV exposure like this." The TV production wowed the pianists. "The audience was completely different. They had so much energy," Xiao says. "But the days were long. We'd arrive at noon, shooting would start at 7 p.m. and we'd finish around midnight." Oulousian adds: "It takes 100 minutes of work to make one minute of TV." 
Being seen publicly on such a large scale has opened a lot of doors for these young artists, including the upcoming McGill Chamber Orchestra program. The future looks bright for both pianists as they continue their studies. Xiao is taking his teacher's advice on thinking things through and focusing on one event at a time. Now he is preparing for the Canadian Chopin Piano Competition, which takes place this August in Toronto.
"I definitely plan to continue my studies in music," Oulousian says. After completing the entirety of her Royal Conservatory examinations in piano up to Grade 10 by age 13, and several times considering leaving the piano, Oulousian says she can't imagine her life without it.
"My sister plays as well, so we motivate each other," she says, "Music is a gift. I am very lucky and honoured to win, but I feel everyone came out as winners and gave us the chance to show our passion in a tour across Quebec."
The McGill Chamber Orchestra presents
Young Virtuosos on May 11 at 7:30 in Bourgie Hall.
www.orchestre.ca