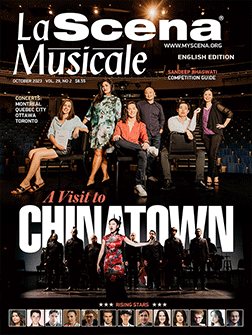 This page is also available in / Cette page est également disponible en:

Francais (French)
Although Davóne Tines may have "tumbled his way into the opera world" somewhat accidentally, his artistic output has been deliberate ever since. As a young person, he says, he didn't know where he would end up. Tines completed undergraduate studies in sociology at Harvard University, and worked at a series of arts organizations as an administrator, before considering the prospect of life as a professional musician.
Tines grew up singing – in the Black Baptist church, growing up in Virginia; at college, in a Renaissance polyphony ensemble; in the professional choir at the National Shrine in DC; and in a Greek Orthodox Church in New York City. "Singing had always been a path of least resistance," he says. Eventually, that path led Tines to a Masters degree, in performance, at the Juilliard School.
The conservatory environment at Juilliard was different from the university setting to which Tines was accustomed: it was a "very formal [setting]," that "focused on a craft, and providing students with tools to do a job." Tines questioned these tools, and the ways they were introduced to students: Why art song repertoire? Why the Western classical canon? Why the student-recital, as a means of performance evaluation?
"Put into a structure that began to feel like a 'stricture'," as he puts it, Tines asked 'why' not to refuse the standards in place, but simply to better understand an environment that was totally foreign to him. He felt a "tension," he says, "trying to find [himself]within those pre-conceived structures." Rather than being destructive, though, this tension was generative.
At first, Tines says, recitals felt like "a measuring stick for judgment rather than a forum for sharing," a form that did not resonate with him. "I felt separate from the repertoire, from the setting," he says. Disenfranchised by this sentiment, he was drawn towards projects that centered the work of contemporary, often living, composers. As a "classical singing actor," he enjoyed this genre of performance, which he found "put the necessity of communicating at the forefront of [its artistic aims]." Together, Tines' desire to understand the 'why's,' and his career as a new music specialist led to an invitation from Carnegie Hall to program and perform a debut recital.
"It was an interesting project to take on," says Tines, an opportunity "to engage the recital on [his]own terms."  The idea was met with some skepticism from friends, Tines recalls, who asked him why he would even attempt to do something creative within the restrictive confines of conventional recital performance. Tines remembers realizing, though, as he began to create his programme, that this was something of an important opportunity, a chance "to share a personal artistic statement." He took this responsibility to heart, and figured that he "should start at the very beginning."
Reflecting on the contexts in which he had been exposed to music throughout his life, Tines realized that the "foundation of his music making" was closely tied to the church. Beyond this, he observed that the music he had sung in these spaces "was all music that happened for a reason – music making that wasn't about performance, as much as it was about communication." This drew Tines, who had always been motivated by a desire to communicate and find meaning in and through performance, to sacred music as both a concept, and as material for his project.
Given this connection between communication and sacred music, and the close ties between religious music making and Tines' own biography, he decided to use the movements of the Catholic Mass Ordinary as a framing device for his own recital. Tines "thought about that structure, […] about what this ritual – these texts – really meant," and reflected on them as a universal approach to solving a problem. He took this music out of  "its dogmatic context, and [made]it about a human experience." Through this reflective process, Tines also realized that "all liturgical musics had a relation to each other." It was these ideas, and the breadth of his own vocal experiences, that led Tines to programme music from such a wide variety of musical traditions.
In Recital No.1: MASS, Caroline Shaw's a capella setting of the catholic mass, which was written especially for Tines, is interspersed by a selection of works by J.S. Bach, Handel, Tyshawn Sorey, Margaret Bonds, Moses Hogan, Matthew Aucoin, and Igee Dieudonné. "It's really enjoyable," says Tines, "to sing so many different styles in one performance. I have had such a diverse and kaleidoscopic experience, this program reflects that."
The program – which has been streamlined over the last few years, as he has performed the recital throughout North America – at once reflects on Tines own experience, and invites audiences to reflect on their own. By "sharing the personal," Tines says, he aims to "create [something]universal."
He hopes listeners will come to Bourgie Hall on October 15th with an open mind, as he and John Bitoy present a recital entirely on their "own terms."
Bass-baritone Davóne Tines and pianist John Bitoy will perform Récital N°1: Mass on Sunday October 15th, at 2:30pm, in Bourgie Hall.
This page is also available in / Cette page est également disponible en:

Francais (French)