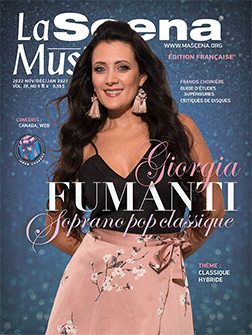 This page is also available in / Cette page est également disponible en:

Francais (French)
Life has taken a dramatic turn for Quebec native Jeanick Fournier—one she sometimes can't quite believe herself. Her love of music is finally paying off, all thanks to a chance she almost didn't take.
Growing up near Lac St-Jean, music has always been a part of Fournier's life. As a child, she sang in church. She admires Céline Dion, another Quebecer from humble beginnings to rise to musical fame, and she learned English by listening to favourite singers such as Whitney Houston, Mariah Carey and Pat Benatar, emulating their breathing, pronunciation and speech patterns. Surprisingly, she has never had any musical training, let alone voice lessons. She cannot read music and learns her songs totally by ear. But this year, she emerged as the winner of the 2022 season of Canada's Got Talent—and in October Universal released her first album, eponymously titled Jeanick Fournier. And at the age of 50, the world is opening up for her, with tours planned for 2023.
It was far from smooth sailing. As an adult living in Chicoutimi, Fournier sang in local bars, festivals, weddings and corporate events. She was making a name performing a Céline Dion Tribute show throughout Quebec and in Florida, but singing was a side gig, done mostly on weekends—not a career. Fournier needed another job to pay the bills. She found work as a palliative-care attendant because, as she puts it, "I love ­taking care of people—to help them feel ­better and make them happy." It's a feeling she also experiences when she's on stage, singing to an audience.
Over the years, Fournier dabbled in singing competitions, but these didn't lead to any major success. In fact, after trying out for Quebec's La Voix several times and not getting past the first rounds, she was so discouraged that she almost didn't audition for Canada's Got Talent. "I stared at the application form for two weeks on the table before I finally filled it out!" In the short introductory video just before she stepped on stage during the first round of CGT, it was clear that she is endearingly genuine and down-to-earth. "If I win, it is important that I give a ­better life for my children," she said. She was speaking of Johan and Emma, her two adoptive children with special needs, and the loves of her life. And when she started singing, she blew the judges away with her mighty voice, confidence, and engaging stage presence. Her dazzling performance of Céline Dion's "I Surrender" won her the Golden Buzzer that sent her straight to the semifinals. In the final round, she showcased her full range of vocal colours and a rock style with an edgy rendition of Queen's "The Show Must Go On." The rest, as they say, is history.
Winning a major television competition opened doors to recording with a major label. Her new album, just released by Universal, features "I Surrender" and 10 other songs—three of them in French. The album includes two original songs—"Ça ira" and "Moment"—and Fournier says her two favourite and most meaningful numbers are "Moment" and "Paris." Making the latter even more special is her duet with Lindsay Ell, the CGT host who gave her the Golden Buzzer. For Fournier, "Moment" is the story her life, about the roads travelled and mountains climbed to achieve her dream: "I've been searching for this moment. I'll find my own way home. I'll keep going."
Being able to finally call singing a full-time career is a dream come true for Fournier. "My voice is a gift, and my life is on the stage," she says. These days she is busy promoting her new album, appearing on radio and television in Quebec and beyond. She's somewhat of a late bloomer in the industry, but doesn't feel this works to her disadvantage. She is comfortable in her own skin. Her maturity means she knows herself well, which enables her to be more grounded. "I'm comfortable with it all," she says. "I feel like I've been doing this all my life and I love it. I feel like a fish in water!" But after 17 years, she is sad to quit her palliative-care job, and admits that she misses her patients.
Touring beckons, however. There are already plans for concert engagements in Quebec City in the fall of 2023. Fournier is excited about the opportunity to step outside her comfort zone of Quebec, to travel all over the country with her partner and children, and to meet new people.
Jeanick Fournier is on a road to stardom. And she has advice for others with a dream: "Just listen to your heart. Never let somebody turn down the fire inside you. Keep the passions in you. Sing with your heart all the time."
VIDEO: Original song "Ça ira" from her new self-titled album.
This year Fournier emerged as the winner of the 2022 season of Canada's Got Talent—and in October Universal released her first album, eponymously titled Jeanick Fournier. At the age of 50, the world is opening up for her, with tours planned for 2023.
www.jeanickfournier.ca
This page is also available in / Cette page est également disponible en:

Francais (French)