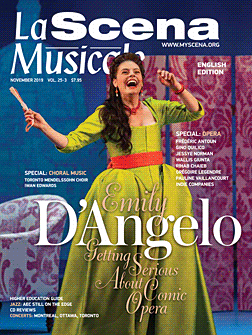 This page is also available in / Cette page est également disponible en:

Francais (French)
"At the core, we have a young girl who is trapped in the home of some guy," says Canadian mezzo-soprano Emily D'Angelo of the plight of Rosina, the closely guarded young "ward" of the rapacious Dr. Bartolo who intends to marry her for her dowry in Gioachino Rossini's The Barber of Seville. "That's just totally not a funny thing right now. So that's the trick for me – how can I justify being comedic when there's something so serious going on?"
D'Angelo fairly brims with such trenchant observations and ideas about the role. And rightly so, as she's slated to play it in the Canadian Opera Company production of Barber, running from Jan. 19 through Feb. 7, 2020.
But the remark is also a perfect example of the kind of analytic seriousness about music, art and drama that crops up again and again in conversation with this thoughtful and accomplished young singer who has been experiencing a career of dizzying acceleration in the last three years.
A native of Toronto, D'Angelo studied at the University of Toronto and was as a member of the Canadian Opera Company Ensemble Studio. She was a two-time fellow at the Ravinia Festival's Steans Music Institute and also racked up a raft of scholarship and competition wins in the course of her training.
But D'Angelo's current full-steam trajectory might be said to have ignited with her having placed among the top five winners of the Metropolitan Opera's National Council Auditions in 2016. Having made her professional opera debut the same year at the Spoleto Festival (as Cherubino in Le nozze di Figaro), and subsequently making her debut in three roles at the Met, D'Angelo also won numerous other awards and prizes – including a first at the 2017 Gerda Lissner International Voice Competition, and a second in the aria division of the 2018 CMIM competition – all of this capped off by a virtually unprecedented bouquet of first-place wins at Plácido Domingo's 2018 Operalia competition: top female singer, the Zarzuela Prize, and a shared win of the Birgit Nilsson Prize.
"It did a great thing for me," D'Angelo says of the high-profile Operalia competition. "It's the world stage. Lots of people are listening." Then, demurring with a characteristic modesty that belies the ferocity she brings to bear in such winning performances as her "Dopo notte, atra e funesta" from Handel's Ariodante (conducted by Domingo at the Operalia competition, and viewable online), D'Angelo deflects from comment on herself to focus on the virtues and value of competitions instead.
Win-Win
"Competitions make new audiences," says D'Angelo, "and introduce audiences to new artists, by way of live-streaming. It's a cool experience for an audience to watch on the computer or the TV. It's like American Idol or America's Got Talent. It has this really exciting thing about it that ropes them in, and makes them actually like opera, and want to go see a real opera.
"But as for my 'professional trajectory,'" D'Angelo muses, "it's hard to say. Nothing happens overnight."
Fair enough. But whether construed as a continuous and gradual progression from musically precocious youth (D'Angelo began singing at age 3, and has been a serious student of the cello since high school) to emergent international stardom, or as a sudden and recent burst on the musical horizon, it's intriguing to note that the role of Rosina has been woven throughout D'Angelo's development in many ways, and almost from the start. For one thing, it's a Rosina aria that got D'Angelo accepted into the prestigious and important career-enhancing Lindemann Young Artists Program at the Metropolitan Opera.
"And for the Canadian Opera Company before that," D'Angelo is quick to mention, as "Una voce poco fa" was one of her audition arias for the COC's Ensemble Studio. It's something that makes D'Angelo's upcoming COC stint in Barber all the more gratifying. "Full circle," she comments.
But the role of Rosina had lived in and with D'Angelo for far longer than that, and the director of the COC's production – noted Spanish auteur Joan Font (whom D'Angelo has yet to meet) – is likely poised to enjoy quite a trove of ideas and opinions from his starring mezzo-soprano.
Becoming Rosina
"I can't remember not having known 'Una voce…" D'Angelo says. Indeed, as a child, she would listen to recordings of the aria by Cecilia Bartoli – understandably one of D'Angelo's vocal idols. But, D'Angelo notes, the popularity of that aria derives principally from its remarkably impressive and tricky fioritura, rather than any clear prima facie psychological insight.
"It becomes a piece that has no context," D'Angelo says of the effect of the aria's being so often excerpted as a standalone, "highlight" piece. "So developing context for me was a really big step." Hence, when first deciding to begin digging into and developing a relationship with Rosina in her student days, D'Angelo instead homed in first on the more situationally complex "singing lesson" scene.
"I thought it would be a better way just to get right into the plot."
The results? "I knew that she was funny," D'Angelo recounts of her exploration. "I knew that she was very intelligent and able to put on a show. And I knew she was a singer." And only after having probed these general discoveries was D'Angelo able to track back and gain deeper access to the mind behind "Una voce poco fa."
"What is she really saying?" D'Angelo ponders. "'I just heard a voice.' Is she in love? It sounds sort of loving and sensual, but then you can tell that she's cooking up a plan – a scheme to get out of there. I filled in the blanks, learning the role, delving deeply into it, seeing how this plan develops, and what is so terrible about her scenario in the first place."
D'Angelo's long cohabitation with Rosina and her plight paid off in her first fully-staged assay of the role in 2018, in the Glimmerglass Festival's buoyant, commedia dell'arte-inspired production of Barber, directed by the festival's artistic and managing director, Francesca Zambello.
"I adore Francesca," says D'Angelo. "She is just one of the most extraordinary people I know. I was so happy to work with her, and it was a really clever production that we created." Reviewed here, D'Angelo's performance in that production was dubbed the work of "a saucy soubrette of lusciously creamy voice and unassailable comedic chops."
But the rich comedic payoff, as becomes evident in speaking with D'Angelo, is in reality the frothy and delightful byproduct of that serious and concentrated application to the harsher realities of the character's situation. "What's been interesting in working on this piece," D'Angelo says, "is finding how I can justify being comedic when there's something so serious going on. I think that to be truthful to all moments and to all aspects of the story can make for a lot of fun as well."
Technically Speaking
Along with a devotion to dramatic truth and an obvious delight in the process of character-building, D'Angelo is an eloquent oracle on technical vocal issues. Asked, for instance, to explain in craftsperson's prose the flamboyant poetics of female fioritura, D'Angelo offers a mini-masterclass.
"It's complicated," D'Angelo begins diplomatically, broaching the mystery for a layman's benefit. "A lot of it is technique, but on top of it is a very, very deep understanding of the music and what you want to do. For me, with coloratura, I barely sing it until I know the notes exactly. I learn it in my head so that my brain knows exactly what it wants to do, and then I teach my voice how to do it. If I'm wandering around not knowing the notes, that's just building bad habits. I was a cellist as well, and just practising those fast passages gave me some experience in working that into your muscle memory. It's certainly a process. You really have to work them – they'll drive you crazy, but you just have to."
To get down to specific cases, does D'Angelo have any particular insight as to the astonishing pyrotechnic effects thrown off by her beloved Cecilia Bartoli?
"Well, she's a genius," D'Angelo first stipulates. "A technique machine, and an amazing musician. I could tell you her cords are coming together so quickly and so efficiently that she's worked out how to have complete control over her voice. She's completely 'on her air,' and the cords, they're closing. She's not blowing air through them. How you make that happen is complicated, and how she does it … she's a freak of nature!"
"Everything about singing is just having a toolbox." D'Angelo continues. "How to make it happen – how to make it in the practice room versus how to make it happen on a stage, where you might be nervous or out of breath or wearing a ridiculous costume that you can't even stand up in. It's just all about having skills and tools, mentally and technically."
Next Up?
Asked what she foresees around the next bend of her yet young and profligately promising career – or even farther down the road, for that matter – D'Angelo is energized by a kind of refreshingly upbeat, Keatsian negative capability.
"It's a combination of knowing there are definitely things that I want to do – that I have to make happen – and leaving room for surprises, as well," she says. "There are certain roles I would love to sing, such as Sesto from La Clemenza di Tito [D'Angelo has already sung Annio in the same opera, at the Met], and Octavian [from Strauss' Der Rosenkavalier]. And I really enjoy contemporary music and working with composers, premiering things, having audiences hear things for the first time."
Apropos of which, D'Angelo voices what in the general ambit of operatic cognoscenti is probably a contrarian (but admirably theatrical) maxim: "I love not reading the program notes beforehand," D'Angelo says. "Just like a movie – I wouldn't want to know the end of the movie beforehand!"
Which brings things back to the COC production. "There are probably plenty who will be hearing The Barber of Seville for the first time," she speculates. "You approach it in the same manner. You're telling a story, and it could be the first time hearing it for everyone in the room. You want to make the best impression you can. I'm really looking forward to having another crack at doing this role in its entirety. I'm really excited."
For information about the COC production of The Barber of Seville, go to www.coc.ca. More information about Emily D'Angelo can be found at www.emilydangelo.com.
This page is also available in / Cette page est également disponible en:

Francais (French)