REVIEW: of the new Simone Dinnerstein classical album Mozart in Havana; and
INTERVIEWS: with pianist Simone Dinnerstein (and with pedagogue and activist Solomon Mikowsky).
What happens when a nice girl from Brooklyn, a bad boy from Salzburg, and a precocious passel of Cuban children of the Revolution all get together?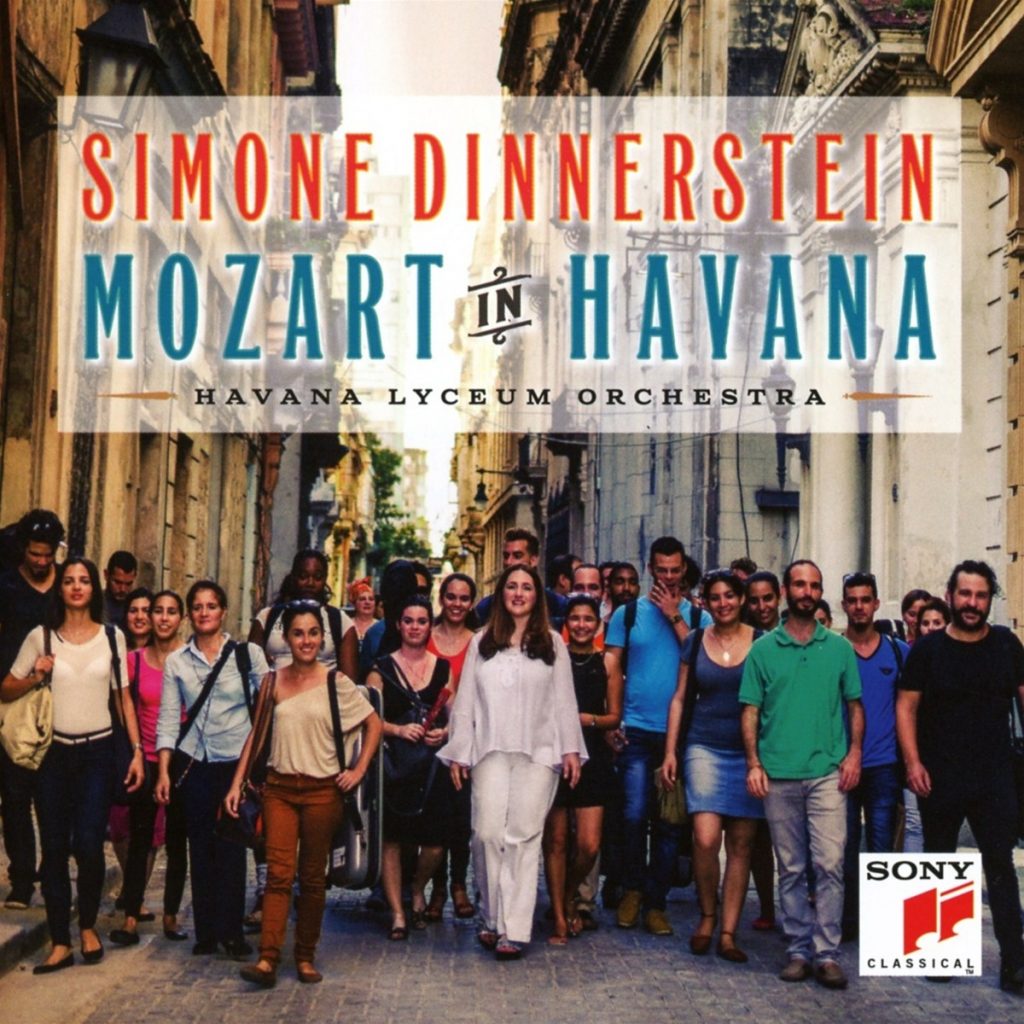 If the parties in question are acclaimed pianist Simone Dinnerstein, composer Wolfgang Mozart, and the members of the Havana Lyceum Orchestra, the answer is Mozart in Havana – Dinnerstein's new album, debuting April 21 from SONY Classical, and destined to be one of the most talked-about classical recording drops of the year.
And the buzz will only grow with a follow-on live-performance tour that Dinnerstein has engineered for the young orchestra. She will play with them in concerts across the eastern United States, from Boston on June 10th through Miami on June 23, and College Park, Maryland on June 28 (the full itinerary and a video preview is available here) – marking not only the Lyceum Orchestra's American premiere, but the first appearance by any orchestra of comparable size from Cuba anywhere in the U.S. since the Castro revolution.
That Havana Beat
The album, Mozart in Havana, features two major Mozart keyboard milestones – the three movements of his Piano Concerto 23 (K 488) in A major, and the three of Concerto 21 (K 467) in C major – which unfold here as an unbroken, plaited ribbon of pearlescent revelations. Dinnerstein's musical sensitivity, her precision and her subtlety are all well-established by now in her battery of esteemed recordings and acclaimed live concert work, stretching back to the star-making, smash release of her Bach Goldberg Variations in 2005.
The huge – and really unexpected – delight here is an instant and sustained impression of cohesion; an uncanny unity of temper and sensibility and interpretation between keyboard and orchestra. Such meeting of minds, such fusion of spirit, both are rare enough even among more seasoned players. How remarkable then to find such collaborative subtlety exemplified by players so young, and reared amidst conditions so relatively attenuated.
Dinnerstein herself speaks emphatically of how extraordinary this youthful Cuban orchestra was to work with; how gratifying their ambition to get even the little things dead right.
Indeed, the current album and the upcoming tour are the outgrowth of Dinnerstein's earlier guest appearances with the orchestra in Havana, as part of the annual Encuetnro de Jóvenes Pianistas (Meeting of Young Pianists), a festival that happens to be the handiwork of Dinnerstein's early piano instructor, Solomon Mikowsky, with whom she studied from the age of nine until she was sixteen.
Mikowsky, an internationally recognized piano pedagogue (he teaches at the Manhattan School of Music, and boasts a tutelary pedigree that stretches in an unbroken line directly back to Liszt), was born in Cuba of Russian-Polish Jewish parents and emigrated to the United States in 1955. And while he has lived and worked in New York since then, he is a legendarily tireless and generous Cuban cultural and philanthropic figure – and an unabashed supporter of and booster for the Castro regime. A charming, enigmatic, disarmingly contrarian figure.
Dinnerstein's own enthusiasm for the Havana Lyceum Orchestra has no mote of evident ideology to it; rather, the invitation to play classical music in her former maestro's island homeland simply proved too delicious to resist.
Still, the upshot may well resonate in circles larger than the merely musical.
Amidst improving relations between two long-estranged neighbors, Dinnerstein's mostly Mozart Cuban romance may well turn into a sublimely inadvertent bit of grassroots Cuban-American diplomacy, as well.
The Wisdom of Solomon
"The fact that, with all the poverty and the [U.S.] embargo, Cuba has musicians that were trained in Cuba and able to perform at this level of perfection – it says a lot about the system," says Mikowsky, every inch the colorful apologist.
"My question is: how can you make the revolution, how can you change the values, if you start letting everybody say what they want?" Mikowsky says with truculent good humor. "I prefer no liberty!"
Patrick Henry, take note.
"He really believes in the people of Cuba," the genteel Dinnerstein says fondly of Mikowsky, though Mikowsky himself might parse that endorsement a bit more narrowly.
"I judge a government by the kind of citizens it produces," explains Mikowsky. "I go to Miami and talk to Cubans who have been raised in the U.S. Then I speak to the Cubans in Cuba. I like the ones in Cuba more. I like their values, I like their attitudes toward life, toward helping each other. There's a nobility, a human element, that is very important."
The sentiments may be reciprocal. Mikowsky claims that, on one occasion, "a long time ago," in Miami, upon return from one of his trips to his homeland, he was in a car with his good friend (and subsequent Cuban representative to the United Nations) Raul Roa Kouri, and barely escaped becoming a collateral casualty of a bomb that had been planted beneath the vehicle by anti-Castro Cuban expatriates determined to exterminate Roa.
"Cubans who were watching from a window saw a group of children passing by from a Catholic school," Mikowsky narrates. "They decided not to kill all those children. So I was saved."
And while Mikowsky's politics may not be to everyone's taste, he does rate the distinction, in his telling, of having discerned Simone Dinnerstein's promise and potential early on.
"She had very special qualities not easily found among young performers," Mikowsky recalls of the young Dinnerstein. "She was very musical, very expressive. She immediately demonstrated an affinity for Bach. She had an ability to play a cantilena of Bach with a certain kind of freedom, almost as if it were something she was improvising."
Though Mikowsky founded the Havana piano festival where Dinnerstein first met the Lyceum Orchestra and its musical director, conductor José Antonio Méndez Padrón, he had no role in organizing the upcoming U.S. tour in June. But he looks forward eagerly to attending Dinnerstein's and the orchestra's New York performance date – in Central Park on June 13.
Some Havana Dreaming, Some Practical Scheming – The Artist's Life
It was a delight to chat recently with Simone Dinnerstein (her first name, by the way, pronounced "Si-mo-nuh": "My parents lived in Germany before I was born," she explains, so it's "the Brooklyn-ization of the German version of the French name") on the eve of her new album's premiere.
Here is the thoughtful, soulful and humane discourse of a true artist, a proactive entrepreneurial spirit, and a true adventurer.
Charles Geyer: Simone, you remarked, back in 2007, after the premiere of your game-changing recording of The Goldberg Variations, that your success and your career seemed almost like a fairytale come true. Does it still feel that way?
Simone Dinnerstein: Well, I 'm a few years on. I'm getting acclimatized. You know – you stay in the bathwater long enough and it starts to feel less hot!
CG: Ah, but things are heating up again, with "Havana," eh?
SD: [laughs] For me, there are lots of echoes of what happened with the Goldberg Variations with this project, in the way that I've had to do so much myself to make it happen. But it's on a different level – and it involves forty-one Cuban people as well as me!
CG: So, with the benefit of ten years or so of hindsight, what are your reflections on the interplay of proactivity – planning things, working to make things happen – and pure serendipity and good fortune in your career? Or do you think in those terms?
SD: Oh, yes. I think serendipity has played an enormous role in my life. But I also believe that this is the kind of profession where you have to have the vision, and a tremendous amount of energy and imagination and resourcefulness to carry out whatever dream you might have. I don't think that opportunities just fall into your lap.
I thought perhaps things would become easier, but that doesn't seem to be the case. Maybe it's just the nature of the kind of projects I like to do, but I think I'm always going to be very involved in how I develop myself as a musician.
Even when I was a teenager I was thinking about ways of playing concerts and meeting people. Being a performer-musician is very different from being a solely creative artist. I often compare what I do to what my father [noted artist Simon Dinnerstein] does. My father is a painter, and he has to do quite a lot – deal with collectors and museums and publications and touring exhibits and all of those things, as well as creating his own work. With me, I would have no life at all if I didn't have concerts, because that's how you exist. I couldn't simply stay in my room playing for myself. So I have to think about what works organically for me. What do I want to be doing? Where do I want to be playing? What kind of music do I want to be performing? And what kinds of projects do I find exciting and interesting? And all of the "business" part of it – collaborating with interesting musicians, or working with really great managers or record companies, or talking to interesting journalists – that is all part of a life in music. Since I released the Goldberg Variations, I've become more aware of how people work with each other, and also what kinds of things I enjoy doing and what kind of things I really don't enjoy doing.
CG: Your musical career has covered so much ground – Baroque, Classical, and very modern, as well. Philip Glass has written a concerto for you. How do you compare or contrast the experience of playing, let's say, Bach vs. Mozart? For instance, I think of Bach's keyboard music as very profound and also incredibly mathematical, while Mozart seems equally ingenious but perhaps more unpredictable, at times even intentionally eccentric.
SD: That's interesting. I find Bach unpredictable as well. Mozart's music I always view as being more spare than Bach. With Bach there is so much activity taking place all of the time – every voice is usually equally challenging and interesting and complicated. In Mozart's music, while I find it to be highly contrapuntal all the time, there is definitely a hierarchy of roles among the voices, and the activity therefore is more centered around maybe one or two lines at the same time, as opposed to maybe four or five or six. And that actually means that the music has more transparency to it. That's quite difficult, because every note becomes extremely important. So doing something like a [Mozart] concerto, where you're collaborating with other musicians, what I find the most exciting – and the most difficult to achieve – is that every single person playing has to agree on the approach. Otherwise, it starts to sound like there are two or three different interpretations happening at the same time.
Usually, when I play with an orchestra, we have very little rehearsal time. I may never have met the conductor before, I may never have played with the orchestra before, and we have to very quickly compromise on what our interpretation will be.
The thing that has been so exciting for me in the collaboration with the Havana [Lyceum] Orchestra is that they really want to work on playing it. We spent a very unusual amount of time rehearsing, and I felt that that changed the whole level of the collaboration when we went in to record.
CG: How much time did you have with them?
SD: I think we spent at least 12 hours rehearsing those concertos. And while that may not sound like a lot to you, if I were recording that with any other orchestra, we would most likely not rehearse it at all! We would most likely start the recording session – and that's the rehearsal!
CG: And to what do you attribute that difference? A different musical culture in Cuba, I suppose? As well as very different economic factors?
SD: It's economic. Almost all orchestras [in the U.S.]are union, and it's just prohibitively expensive to record with an orchestra. But, also – and this doesn't apply just to union orchestras, but to orchestras I've played with in other countries – there's a culture of "let's get this job done as efficiently as possible, because next week we're playing a different program." So you're concentrating on just lining things up, perhaps getting some of the same dynamics, occasionally a phrase done with the same articulation. It's so incredibly difficult to go deeper.
It means that everyone is just relying on their ear. They're not relying on rehearsing, they're relying on listening. Which can work, but it means that everybody has to be listening.
In this case, with this [Havana] orchestra, because they're young – almost all of them are still students – they're really involved in training themselves. This was an opportunity for them to grow musically. So there was a very different feeling. It wasn't "let's get this done quickly." It was, "You know what? We need to do that phrase several more times."
Sometimes, they would even ask me if I could play something for them so they could just listen. And they would copy what I did. I don't think I've ever had an experience like this working with an orchestra! I'm the type of person who really likes to practice a lot, to rehearse a lot, trying it different ways and seeing what happens, not having to just set something. I like the whole process. There was a lot of that feeling of process when we worked together – rehearsing, and even when we were recording.
CG: I'm seeing a theme here – there's a certain "theatricality" to much of what you've described, in the best sense. I recall, for instance, your having spoken about a teacher of yours who used to encourage you to try a Bach piece in any of a number of ways, with any number of different psychological or emotional intentions, and see what happens.
SD: Yes, that was Peter Serkin [at Juilliard].
CG: That strikes me as very much like an acting exercise.
SD: It's interesting you say that. My son is very serious about becoming an actor; so for the past couple of years we've been going to the theater a lot, and having a lot of interesting discussion about acting.
I feel like musicians have so much to learn from actors. When you go to see a play, there is so much rehearsal that went into preparing that play. You can tell that when you're there – it's really nuanced. I wish that musicians felt like they needed the same amount of rehearsal. It's very strange to me that you could go to hear a symphony concert and they rehearsed for six hours; and you go to see a play and they rehearsed a month or more.
CG: And going back to your point about Mozart's music, and the clarity that's required because of each line's "exposure" – that, too, has a theatrical ring to it. As though each voice is a "character" and must be defined fully and clearly as such in the playing. Which makes so much sense, since we know that Mozart had great theatrical instincts and affinities anyway.
SD: Exactly! Actually, I think that his [Mozart's] music is so operatic. I feel like he was always thinking of that. And certainly these concertos have an almost rhetorical nature to them. Especially the interaction between the piano and the woodwinds. There's constantly: left hand of piano and bassoon are having a dialogue; or the right hand and the oboe, or the oboe and the bassoon together. There's a lot of "talking" that's taking place!
It sounds obvious, but it's really not – everybody needs to be listening really hard while it's happening, because you have to be able to hear if somebody throws you something. How are you going to respond to it?
CG: So Mozart was the "playwright" for this recording; the Lyceum Orchestra players were, in a sense, instinctively participating like eager student actors; and I guess that, in looking to you for guidance, you were not only the star performer, but the director, too. Along with your conductor, of course!
SD: Yes, well, the conductor [José Antonio Méndez Padrón] is incredible, and he created this orchestra. They have a very special rapport with him, and he responded very much to how I was playing. So it was really a three-way interaction. Sometimes I would be showing them something, sometimes he would. And how they responded was not always expected – that's what made it so beautiful. Sometimes they would do something that I wouldn't have asked them to do, or that he wouldn't have asked them to do. And it was great!
CG: No discord or jostling of egos at all? Was it really all completely harmonious and creative?
SD: That was another thing I was really struck by! Their work ethic was incredible. We were performing in the middle of the night [the actual recording occurred over the course of three nights, in Havana's Oratorio San Felipe Neri]. I found that a little challenging! And they were gung-ho at two in the morning! "Let's do it again!" And if [Padrón] asked for quiet, they were quiet! I've played with some fine orchestras where the conductor has asked for quiet and they were not quiet.
CG: To what extent, though, might one attribute that to their being reared in what is essentially an autocratic culture anyway? This is communist Cuba, after all. So obedience may be a contingent windfall, so to speak.
SD: Well, I may have been romanticizing it and reading into it. I felt that their working together and being respectful did reflect their culture. The conductor had the string section switch seats for rehearsals – have the kids sitting in the back sit in the front, change them around so that everybody had a chance to feel what it was like to center stage.
CG: Very egalitarian – and probably would never occur in a U.S. orchestra?
SD: No, that probably wouldn't be allowed.
CG: To switch gears, there surely was some political dimension to this project, wasn't there? Surely the Cuban government was aware of the recording, and was involved on some level, weren't they?
SD: You know, it's a mysterious place! I don't really understand how things work there. SONY had to deal with the legalities of how to do the recording there. Basically everything in Cuba is government-affiliated. It's a little bit Kafka-esque.
CG: I imagine, however, that the easing of relations between the U.S. and Cuba that was occurring at just about the time you conceived this project had to be of help. Is that one of those career serendipities we spoke about earlier?
SD: Absolutely. Those kinds of things are just eerie!
CG: Was language an issue at all? I don't know if you speak Spanish, for instance.
SD: I do not. Luckily, Jose [Padrón], the conductor, and few people in the orchestra speak English. But basically we had to just speak music.
CG: How about the politics of the upcoming tour? Is there any apprehension – on either the Cuban or the U.S. side, do you think – that there could be attempted "defections" or seeking of asylum by any of the players? I'm thinking of Baryshnikov having famously defected from the U.S.S.R., while on tour with the Bolshoi Ballet in Toronto in 1974. Or is that Cold-War-era thinking old-hat now?
SD: Well, they all have to pass visa interviews in order to come. The conductor of the orchestra has been offered jobs in other countries, but he's so committed to this orchestra and to Cuba that he has stayed in Cuba.
I also have felt that they [these musicians]wouldn't be able to play like this if they lived in another country, and I think many of them realize that – that this orchestra that they have is unique, and it could only exist in Cuba. So I'm not really worried.
When I went to Havana, I just seeing zero advertising! No chain restaurant, no chain stores. Yes, it's very simple; and of course there are a lot of problems – but, at the same time, there's no homelessness. Everybody gets a free education – even medical school. There are a lot of interesting benefits, and I think there is a lot that is very beautiful about how they've made things work and their priorities.
The conservatory there in Havana is on the grounds of the former [Batista-era] golf club. One of the first things Castro did was take away the golf course and use it for a conservatory. I think that's really funny. We wouldn't do that here, for sure.
CG: You know, I'm looking at the promotional photo of you with the members of the orchestra, on a very lovely, old-word-style cobblestone street in Havana. I can't help but notice the smiles. And you might almost be a kind of pianistic Evita Peron, marching with your Descamisados!
SD: [laughs] Yes, well, I love the way they look in that photo. I feel like it captures them exactly – so easygoing. And the ambiance of that old part of Havana! I really felt on a high playing with them, and the whole thing comes through in that photo!
These musicians are living on very little money (and the recording was possible because they weren't asking for a lot of money), but, at the same time, I felt like they weren't doing it for the money. They were doing it because they wanted an incredible performance. They really wanted to master this music.
I think this tour is going to be a really exciting experience for everyone – for us here, for the audiences, for everybody who's going to interact with them. They are so inspiring.
CG: Well, thank you, Simone. This is a very special story, and the album Mozart in Havana is certain to be savored both for its intrinsic musical value and as a testament to a unique cross-cultural collaboration. All the best with its reception, and with your upcoming tour!