REVIEW: George Frideric Handel's 1708 cantata Aci, Galatea e Polifemo at Brooklyn's National Sawdust, starring Ambur Braid, Anthony Roth Costanzo and Davóne Tines, directed by Christopher Alden.
His operas, oratorios and triumphalist orchestral works are British national treasures. George Frideric Handel, the man behind Messiah and the Water Music and a certain anthem ("Zadok the Priest") used to crown every British monarch since 1727, may well be counted – along with a dynasty of royals and, of course, Victoria's cherished prince consort – as among the happiest of the sceptered isle's German imports.
So who knew that this reliable golden-boy of the Anglican musical establishment – lifelong Thuringian accent and captious Teutonic temperament notwithstanding – could hark back to formative years spent in sensual, louche, Catholic/classicist Italy?
The Italian Job
It appears that a generalized conspiracy of critical laxity about Handel's youthful Italian sojourn is finally being broken down. And a brilliantly eye-opening example of the counter-anglo iconoclasm is this recent production of Handel's 1708 three-character dramatic cantata, Aci, Galatea e Polifemo, presented at Brooklyn's "National Sawdust" on July 12, 13, 19 and 20 (viewed here July 19, 2017).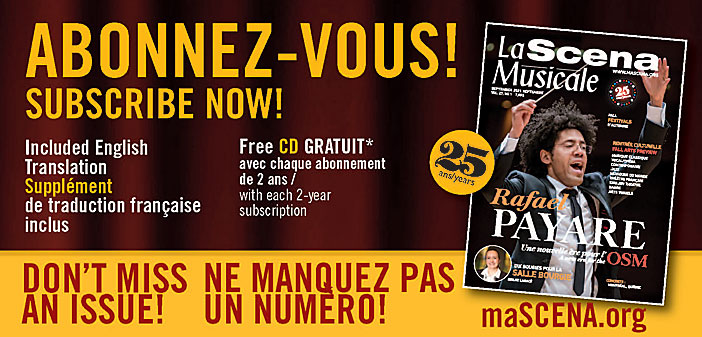 Produced by Anthony Roth Costanzo (one of the production's three stellar performers) and Cath Brittan, in association with National Sawdust and the Philharmonia Orchestra and Chorale, the cantata is a big work by the standards of the form (Handel preferred the more expansive term "serenata"). Its emotions are raw and real, and its tracking of erotic psychology astonishingly authentic and nuanced – facts perhaps obscured in more traditionally ornamental or prettified performances, but made gloriously manifest here in director Christopher Alden's constantly provoking, sometimes violent, always fervid presentation.
Never Look Bach
Unlike Bach, Handel's precise contemporary who never ventured more than a couple hundred miles from his German birthplace, Handel got around. From 1706 to 1710, while in his early 20s, he was in Italy, absorbing at firsthand warm-blooded Southern sensibilities, along with a certain Italian musical litheness, liveliness, smoothness, and passionate expressiveness. He made the rounds – Rome, Venice – and, in Naples, on aristocratic commission, he created Aci, Galatea e Polifemo to be performed as part of a highbrow wedding celebration.
So…cantata? Serenata? Whatever it is, the work has riches to burn – musical ideas, ingenious programmatic variety, viscerally arresting insights. And they are all so opulently displayed here that one is persuaded to damn taxonomy and just admit Aci, Galatea e Polifemo as among Handel's earliest (and so felicitous) ventures into opera.
Hit and Myth
Based on a popular myth out of Ovid (one with an appropriately Sicilian setting), Aci, Galatea e Polifemo dramatizes the unhappy triangle of a lowly shepherd, Acis (played here by fiercely accomplished Canadian soprano Ambur Braid), in love with the sea nymph, Galatea (played by the aforementioned protean countertenor Anthony Roth Costanzo with surreal sublimity of tone), both besieged by the grotesquely amorous one-eyed sea monster, Polyphemos (bass-baritone Davóne Tines, magnificent in one of Handel's rangiest and most challenging low-voice roles).
Things don't end well, even if there is a certain mystical transcendence in the ultimate transformation of the shepherd into a river with which the sea nymph can thereafter enjoy a sort of sublimated post-mortal bonding.
But this production takes none of that literally, instead anatomizing the action and analyzing the underlying power struggle and libidinal interplay as perhaps a species of madness.
Or not.
At any rate, the tale is here transposed out of the quaintness of Arcadian myth and placed instead within an indeterminate but highly suggestive matrix of clinical modernity. Braid and Costanzo, as the young lovers, present as hospital maintenance workers, or perhaps low-level asylum attendants assigned to a hydrotherapy unit. The only solid piece of set furnishing is a large bathtub, and the ingenuity (not to mention sheer athletic aplomb) with which the three performers move their bodies about the stage, entwine themselves around each other, slam themselves against walls and floors, and, most tellingly, descend into, emerge from, and hover over that bathtub make this Aci as much a choreographic tour-de-force as a ravishing vocal and musical odyssey.
Sound and Fury
Besides the exquisite musicianship and dazzling gender- and species-bending of Braid (soprano as male shepherd), Costanzo (countertenor as female naiad) and Tines (bass-baritone as beast, however psychoanalytically construed), the production boasts wondrously revealing instrumental work by a ten-member ensemble calling themselves Ruckus. Under the leadership of Clay Zeller-Townson, the group of keyboardist, strings, oboe and two marvelously expressive theorbo players creates a magnificent and unexpectedly new Baroque sound. Though there are moments when the production plays effective technological tricks with the sonic landscape (there are even pre-recorded portions to the evening), the straight acoustical instrumentalism is magical. There is exoticism, intelligence, suppleness, and immediacy to the musical texture here. It is Handel as one hasn't quite heard him before, and it seems utterly persuasive.
Adding to the sensory splendors of the evening were the jarring, fascinating, cutting-edge projected elements by Mark Grey; lighting by JAX Messenger; and an asymmetrical unitary box set by Paul Tate dePoo III. (Especially weird and wonderful was the set's initial swathing in eerily anodyne projections of Delft tiles replete with seafaring motifs – tiles which eventually flip like madcap Wheel of Fortune squares to reveal eyeballs, or get assailed and obscured by dark splatters of gore.)
Not Everything is Politics!
Publicity for this production speaks of finding parallels to "our current Trumpian era defined by power, class, and the brutality of thwarted desire."
Hm'mebbe…. But, really, the achievement here appears more in the extraction of the tale from any prescriptive specificity, while still managing to honor the interior, interpersonal drama with fierce and fearless virtuosity.
And such transcendent artistic illumination surely trumps ephemeral political commentary any day, doesn't it?
Dust Up!
Kudos are due National Sawdust for its participation in and hosting of this Aci, Galatea e Polifemo, a signal furtherance of the venue's growing reputation as among the most reliably rewarding destinations for innovative serious music in New York.
---
Aci, Galatea e Polifemo by G.F. Handel (with libretto by Nicola Giuvo) was presented at National Sawdust, 80 North 6th Street, Brooklyn, New York, on July 12, 13, 19 and 20, 2017. Information about future events at National Sawdust may be accessed at www.nationalsawdust.org.