This page is also available in / Cette page est également disponible en:

Francais (French)
This month, Brian Current will experience something many composers would envy: the premiere and recording of one of his major works by the Montreal Symphony Orchestra. The $50,000 Azrieli Prize enabled him to compose The Seven Heavenly Halls for solo tenor, choir and orchestra. The composer talked to La Scena Musicale about this work and his career.
Like many musicians, Brian Current first learned piano as a child.
"I was lucky my parents were so persistent and constantly got me to practice, even when I didn't want to," he says. "My parents weren't musicians by profession, but they sang in choirs and loved music. They got me into various music programs in the Ottawa region and a choir in Ottawa itself. That was my first contact with 'organized' music."
As a child, he was already inventing his own pieces, which were more amusing than the sonatas he had to play during lessons. "When I sat down at the piano, I would invent passages that resembled Mozart or Beethoven to make my mom think I was practising. I'm sure she knew, but she didn't say anything." He explains. "That's how composition became my way of interacting with music. Later I joined local rock groups. My music today doesn't sound like rock, but I think it contains the same energy and power. Also, I remember doing a local paper round, delivering the Globe & Mail. I'd get up very early and go out in the cold and dark. I'd listen to music, including the CBC, on my Walkman. This was still in the 1980s, and back then it was a good way of discovering music."
So when it came to choosing a career, he decided to study composition at McGill. "My parents were OK with my decision, but it must have been hard for my father, who was an engineer and had a steady job with the government. But he agreed, and that changed my life. I studied with John Rea and he showed me the world of contemporary music," Current says. "He made me understand that it's important for a composer always to do good work, to know his art, to practise discipline and be professional, and he made me understand that it was a valuable contribution to society. It was incredibly inspiring. I can say, hand on heart, that John Rea taught me everything I know about composition."
Before finishing his B.A., Current won the Grand Prize in the CBC National Competition for Young Composers, which enabled him to get into a graduate program on full fellowship at UC Berkeley, California. "It was a full fellowship for the four-to-five-year program. In the United States, you can get a fellowship that frees you from financial worries throughout your studies, so you can devote your energies to studying," he explains. "I was extremely privileged to have won it, because I would never have had the means for graduate studies. I learned to conduct at Berkeley and I composed my first orchestral pieces there. I gained a lot of experience and was able to begin creating a body of works that began to be played by different orchestras such as Oakland, Winnipeg and the CBC Radio Orchestra."
After completing his PhD in California, he moved to Toronto, where he lives with his family now, and joined the Royal Conservatory of Music in a part-time position. He teaches conducting and contemporary music, and has composed around thirty works to date. "All compositions require a huge amount of work and turn into marathons. You have to start early in the morning and devote many hours each day to it. It doesn't matter how many works you've already written, it's always hard," he says. "When you begin a work, it's like being in a plane, in the sky: You can see the whole landscape, but as the plane gets closer to the ground you can see the details. When the piece is finished, everything's in place. Our work as composers is to see that the plane lands on time to meet our delivery dates."
The Azrieli Music Project
Financed by the Azrieli Foundation, the Azrieli Music Project fosters Jewish music, mainly by awarding prizes to composers. Brian Current is the first recipient of the commissioning prize in a competition intended for all composers, whether Jewish or not. What is Jewish music? Current, who is not Jewish, thinks one of the aims of the Azrieli Music Project is to answer this question. The Foundation's web site explains, "For the purpose of the AMP we define 'Jewish Music' as broadly as possible, taking into account the rich and diverse history of Jewish musical traditions, as well as music by Jews and non-Jews which may be said to incorporate a Jewish thematic, or Jewish musical influence. Jewish themes may vary broadly and can include biblical, historical, liturgical, secular or folk elements. We would like to understand the definition of Jewish music as deeply rooted in history and tradition, yet forward moving and dynamic. As such, we encourage themes and content drawn from contemporary Jewish life and experience as well."
"It's a complex question," says Current. "Jewish music can be many things. I think what they're trying to do with this program is invigorate a musical repertoire that reflects Jewish culture. I've done my best and I hope it's adequate."
The Azrieli Commissioning Competition prize was offered to a Canadian composer in 2015 for the creation of an orchestral work. The eligible composer had to write a proposal explaining how their work would be relevant to Jewish music, and the jury had to decide without having heard a single note of the piece.
"To be honest, my project had no connection," explains Current. "I already had a project in mind that happened to meet the competition criteria. I was very lucky the stars were in my favour. I'd been thinking for several years about writing a large-scale oratorio of over an hour, entitled The River of Light, inspired by Dante's Paradise. This idea is found in many cultures, and it's present in Jewish culture and in the Zohar. The Seven Heavenly Halls is the name of one passage in the Zohar and so that will be the Jewish part of the oratorio, but there will also be parts that are Chinese, Hindu, Muslim, Christian, and Aboriginal. It will show that we're all united and all part of the same river. The River of Light will premiere in Vancouver in 2018."
While reading through the Zohar, Current began to hear turbulent music in his head. Shortly afterwards, he learned about the commissioning competition and at once began writing this work, which is his most ambitious to date. "The piece describes a mystical traveller moving from one celestial palace to another," he states. "Each palace has a different musical colour, and the traveller is finally bathed in divine light and love. The tenor sings in English, so everyone can understand the words, and the choir sings in English and Hebrew."
None of this process was a complete cultural shock for Current, because his wife is Jewish and they are raising their children in the Jewish culture. However, the Zohar was a discovery: "It's a vast document. I consulted specialists from pretty much all over the world to help me understand the text and adapt it to choral music, for example. It's been quite the journey for me and is bound to influence the way I work in the future."
Translation: Cecilia Grayson
A few recent recordings
Elements eternal
Chamber music by Brian Current, Andrew Staniland, Michael Oesterle
Julie Nesrallah, mezzo-soprano, Gryphon Trio.
Naxos – Catalog # 8.573533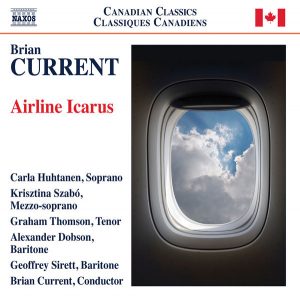 Airline Icarus
Chamber opera for five soloists, chamber chorus, nine musicians and soundfiles
By Brian Current, libretto by Alan Piatigorsky
Carla Huhtanen, soprano, Krisztina Szabo, mezzo-soprano, Graham Thomson, tenor, Alexander Dobson, baritone, Geoffrey Sirett, baritone
Brian Current, conductor
World premiere recording
Naxos – Catalog # 8.660356
About the concert
World premiere of The Seven Heavenly Halls for solo tenor, choir and orchestra with the Montreal Symphony Orchestra and tenor Frédéric Antoun, conducted by Kent Nagano, October 19, 8PM, Maison symphonique. A pre-concert talk will take place at 7PM in the ground floor lobby of the Maison symphonique. Kelly Rice will host a discussion in French and English with composers Brian Current and Wlad Marhulets, and with Ana Sokolović, composer and jury member of the Azrieli Music Project. Also scheduled: The Klezmer Clarinet Concerto by Wlad Marhulets with clarinetist André Moisan, The Age of Anxiety by Leonard Bernstein, with pianist Serhiy Salov, Adagietto for orchestra by Mahler, and excerpts from Mahler's Rückert-Lieder with soprano Sharon Azrieli Perez.
Brian Current will also give a masterclass to composition students of the Conservatoire de musique de Montréal. October 18, recital hall of the Conservatoire. Event time unknown at time of going to press.
» www.conservatoire.gouv.qc.ca
This page is also available in / Cette page est également disponible en:

Francais (French)