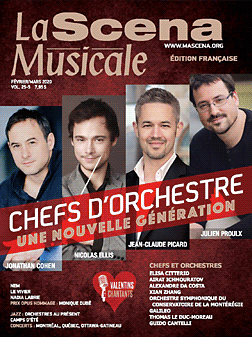 This page is also available in / Cette page est également disponible en:

Francais (French)
Xian Zhang's career spans continents. She conducts 80 to 100 concerts a year, divided between her posts as music director of the New Jersey Symphony Orchestra, principal guest conductor of the Melbourne Symphony Orchestra and conductor emeritus of the Orchestra Sinfonica di Milano Giuseppe Verdi.
Destined for Music
Zhang's musician parents named her Xian, which is Chinese for the sound of a stringed instrument. "You could tell that my parents had already set their minds on making me a musician," Zhang recalls.
Zhang began her musical studies at age 3, on a piano built by her father. To this day, Zhang credits her background in piano as the "reservoir" from which she sources her musicality as a conductor. In a chance encounter at age 17, Zhang met professor and conductor Lingfen Wu at the Central Conservatory in Beijing, where she was already taking piano lessons. At age 20 she made her professional debut when called at the last minute to fill in for Professor Wu. She conducted the The Marriage of Figaro at the Central Opera House at a special concert marking the 50th anniversary of the Central Conservatory.
Another key influence at the school was Professor Xiaoying Zheng. "She taught everybody, and she was very strict," Zhang reminisces. Zheng expected her students to conduct from memory at every lesson, and only allowed them to use a baton when she deemed them ready.
After a year of conducting with bare hands, Zhang earned the nod to use a baton.
"I was at Professor Zheng's house for a lesson," Zhang recalls. "We had just finished eating dumplings when she told me that I could use a baton. I was so excited! She gave me a chopstick from the table. She said that if I could handle this, only then would she give me a real baton."
The baton that Zhang has used for the past 30 years was given to her by another key influence at the Central Conservatory. "Professor Yu Feng actually had the length cut specifically to fit my hand, and though I've looked all over the world for something like this, I have never found a replacement. When I hold it, it feels like a part of my body."
Making an Impression in America
After earning her bachelor's and master's degrees in Beijing, Zhang moved to the United States in 1998 to pursue a doctorate at the University of Cincinnati College-Conservatory of Music.
Because of visa issues, Zhang was only able to arrive mid-semester. As soon as she landed, she hurried to class, where the professor was halfway through introducing the conducting students to the school orchestra. Zhang was asked on the spot to try her hand at Beethoven's First Symphony. Luckily, the piece was one of the very first that Zhang had studied in her undergraduate years. When she finished conducting, both the professor and orchestral musicians were stunned by her musicality and command.
In 2002, Zhang made a further impression when she captured first prize at the Maazel-Vilar Conductor's Competition. The late Lorin Maazel, who was music director of the New York Philharmonic at the time, quickly took Zhang under his wing. With him, Zhang honed what Maazel termed "conducting as a form of mental projection."
Zhang elaborates: "Maazel emphasized how a conductor needs to hear everything so well in his head that it comes out through his body movements. What specific body movements you use doesn't really matter when the mental picture is clear. So, one hour of rehearsal with the orchestra equals at least 20 hours of score study and preparation on my own."
On the recommendation of Maazel, Zhang was appointed as the New York Philharmonic's assistant conductor in 2002 and associate conductor in 2005.
"The years with the New York Philharmonic really opened my ears. It's like eating a really delicious dish," Zhang reflects. "Once you get those flavors in your mind, you are opened to a whole new world of what is possible."
Enrichment in Europe
"The next market to capture was Europe. For us orchestral conductors, we have to have some sort of background in continental Europe, because that's where the music is from," Zhang explains. "How they worked, how they played: you really need to understand that tradition."
Zhang moved to Europe in 2008 when she became the first woman to conduct the Staatskapelle Dresden. In 2009, she became the first female to lead an Italian orchestra when she was appointed music director of the Orchestra Sinfonica di Milano Giuseppe Verdi. A year later, Zhang became artistic leader of the Dutch Orchestra and Ensemble Academy. Then, in 2015, Zhang was appointed principal guest conductor of the BBC National Orchestra of Wales, becoming the first woman to hold a title with any BBC orchestra.
Homecoming and Beyond
Bolstered by her European credentials, Zhang returned to the United States in 2016 stronger than ever, as the first woman to serve as music director of the New Jersey Symphony Orchestra. Zhang has also been making homecoming appearances in her native China, having guest conducted major Chinese orchestras, toured in China with the BBC National Orchestra of Wales in the 2018-19 concert season, and championed works by Chinese composers.
As of 2020, Zhang is adding principal guest conductor of the Melbourne Symphony Orchestra to her ever-growing résumé. We may only imagine what exciting things lay ahead for a career that is ever on the rise. One thing is for sure: Xian Zhang is a conductor to watch.
Xian Zhang will be conducting the OSM on Feb. 9 (www.osm.ca) and the final round of the Concours musical international de Montreal (CMIM) on May 12–13 (www.concoursmontreal.ca).
This page is also available in / Cette page est également disponible en:

Francais (French)