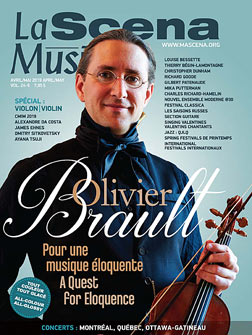 This page is also available in / Cette page est également disponible en:

Francais (French)
From the outside, it looks like a perfectly ordinary Mile End apartment. No sign, not even a name, only the number 1134. No passerby would know that it harbours an age-old expertise, passionately cultivated by Isabelle Wilbaux for more than 20 years.
In Search of the Perfect Balance
"The essence of a violin maker's work is to find lightness without losing strength," Isabelle says. "You have to understand the wood you are shaping, to remove as much of it as possible so that it will vibrate, without removing too much, so that the instrument can last 300 years." Born in Tournai, Belgium, Isabelle was trained at the International Violin Making School in Cremona, the cradle of violin making, where the Amati, Stradivari and Guarneri families lived. After further refinement in Besançon with Philippe Bodart, then in Madrid with Jose María Lozano, she opened her workshop in Tournai, then in Brussels and finally in Montreal. Here, since 1998, she has been making violins, violas and cellos that are sought after around the world.
"The Violin Maker's Work Begins When He Chooses His Wood"
A bad log cannot produce an excellent violin, which is why the choice of wood is of paramount importance. Soundboards are in spruce, which Isabelle sources from forests in the north of Italy. These trees are subject to very exacting growing conditions. "The trees must be at altitude, nestled in valleys having reduced sunshine, in a flat area to avoid twisting during their growth. But there are many other parameters that come into play."
The rest of the instrument is made of maple, which the Balkan region in south-eastern Europe is well-suited to provide. Drying, which can last several years, is also a very important step to ensure that the wood has stabilized by the time the violin-maker shapes the instrument. Crafting then comes into play, the style specific to each violin maker, who bestows the instrument with all of its richness and uniqueness.
Endless Learning
"It is often said that it takes 10 years to make a good violin maker. In fact, it takes a lifetime." When she was 13, Isabelle's grandmother gave her a magazine about Cremona violin makers. Fascinated, she kept the idea of learning violin making in mind through her high school years and eventually chose to study the craft at the French school of Mirecourt, closer to her native Belgium.
Arriving at the doors of the school at age 17, she was told that she is already "too old." All that remained was to learn Italian and try her luck in Cremona. "The hallmark of Cremona is aesthetics," she says. "The curriculum integrates the history of art and of violin making, and learning is very much based on the eye, the gaze. This is not a rehearsal, there are no short cuts. We take the time to understand what we must do to position ourselves in relation to styles." After years of study in a guild, it is now she who transmits her expertise to her young assistant, Louis Gord, from the Mirecourt school.
Isabelle's Quartet
In 1998, Isabelle won the Bourse de la Fondation Belge de la Vocation, which allowed her to build a quartet (two violins, a viola and a cello) from a single tree. She dreams that one day, having been crafted to be heard together, the four instruments will be played together. Loaned for a time to the Université de Montréal, the quartet returned to her until violinist Julie-Anne Derome, of the Trio Fibonacci, fell in love with one of the violins. Recently, Fibonacci cellist Gabriel Prynn acquired the cello, and the two instruments had the opportunity to vibrate together on Quebec stages. Today, only one violin from this 20-year-old quartet remains with Isabelle. But who knows? One day perhaps four musicians will gather for a concert in order to make this dream a reality.
Montreal, the New Cremona of Violin Making?

Several violin-makers like Isabelle specialize in contemporary violin making, that is, the creation of new instruments. For several years now, Isabelle has borne witness to a veritable explosion in local violin-making, which has also been noticed in the latest Violin Society of America contest, where violin makers and bow-makers from Quebec were highly rewarded. "What marks the arrival of very high-level violin making is the establishment of joint workshops, and the gathering of masters where everyone can look to the work of others and discuss the subtleties – I prefer the word 'secrets' – of the craft. Since these workshops started, the level has skyrocketed." Is Quebec becoming the Cremona of the New World? On the occasion of the Concours musical international de Montréal in June, the Makers' Forum, a group of Canadian violin makers and bow makers, will build a violin in real time, jointly crafting an instrument that will be offered to one of the laureates. We can then affirm this with our own eyes!
___
Isabelle Wilbaux's instruments are used by the Trio Fibonacci and by violinist Laura Andriani and cellist David Ellis of the Alcan Quartet. www.wilbaux.com
This page is also available in / Cette page est également disponible en:

Francais (French)