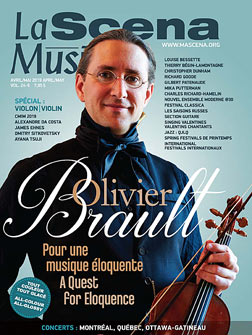 This page is also available in / Cette page est également disponible en:

Francais (French)
Donald Lavergne is starting his 12th production as musical director and his sixth as artistic director of the Théâtre lyrique de la Montérégie in Longueuil. This year is the bicentenary of the birth of Jacques Offenbach, the famous composer of comic operas, and to celebrate, the Théâtre lyrique is presenting Barbe-Bleue (Bluebeard) in a production by Étienne Cousineau.
When it premiered in 1866 at the Théâtre des Variétés in Paris, the operetta was an immediate success. The libretto by Henri Meilhac and Ludovic Halévy retained little of Perrault's tale. The evocatively-named characters (such as the peasant Boulotte, the alchemist Popolani and the king Bobêche) gravitate around the moods of a rather crazy Bluebeard. "For this production, we wanted to play with contrasts," explains Lavergne. "Our Bluebeard isn't very frightening or impressive, and the setting for the story is inspired by Montreal's Mile End." The advantage with comic operas is that the staging can be very versatile and can adapt to any context, thus appealing to a specific audience. As well as being set in a place well-known to most Quebeckers, the production very much mirrors the current times with its acerbic criticism of power and its feminist demands.
The aim of Théâtre lyrique de la Montérégie is to offer audiences a high-quality show despite modest resources. This production is based on a partnership between professionals and volunteers, combining all aspects (staging, costumes, sets, makeup) to make an original work. Some cuts have been made in the score to liven the pace – a practice common in Offenbach's day. "We're going for a younger look, closer to musical comedy, with dance numbers," Lavergne says. Soloists are mostly young university graduates or up-and-coming opera singers. Choristers are mainly amateurs – talented musicians who have a 'day job.'
All participants are keen to focus on the music and convey it to their community. So students and teachers in theatre or music, from CEGEP to university, have been invited to the dress rehearsal to discover this genre and, who knows, perhaps one day take part in future productions. This is a very welcome initiative, opening up the sometimes undervalued world of operetta to young people. We wish Barbe-Bleue great success and the same to all future productions by the Théâtre lyrique de la Montérégie.
___
Barbe-Bleue runs from May 9 to 12 at the Pratt & Whitney Canada Hall in Longueuil. Reservations: 450-332-9220. www.theatrelyriquedelamonteregie.com
This page is also available in / Cette page est également disponible en:

Francais (French)