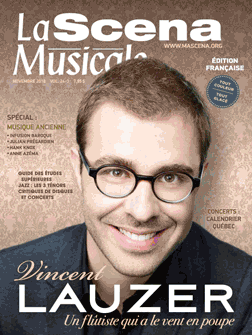 This page is also available in / Cette page est également disponible en:

Francais (French)
In 1705, J.S. Bach trekked to the northern German city of Lübeck to meet Dietrich Buxtehude. This encounter, the only one between these two men, is a significant event in itself, if not a momentous one for the Baroque era. The latter was an organist basking in the limelight when the former was all of 20, his career still in the making.
Call it a meeting of the minds, a rite of passage or a quest for truth: all conjectures are possible. All have been subject to some discussion at one time or another, more so in the last couple of decades than previously, including the period it actually happened. In fact, no single document has been found that yields any clues or indications as to what these men may have said to each another. The mystery remains intact, couching the Bach mythology with yet another conundrum.
French musicologist and Bach specialist Gilles Cantagrel published a fictionalized account of this encounter some 15 years ago (see reference below). A regular on our shores for the past 33 years, Cantagrel will pay yet another visit this month, as a guest of the Montreal Bach Festival. He will read excerpts of his book as a means of contextualizing an organ recital by Vincent Boucher so as to "dress up" the music with his personal take on that encounter.
Having published more than 25 books on Bach and the Baroque era, Cantagrel is a scholar who applies his rigorous knowledge to better understand the great masters. This expertise enables him then to map out the most credible scenario for his story.
"I think Bach planned his coup," Cantagrel explains. "He made it during the rehearsals of the grand oratorios in December 1705, in between the emperor's passing and the designation of his successor. It could not have been a better time for him."
This storyline sees the penniless Bach through a 12-day walk, his stopovers with friends and acquaintances, and his arrival in Lübeck to meet Buxtehude, who was told about the visit beforehand.
"He appears before Buxtehude", Cantagrel says, "but the man is old now. He is burdened by so much work in preparation for the two large-scale oratorios requiring musicians from all corners of the land. He might have needed an assistant for that reason alone, and would probably have been impressed by Bach's budding talent.
"The elderly man brings his visitor to his quarters, and so begins a master-to-pupil relationship, one forged between two men, both of whom are gifted. Buxtehude understands that he is now facing the man of the future. To me, it is as simple as that."
The story of this encounter between an upstart genius and another at the pinnacle of his career is strewn with key components of the Germanic Baroque tradition, the organ topping the list – this being the focal point and catalyst of the spiritual and musical life of that time. The book delves into more specialized areas. "One example of this," as the author notes, "is the relationship between a pipe's pitch with that of its width and length. This affects the harmonic quality inherent to all registers, from lowest to highest, while achieving an overall coherency of sound between them all. […] There is also an incidence on the woods used and where they come from with regards to the kinds of tin-lead alloys used in the building of pipes, their pliability and sonic texture."
It is essential to unite the know-how and the technical procedures used in organ building with the musician's duty of infusing it with spiritual meaning. "The organist sits on his bench as if perched between earth and heaven, man and God," Cantagrel says. "He acts like a mediator, like the priest in his pulpit. Towering above, he sustains and raises the assembly below him, as if harvesting a crop of prayers that he will carry up and deposit by God's throne."
While the story is fictionalized, none of the characters are. Arp Schnitger, Johann Friedrich Wender and Joachim Richborn, for instance, were all organ builders. Johann Adam Reinken and Jacob Praetorius were organists. Anton Wortmann, for his part, was a painter at the service of St. Mary's Church (Maria der Heiligen Kirche). Some readers could be scrupulous enough to appreciate the story's level of credibility in light of the musical scores and treatises mentioned, all of which could have been lying in Buxtehude's bookcase.
Cantagrel weaves a red thread through the pages by giving a life of their own to Bernt Notke's Danse macabre fresco and the church's astronomical clock, two relics sadly destroyed by the bombings of the Second World War. These are all reminders worth thinking about when considering the main issues of contention in the Baroque period, including vanity, death, time, numerals and astronomy. The pages of this book gleam with such themes in all of their spiritual and musical implications.
What we have, then, is the encounter between Bach and Buxtehude told in very passionate and humane terms. Bach would surely never have forgotten receiving all the paternal advice and technical wisdom of his elder when he too reached the age of reason.
On that account, Cantagrel notes: "There are two popular songs overlaid in the bass of the Goldberg Variation No. 30. Buxtehude used one of these 40 years earlier, in three-four time and in G Major, like Bach, who wrote his in his late years. That is a tribute to his predecessor who he met as a young man. I am very moved by that."
All that is left to say is head out to St. Joseph's Oratory to witness another meeting of minds, that of Vincent Boucher and Gilles Cantagrel. Both will bring to life this auspicious event that took place over three centuries ago. A moment to cherish, a moment to dream.
Translation by Marc Chénard
The Montreal Bach Festival presents Bach et Buxtehude : la rencontre à Lübeck at St. Joseph's Oratory on Dec. 2 at 3:30pm www.festivalbachmontreal.com
Reading tip: Gilles Cantagrel, La rencontre de Lübeck. Bach et Buxtehude, Desclée de Brouwer, 2003. (In French)
This page is also available in / Cette page est également disponible en:

Francais (French)