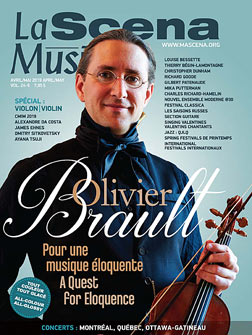 This page is also available in / Cette page est également disponible en:

Francais (French)
Funny thing about the double Grammy victory of the Aaron Jay Kernis Violin Concerto as recorded by James Ehnes. It was an accident. Or almost.
"I had no confidence at all that we could get a recording out of it," Ehnes said recently, referring to the three Seattle Symphony concerts led in March 2017 by Ludovic Morlot.
Canada's most decorated violinist was aware that the Seattle orchestra recorded its live performances, and rather well, for archival and broadcast purposes. And he did inquire as to whether a patch session would be possible if a recording — then entirely hypothetical — could be arranged. Negative.
"At first I thought, well, we can have these archival performances and learn a lot from them. But, at the end of the week, I thought we actually had what we needed."
Which involved, Ehnes confesses, a little luck. "That very complicated ensemble bit that wasn't great on Friday?" he says. "On Saturday, it worked really well."
What clinched the deal was the successful execution on one night of a challenging dialogue near the end of the piece with the drumset percussionist, who happened to be a personal friend of the soloist. "It was flying," Ehnes recalls.
With one concerto in hand, what would work as a CD coupling? It so happened that Ehnes in the spring of 2017 was playing the Violin Concerto of another American with a triple-barrelled name, James Newton Howard, who, like Kernis, wrote with Ehnes in mind. The Detroit Symphony Orchestra also had the capacity to record live performances, in this case under Cristian Măcelaru.
Add Bramwell Tovey's Stream of Limelight, featuring Ehnes with his habitual duo partner, pianist Andrew Armstrong, and voilà, a full release on the British Onyx label. Tovey, by chance, was the conductor on Ehnes's 2007 recording of the Violin Concertos of Barber, Korngold and Walton with the Vancouver Symphony Orchestra, which netted Ehnes his first Grammy.
The 2019 awards honoured the Kernis piece twice, for Best Classical Instrumental Solo and Best Contemporary Classical Composition — one award for Ehnes as solo performer and one for the composer. Plus a certain amount of reflected glory on the co-commissioners of the 32-minute behemoth: the Toronto, Seattle, Dallas and Melbourne Symphony Orchestras.
Ehnes has exclusive performance rights until March 2021. Not that many other violinists are likely to draw this particular bow of Ulysses. The concerto is ferociously difficult.
"Equal parts flattered and horrified," is how Ehnes describes his initial reaction to the music Kernis had composed for him. When asked to rank it in difficulty from one to 10, the violinist replies, "About 11."
The opening minutes, mostly fortissimo and rich in multiple stops, put the bravura of the player front and centre. Things do not get easier. Some of the contortions required of the left hand are extraordinary.
"There are parts that sound hard and they are hard," Ehnes clarifies. "But there is a lot that is just inconvenient. The funny thing about the violin is that there is a fine line between impossible and inconvenient. Players confuse the two. They see something they haven't seen before and say it can't be done."
In Ehnes's view, Kernis was not trying to write something "different" but something distinctive, expressed in own his language.
"When the Sibelius came out, I'm sure people said, 'That is ridiculous.' Maybe it was. But I'm not going to be that guy who says, 'It can't be done.' It's just a matter of convincing yourself to do something out of your comfort zone."
Recording a legacy
New music has no monopoly on discomfort. Early last month, this resident of Bradenton, Florida was in the U.K. with Armstrong, adding another recording to his cycle of Beethoven's Violin Sonatas (or Sonatas for Piano and Violin, to use the title under which they were first published).
The timing is excellent for local listeners, as Ehnes and Armstrong will be playing all ten sonatas over three days, June 13, 14 and 15, for the Montreal Chamber Music Festival in Bourgie Hall.
Of course, Ehnes has known these masterpieces for years, and indeed has already played them in Montreal, in a Beethoven bash organized by pianist Louis Lortie in 2001. But familiarity does not make for easy times in the studio.
"Sometimes the process of recording pieces that are more technically spare can be more nerve-racking than recording the technical blockbusters," Ehnes says.
"Whatever the movement is, we take the time to record it properly. It doesn't matter if it's the first movement of the 'Kreutzer' or a movement from the earlier sonatas. They all require such precision and delicacy."
Summing up years of experience brings its own kind of pressure.
"You play a piece for 20 years and feel that you have something you want to say," Ehnes, 43, explains. "Then you wake up and say, 'I hope this is the day I can say it better than any other day of my life. This is my chance to seal it.'"
Happily, the studio offers the luxury of playing in a controlled environment and exploiting the proximity of the microphone. "You can play so softly, so loudly, and push extremes that might not work in concert. You can put something into high definition."
While not as radical as his late compatriot Glenn Gould in his views, Ehnes has a fondness for the microphone that will hardly surprise those who are familiar with his huge discography on the Onyx label or aware of his astounding collection of 11 Juno awards.
The recording industry faces sombre times. Ehnes soldiers on. Part of his dedication is based on his upbringing in Brandon, Manitoba, a musical community in its way, but not a stop on the circuit of the big-name touring stars.
"I really grew up with recordings," Ehnes says. "Colleagues and friends from Montreal or New York or Toronto, it was not the same for them. They could hear Itzhak Perlman in person.
"I knew these people from recordings. Recordings are a way to reach people who really love music who can't get to a live performance. When I make a recording, a student in Swift Current, Saskatchewan might hear it and decide to become a musician. And the cycle continues."
James Ehnes and Andrew Armstrong play the ten Beethoven Sonatas for Piano and Violin on June 13, 14 and 15 in Bourgie Hall under the auspices of the Montreal Chamber Music Festival. www.festivalmontreal.org. For information on Onyx recordings www.onyxclassics.com.
This page is also available in / Cette page est également disponible en:

Francais (French)