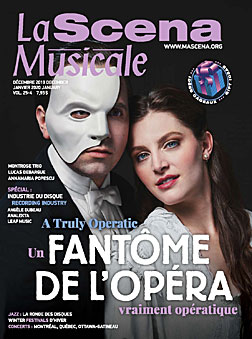 This page is also available in / Cette page est également disponible en:

Francais (French)
Something was missing at the inaugural performance of the Montrose Trio on Dec. 7, 2013 in Detroit. Something that is usually conspicuous: the name of the ensemble.
"The program listed all three of us individually because we hadn't come up with a name," Jon Kimura Parker recalled, referring to violinist Martin Beaver and cellist Clive Greensmith as well as himself. "We promised the presenter we would announce it at our opening concert."
Which they did. And celebrated backstage by opening a bottle of Château Montrose, a highly regarded Bordeaux that happens to share a name with the arts district of Houston, the city in which Parker lives, and the street in Winnipeg on which Beaver grew up.
"I have never had more frustrating and difficult but creative and crazy conversations," Parker said about finding the Montrose moniker. Indeed, "Montrose" suggested itself when Parker and Greensmith, fellow oenophiles, tired of talking about the name and went off on a tangent about their favourite reds.
Château Montrose is too expensive to be sipped after every concert, so we should not expect any uncorking after a program for Ladies' Morning Musical Club on Feb. 2 in Pollack Hall. But the playing is apparently of consistent 90-point-plus quality. This is the third Montrose appearance in less than five years under the aegis of the LMMC.
The Montrose Trio is in some respects a continuation of the Tokyo String Quartet, of which both Beaver and Parker were members. In the early 2010s this famous ensemble faced a dilemma when founding violist Kazuhide Isomura and second violinist Kikuei Ikeda decided to retire. Would Martin and Greensmith seek two new members at once? That is a tall order for a foursome.
The other option was to strike out in new chamber directions with Parker, a frequent and successful collaborator, at the piano. Such was the pitch the string players made to him backstage in Calgary on April 14, 2013 after a Tokyo Quartet farewell to that city that included Brahms's Piano Quintet Op. 34.
"It seemed like such a spontaneously good idea," Parker said. "I found out later that it wasn't spontaneous at all. They had been planning this ask for some time."
The concept was not to form a full-time touring ensemble. Martin and Greensmith, after all, were both teachers at the Colburn School in Los Angeles.
As for Parker, he was a tenured professor at Rice University in Houston with a busy concert career and a high profile as a YouTube communicator. Nor has the pianist slowed down since: his 2020 positions include artistic director of the Honens International Piano Competition, artistic advisor of the Orcas Island Chamber Music Festival and creative partner for summer programming for the Minnesota Orchestra.
"I'm one of the favoured customers of United Airlines," the Vancouver native quips.
The LMMC concert will be only the second of 2020 for the Montrose Trio. There were none in October or November. March, on the other hand, includes a run of five concerts in Italy in five days.
Such stop-and-go scheduling leaves the Montrose players with less time to explore the contemporary music that looms large in the repertoire of the Gryphon Trio, an ensemble that includes, quite coincidentally, Parker's brother Jamie as its pianist. The Montrose emphasis is on standards. For the Ladies, they play Schubert's Piano Trio No. 1 in B Flat Major and Dvorak's Trio Op. 90 ("Dumky").
The migration from quartet to piano trio was uncomplicated for Beaver, who, as first violin, was accustomed to taking the top line. For Greensmith, it involved a paradigm shift. Typically on bass duty in a quartet, the cello is more midrange-melodious in a piano trio.
For Parker, the new challenge was not about being heard in the last row of a big concert hall, an exploit for which he is noted on the concerto circuit, but rather about not overwhelming his colleagues in a setting like Pollack Hall.
"The nature of the repertoire is totally different," Parker comments. "A composer writing a trio is going to be able to develop voices in great detail and with a certain kind of purity. Whereas in a piano concerto, even Beethoven, with all of his structural brilliance, is occasionally going to have to break ranks and let the pianist play an octave passage or some big arpeggios.
"Then you get into the romantic era. I would think of chamber music as a long-running television series where the characters are developed week by week, and a [romantic]piano concerto being more like an action movie, where for no reason related to the plot there is a car chase that goes on for 10 minutes. Like a cadenza or octave passage. It is a totally different type of music."
Nevertheless, Parker perceives a link between the opposites. At Rice he gives his students every encouragement to play chamber music, because the old model of a pianist "leaving the orchestra in the dust" in a big romantic concerto has been overtaken by a more collaborative ideal. Furthermore, the natural impulse of the soloist to be heard can also animate chamber playing and prevent an excess of deference.
"That can happen, when everybody is so polite that nothing in the music stands out in relief," Parker said. "I think the piano trio repertoire very much involves three players who know when to step back and be supportive but also know when to take over."
What Parker stresses above all is how adept his ex-Tokyo-Quartet colleagues are at this special alchemy.
"They have that experience, which is a huge plus, and that has made our trio experience an incredible joy."
The Montrose Trio performs for the Ladies' Morning Musical Club on Feb 2 at 3:30 p.m. www.lmmc.ca
This page is also available in / Cette page est également disponible en:

Francais (French)