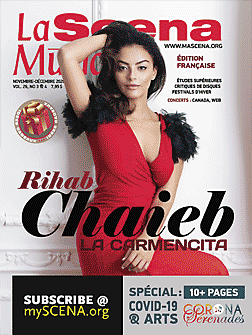 This page is also available in / Cette page est également disponible en:

Francais (French)
Some people settle for a single epiphany. David P. Leonard, the Montreal native who founded the Trebas Institute, has had a few.
One was in 1949 at the Layton audio shop, then as now on St. Catherine St. near Stanley. The recording studio upstairs was not much larger than the upright piano it contained.
"With a little window," Leonard recalled from his home in Hampstead. "I look through the little window, I play my Chopin waltz. I walk out. Then they drop the needle on the turntable, and I hear myself played back instantly."
Remarkable as this revelation was for the nine-year-old, it was not as decisive as the one he had three years later after performing a piece (it was either Bach or Chopin) at a Red Cross charity show. Rising from the piano bench to accept applause, young David discovered that dozens of listeners had walked out.
"I was devastated," Leonard said. "I didn't realize they were into pop, not classical."
And so, henceforward, was he. Part of the transition was picking up the clarinet. There was no music instruction at Outremont High, at least for boys, of whom greater things were expected. Leonard had to join the Mount Royal High School marching band to log some time on his new instrument.
Pursuing his interest in sound recording was less problematic. His parents, both immigrants from Europe, used to hold musicales on Park Avenue and later in Outremont. Cellist Lotte Brott, violist Otto Joachim and contralto Maureen Forrester were among the regulars.
The living room was outfitted with a Knabe concert grand purchased from Willis Musical Instruments. Jean-Marc Audet of Marko Studios supplied the tape recorder, until Leonard's father, a doctor, decided to buy a professional model for himself.
Leonard's fascination with the gadget was immediate. "Something like American Idol," is how he describes the scene in the living room when he started bringing in musicians to make demos.
The home business took off. Leonard recorded more than 100 bands. Some were recruited from a Sunday-night show put on by the CKVL radio station at the Queen Mary Veterans' Hospital.
Performers were drawn from young performers who could not afford RCA Studio rates. The Beau-Marks (noted for "Clap Your Hands") were among Leonard's early clients. Others were René Angélil and Patsy Gallant. Many recordings on Leonard's Monticana Records label were reissued by majors like Columbia and Decca.
As a record producer, Leonard was never far from the live circuit. In 1964 when he booked the Montreal band Bartholomew Plus 3 as a warmup act at the famous Peppermint Lounge off Times Square. "Major people – like the Righteous Brothers – would come in and they thought these guys were good," he recalls.
The Montreal upstarts wanted to get a "real" manager from New York. The option of releasing them from their contract was presented to Leonard – one of the Bartholomew Plus 3 members had a father with underworld ties – as an offer he couldn't refuse.
All was not lost. This was New York. Walking down Broadway, Leonard presented himself at Beltone Studios with a clutch of his homemade recordings.
He was promptly offered a job. Canadian citizenship was an advantage. Young American employees had a habit, at the beginning of the Vietnam War, of getting drafted.
"Let us know by Friday, you start on Monday," is how Leonard recalls the all-business conversation. "We'll take care of the paperwork."
Tina Turner, Miles Davis, Chet Atkins, Phil Spector, Dee Dee Warwick, Roy Orbison – the parade of luminaries at Beltone was impressive. At first Leonard was allowed only to observe these sessions but he caught a break in 1965 when he worked as the mastering engineer on Otis Blue, an acclaimed album by the soul singer Otis Redding.
Another highlight, to put it mildly, was meeting the Beatles between their afternoon and evening shows on Sept. 8, 1964 in the Montreal Forum. "John Lennon puts his hand on my shoulder and says, 'Imagine, what's happened to us,'" Leonard recalls. The album Imagine was a thing of the future.
By the late 1960s Leonard was back in Montreal pursuing a degree in educational technology at Sir George Williams (part of what is now Concordia) University. He got started in a doctoral program in communications at McGill and worked on teleconferencing systems when that technology was in its infancy.
But his heart remained in music. "I learned a lot in New York about the management, the production side of things, acoustics, mastering," Leonard says. "I thought: 'I'm going to start a school. I want to teach what I learned.'"
The result, in 1979, in was the first private recording-arts career college in North America. (The name Trebas combines "treble" and "bass," although Leonard notes with satisfaction that Trebas name spelt backwards is Saber – with an added "t.") Faculty in the early years included some notables. Dixon van Winkle, a veteran of Phil Ramone's A & R Records studio, had worked with Barbra Streisand, Simon & Garfunkel and James Taylor. "No wonder we quadrupled the enrolment," Leonard says.
Most Trebas students were English-speaking, although the francophone presence rose steadily over the years. Trebas alumni have won more than a dozen Grammys. Some have pursued further studies at Sir Paul McCartney's Liverpool Institute for Performing Arts.
A few students started rival schools. "I have a saying," Leonard comments. "We train our graduates and our competitors."
Curiously, the early graduates were not necessarily music-minded. "A technical kid who maybe never heard anything bigger than a three-piece rock and roll band," is how Leonard paints the portrait.
Over the years – and especially over the last decade – Trebas students have been more likely to arrive with a musical background. Indeed, music theory and ear training are now part of the curriculum.
"I want the audio students to understand the language," Leonard says. "When the producer says, 'Can we go to the eighth bar?' I don't want them to head down the street looking for it."
From its audio core, the school on Sherbrooke Street (which started on Bleury, coincidentally near the former headquarters of the audio pioneer Emile Berliner) has expanded to film and television production, business technology and concert and event management.
The Toronto branch opened in 1983. Courses were given in other cities. Widespread advertising made the Trebas brand familiar.
Last February Leonard sold Trebas to Global University Systems (GUS), a college network operating in 40 countries. Part of its appeal of Trebas to the Amsterdam-based company was the relative liberality of laws in Quebec governing international students and employment.
"I personally have no children," Leonard says. "I'd like to think that Trebas will be around like Harvard or McGill for the next hundred, two hundred years. So far GUS is maintaining the name and the image. That's one reason they bought it – because Trebas is renowned.
"They'll probably add some programs in general computers to attract people to come here. Are they going to continue the audio programs? Right now, absolutely, yes."
This page is also available in / Cette page est également disponible en:

Francais (French)