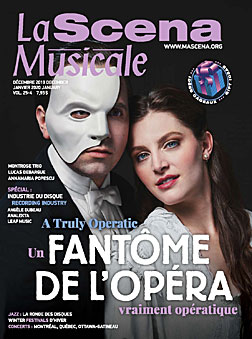 This page is also available in / Cette page est également disponible en:

Francais (French)
I'm not against streaming," François Mario Labbé said in his spacious and well-lit corner office overlooking Jarry Park. How could he be? Angèle Dubeau, the marquee artist of Analekta, the label of which he is the founding president, and not incidentally his wife, is approaching 80 million streams, a number that places this violinist at the entry end of the economic realm occupied by pop and rock performers.
Cross-reference such a figure with evidence compiled in 2019 by Midia Research stating that 31 percent of millennials identify classical as a genre they "like listening to" and you have some cause not to dread the S-word. Especially as services like Idagio and Primephonic make symphonies, sonatas and operas more accessible than they are on pop-oriented (and, for classical fans, headache-inducing) platforms like Spotify and Apple Music.
"There has never been as much music listened to in the world," Labbé says, noting that Midia has also ranked classical, as a genre, third in worldwide popularity behind pop and country.
Analekta has tried to stay near the vanguard of the streaming revolution. The obstacle is profitability, or more precisely, the lack of it in a world where most streaming services pay royalties of less than a cent per stream, generating meaningful revenue only for performers streamed in the millions. Labbé is optimistic that copyright law will be modified around the globe to bring a fairer share of profits to artists and producers who make the music and less to the Internet providers – Bell, Videotron, Rogers, AT&T, et al. – that carry it. "This will come," he says.
Labbé, 66, has been an observer of digital music dissemination from its beginnings. When he founded Analekta in 1987, he was surprised by the hearty sales of his first three releases: Dubeau's Sonates françaises program with pianist Andrew Tunis; a collection of hearty favourites by the Red Army Chorus; and the soundtrack to Le Maître de musique, a movie featuring the bass-baritone José van Dam.
These were the only albums Analekta ever issued as LPs and cassettes as well as CDs. The made-in-Quebec label quickly became a CD-only business and flourished, especially in Montreal, where retailers like Archambault and Sam the Record Man were pillars of the downtown shopping scene.
All was well in the 1990s. Then, just before the turn of the century – initially through the piratical good graces of Napster – came the MP3 format and a digital means of sharing a tune, not necessarily lawfully, with your college roommate.
The legal option was to license the track and offer it as a download for sale, a practice Steve Jobs at Apple did much to regularize with iTunes. But just as downloading was gaining momentum, another means of music consumption, with vast potential, emerged. Labbé became one of the early believers after attending the 2007 Midem conference in Cannes, where the philosopher Jacques Attali prophesied that music would eventually become a shared craft commodity, essentially free, as it was in the Middle Ages. "I came back in shock," Labbé recalls. "But I thought, 'this man is right.'"
The paradoxically modern medium was streaming, whereby the digital goods are relayed from provider to consumer more or less instantly. Spotify (a Swedish company that started operating in the United States in 2011) and Apple Music (launched in 2015) are the twin giants of the format. A monthly fee gives you the right to listen to an unlimited number of tracks an unlimited number of times. No more waiting for your download.
At first the fight seemed fair. Some adhered to the Jobs conviction that consumers wanted to own rather than rent their music. In 2015 the Recording Industry Association of America reported something like a three-way split, with downloads accounting for 37 per cent, physical products (primarily CDs) for 32 per cent and streaming for 27 per cent. (There were also small shares for ring tones and "synchronization.")
By 2018, streaming had pulled ahead to represent 75 percent of music acquisitions. Even physical products, including the retro-fashionable LP, accounted for more sales than downloads. The fact that Apple is shuttering iTunes is fair evidence of the continuing southward slide of downloading. Streaming, which offers quicker gratification, is both the present and the future. Even the anti-streaming holdout Taylor Swift has capitulated.
CDs still exist as music sources for the technophobic diehards. Artists can sell them at concerts or hand them out as calling cards. "We are producing CDs mainly to tell people about what we have," Labbé says. Only the top, top sellers – Labbé mentions Dubeau and the pianist Charles Richard-Hamelin – recoup the cost of ordering a job lot of CDs.
Forget about the much-discussed return of vinyl. "Why should I go back to bad sound?" Labbé asks. "This is not a revolution, it's nostalgia. Nostalgia for bad sound. It's good for Pink Floyd with a joint."
As for the poor CD, it cannot even be an object of nostalgia, apparently the loser in a Darwinian technological struggle and the victim of consequent shifts in consumer demand. But Labbé reminds us that major labels and the retailers that once supported them were complicit in the extinction event.
"When the CD came on the market, with state-of-the-art technology, why was it less expensive than an LP?" Labbé asks. "Who decided that? It was ridiculous."
Klaus Heymann and his budget Naxos label widened the availability and lowered the price of CDs with an A-to-Z catalogue and a roster of mostly unknown artists who were happy for the exposure. Consumers included musicians who were interested in investigating nonstandard works by the likes of Schnittke and Martinů. Dubeau herself was a Naxos customer. Labbé recounts with a smile that he and Dubeau liquidated more than 2,000 Naxos CDs when they moved from Westmount to a downtown condo.
Naxos was not the only cut-rate operator. Brilliant Classics, a Dutch purveyor, started to out-Naxos Naxos by selling their box sets in European drugstores at super-budget prices.
Chain stores also fueled the self-destructive spiral. Retailers who formerly bought recordings wholesale would now accept them only on consignment. A common strategy was to display CDs by the hundreds to suggest to buyers, spuriously, that a release was important. Important, maybe, but also plentiful.
Meanwhile, the expert sales associate who could recommend this or that version of a Beethoven symphony was replaced by a twentysomething with tattoos whose erudition ran from rap to grunge. Finally, specialists with experience in the supermarket business made retailers aware that flat-screen TVs generated more profit per square metre than CDs. FNAC, the iconic French store, got rid of 60 percent of its CD inventory in a matter of weeks.
"When a computer buys your product, you're done," Labbé adds. "You can't go to the client and say, this is Charles Richard-Hamelin, who just won in Warsaw. Take these titles, you're going to sell a lot. The computer does not understand this."
Not that Labbé harbours any soft-hearted nostalgia for the shiny disc on which his company was built. The mediocre audio quality of streaming used to be a serious deterrent to classical fans. Now CD-quality streaming is routine and higher definitions are available.
"Why are you going to listen to that?" Labbé said to me, pointing to stack of CDs I brought along to the interview. "Because of the booklet? The booklet on the Internet will eventually be much better. I'm going to give you the score, video of the recording session, all kinds of stuff."
Those who shudder at the prospect of mastering another means of consuming music should relax. "When you are on your computer, you're very close to streaming," Labbé says. "And when you start streaming, you don't go back."
Another point in favour of the new medium is the breadth of distribution it offers. "In the streaming world we talk about millions of streams," Labbé says. "Let's talk about millions of listeners.
"When I release a master of a Canadian artist, I expose that artist to 20 million people. Which was not the case in the physical world, except in the case of the majors. On the streaming platform we compete with the majors directly."
As in every revolution, not everything is certain. Analekta used to issue 30 releases a year. Now the total is between 15 and 20. Staff is not what it used to be. But as copyright problems are sorted out by legislation and playback quality continues to improve, Labbé is confident that streaming can be a boon to the classical recording industry.
"Analekta is OK," Labbé said. "We are in the middle of a big storm in the ocean. But my boat is solid enough to cross that ocean.
"Streaming is where we're going. Yes, faster and faster. But we are sailing to a goal that we know. And because we had that goal before, that is why we are going to get there."
This page is also available in / Cette page est également disponible en:

Francais (French)