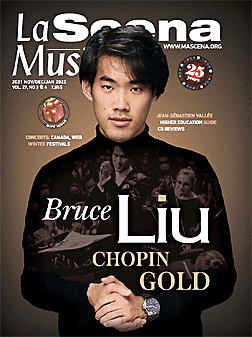 This page is also available in / Cette page est également disponible en:

Francais (French)
Enargeia
Works by Hildegard von Bingen (arr. Mazzoli, Kirkland Snider), Hildur Gudnadóttir, Missy Mazzoli, Sarah Kirkland Snider. Emily D'Angelo, mezzo-soprano. Kuss Quartet. Das Freie Orchester Berlin/Jarkko Riihimäki.
DG 4860536 – ★★★★1/2
Opera-loving insiders know Emily D'Angelo as a Toronto mezzo-soprano of exceptional lustre and promise. Deutsche Grammophon views her in this initial release (adorned with an irrelevant Greek title) as a platform for "challenging conventions and pushing boundaries," which is, in 2021, about the safest profile imaginable. All the works are by women – imagine! – and most conform to the resonant and slow-moving aesthetic protocols of New Age. Strings resonate, electronics hum and the Jesus-Christus-Kirche in Berlin supplies an appropriately otherworldly glow. This might sound like a formula for sameness, but there is enough originality in the music and beauty in the singing to satisfy the classical ear. A bleak wind blows steadily through Fólk fær andlit (Google Translate yields "People get faces") by the Icelandic composer Hildur Gudnadóttir. The rising tune of Missy Mazzoli's "This World Within Me Is Too Small" (from her opera Song From The Uproar) brings to mind Elgar's Sea Pictures while D'Angelo's warm tone summons memories of the great interpreters of that cycle. A few selections have as much instrumental content as vocal. Gudnadóttir's Liður ("Item") opens with more than a minute of electronica. Not to be outdone, Mazzoli starts A Thousand Tongues with more than three minutes of instrumental scene-setting aided by a soulfully meandering cello. Mazzoli's fellow American Sarah Kirkland Snider opts for more abrasive sonorities in Penelope: Dead Friend but remains faithful to the "haunting" ethos of the album. There are two arrangements by Mazzoli and Kirkland Snider of simple melodies by Hildegard von Bingen (c. 1098-1179). However you react to the repertoire, the focus and depth of D'Angelo's singing will leave a strong impression. Four-and-a-half stars in this case represents an evaluative average including five stars (or five-stars-plus, if such a thing can be) for the ravishing vocal sonority.
This page is also available in / Cette page est également disponible en:

Francais (French)