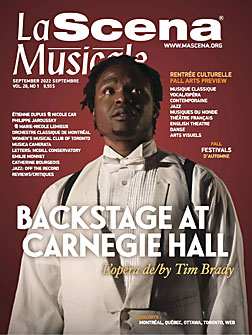 This page is also available in / Cette page est également disponible en:

Francais (French)
Orchestre symphonique de Montréal
For his second season at the OSM, conductor Rafael Payare will kick-start an ambitious multi-year journey into the heart of Mahler's flamboyant, symphonic and vocal repertoire. From Sept. 14-17, the maestro will inaugurate the OSM's 89th season with Mahler's grand Symphony No. 2 in C minor, joined by ­soprano Dorothea Röschmann, mezzo-­soprano Karen Cargill and the OSM choir, under the direction of Andrew Megill.
Moving from Mahlerian monumentalism to romanticism and impressionism, the orchestra will present Mendelssohn's A Midsummer Night's Dream and Debussy's Nocturne on Sept. 21-22, under the direction of Payare. On Oct. 12-13, the maestro will welcome Vikingur Ólafsson in two concerts that will see the ­Icelandic pianist perform Ravel's Piano ­concerto in G major and Mozart's Piano Concerto No. 24 in C major. The OSM is honoured to feature Canadian soprano Barbara Hannigan on Dec. 7, 10 and 11 for an interpretation of Claude Vivier's Lonely Child, followed by Berlioz's grandiose Symphonie fantastique for the composer's upcoming 200th anniversary.
Payare will hand the baton to Finnish conductor Osmo Vänskä on Sept. 28 and 29 for a program that will highlight two flagship works by Beethoven, Symphony No. 5 in C minor and Piano Concerto No. 4 in G major with ­invited pianist Su Yeon Kim. French conductor Laurence Equilbey will take the orchestra's reins on Nov. 9 and 10 for a presentation of Beethoven's Triple Concerto in C major. Nov. 22-24 will mark Kent Nagano's return to the OSM with a performance of Schubert's ­Symphony No. 3 and Mozart's Jupiter ­symphony. www.osm.ca
Orchestre Métropolitain
Charismatic conductor Yannick Nézet-Séguin will launch the OM's new season on Sept. 25 with Aurores orchestrales, a double program that includes an original work by author-­composer-interpreter Elisapie, as well as the complete works of Ravel's mythical ballet, Daphnis et Chloé. France will be the focus of Oct. 14 and 16's Pahud sous un air de France, a series of three concerts wherein the orchestra will interpret works by Debussy, Poulenc, Cécile Chaminade and Louise Farrenc.
From Nov. 3-6, invited conductor Lina ­Gonzalez-Granados will present Envolées latines, a concert featuring Andian, Mexican and Spanish music. Young prodigal guitarist Miloš Karadaglić will join the OM to interpret Rodrigo's famous Concierto de Aranjuez. In a beautiful send-off to 2022, the orchestra will celebrate the holiday season twice instead of just once: from Dec. 2-3 with Holiday Melodies, a concert with classical and popular music sung by Kim Richardson and Mélissa Bédard, and Dec. 18 with Bach's glorious Mass in B minor. www.orchestremetropolitain.com
Arte Musica (Bourgie Hall)
A page of history turns for the Arte Musica Foundation, which will begin its last season under General and Artistic Director Isolde ­Lagacé in September. To highlight the 300-year anniversary of the First Book of Bach's Well-Tempered Clavier, harpsichordist and organist Geneviève Soly will interpret the complete works of 24 preludes and fugues from Sept. 9-11.
Ensemble Caprice will pay homage to Isolde Lagacé on Sept. 18 with a program composed of the leaving director's favourite concerts, from Vivaldi, Handel and Mozart. On Sept. 21, pianist Alain Lefèvre will perform a recital dedicated to the French repertoire, including Debussy's Reverie and Ravel's Waltz. On Sept. 30, the Clavecin en concert ensemble will present Te Deum alongside a diverse set of motets by Marc-Antoine Charpentier, leading French baroque composer.
The month of October will welcome amateur recitals, starting on Oct. 5 with a night dedicated to Schumann's body of vocal works. On Oct. 14, British cellist Steven Isserlis and Canadian pianist Connie Shih will take their turn with a program of sonatas by Debussy, Fauré and Brahms. Renowned pianist Louis Lortie will present Beethoven's complete piano sonatas, a project that began in 2020. www.mbam.qc.ca
I Musici de Montréal
The I Musici ensemble and its conductor Jean-François Rivest will begin their new season by welcoming soprano Karina Gauvin on Sept. 29 for a journey into the heart of the British Isles, from Britten's Illuminations to Holst's Brook Green Suite, to Walton's String Sonata. Visual artist and filmmaker Caroline Monnet will join the ensemble on Oct. 20 to present works by Britten, Brahms, Shostakovich, Walker, Pärt and Ligeti, in addition to a work created by Navajo composer and 2022 Pulitzer Prize ­winner, Raven Chacon. www.imusici.com
Orchestre symphonique de Québec
On Sept. 15, the Orchestre symphonique de Québec kicks off the fall season in the ­company of the Royal 22nd Regiment Band for an evening featuring Bach's famous Toccata and Fugue, reorchestrated by Stokowski; Berlioz's Funeral and Triumphal Symphony; Ravel's Bolero; and an excerpt of Robert Buckley's Symphony No. 3 "Quebec Mosaic." On Sept. 21 and 22, pianist Gabriela Montero will join the orchestra for an interpretation of Rachmaninoff's Concerto No. 2. www.osq.org
Translation by Zenith Wolfe
This page is also available in / Cette page est également disponible en:

Francais (French)