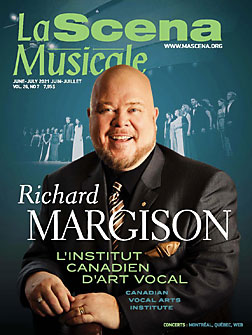 This page is also available in / Cette page est également disponible en:

Francais (French)
After the postponement of the 2020 edition, Les Saisons russes de Montréal are back, in virtual mode, pursuing the theme of storytelling in music. This annual cultural celebration of the Slavic communities of Montreal strives to create a showcase for young musicians, like the Orchestre Nouvelle Génération, or rising stars like the Canadian cellist Cameron Crozman, the Radio-Canada 2020 révélation in classical music.
This young player, who, according to the national network, stands out "for his fluid, precise and nuanced execution that borders on perfection," will give the opening concert (titled Le Violoncelle conte…) in tandem with the acclaimed pianist Philip Chiu. The featured instrument will also tell the tale of Rachmaninoff's Cello Sonata and Leoš Janáček's Pohádka for cello and piano starting June 15.
New this year, the youth section offers the Orchestre Nouvelle Génération, a long-time partner of the festival, with the irrepressible Natalie Choquette as soloist in Mon histoire vraie, an update of the old French fairy tale that gives us the true story of the alter ego of this colorful singer: Little Red Riding Hood! Packaged with a hilarious original text and the music Tchaikovsky dedicated to childhood in his Album for the Young, the soprano and the youthful orchestra will take the audience on a musical journey around the world. The webcast begins on June 22.
Following this on June 25 is a screening of the French version of the 1952 Soviet film Sadko, which received several international awards for best direction. The Russian composer Vissarion Shebalin crafted the score from the original music of the Opera Sadko by Rimsky-Korsakov.
For the closing event, the Montreal Piano Duo, comprising Les Saisons russes artistic director Irina Krasnyanskaya and Jean-Fabien Schneider, has surprises in store for us. Deux pianos, et mille histoires… brings together favourite works by Tchaikovsky, Borodin and Liadov, all inspired by the magical world of Russian fairy tales. "From Prince Igor to Carabosse, as well as the terrible Kikimora, come and discover the sublime music that these characters inspired from the great Russian composers!" Tchaikovsky's Sleeping Beauty and Borodin's Polovtsian Dances are also on the program. The entirety will be recorded in the concert hall of the Montreal Conservatoire, like most of the presentations, and will be available as a webcast from June 29.
Les Saisons russes de Montréal runs from June 15 to June 29, with webcasts until July 10. Tickets go on sale June 2 for $8 per show or $20 for an all-inclusive package. www.saisons-russes.ca
This page is also available in / Cette page est également disponible en:

Francais (French)