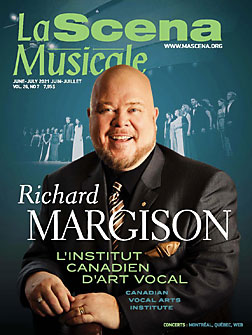 This page is also available in / Cette page est également disponible en:

Francais (French)
Name: Agnès Ménard

Voice Type: Soprano

From: France

Teachers: Rosemarie Landry and Catherine Sévigny

School: Université de Montréal


Soprano Agnès Ménard began her studies in France with Anne Constantin. During her apprenticeship, she played Susanna in Le nozze di Figaro, Despina in Così fan tutte and the First Lady in The Magic Flute.
She is currently enrolled in the doctoral program at Université de Montréal under the direction of Rosemarie Landry and Catherine Sévigny. She has sung Elettra in Idomeneo, Gabrielle in La Vie parisienne, Fiordiligi in Così fan tutte and Diane in Actéon. She has also sung excerpts from Ana Sokolović's song cycle Dawn always begins in the bones under the guidance of the composer as well as Jean-François Rivest and Luc Beauséjour, in conjunction with stage directors Claude Poissant, Alain Gautier, Marie-Nathalie Lacoursière and François Racine.
Agnès has also performed recitals of Lieder and French art songs in France and Canada. Over the last year or so, Anthony Manoli has been coaching her in New York. She has received further tutoring in master classes held by Nathalie Paulin, Benjamin Butterfield and Christian Immler.
Were you born into a musical family?
No, but my parents wanted me to have some kind of musical awareness. At home, we all played piano as children, my sisters and I, but I was not turned on immediately by it. That came later, when I was about 16.
When did you really get into music?
Piano notwithstanding, I really got started in my teens, 15 or 16. After an accident during a ballet rehearsal, I halted all artistic pursuits for a time. But my parents still egged me on to find some sort of occupation in this field, and that is how singing came into my life.
What made you choose opera as a field of study?
It was a need to reach out to an audience through the voice, to be heard and to share precious moments with my colleagues on and off stage, singers, instrumentalists and stage personnel.
Where did you study and with whom?
My first steps, so to speak, were taken in a small town full of enthusiasts who were keen on being entertained and sharing their experiences. Next, I spent time studying at a few conservatories in France, starting in my hometown, then to the one in Paris-Billancourt, where I met my main teacher, Anne Constantin. Under her direction, I learned about the necessity of working hard and rigorously. Lastly, I came to Montreal five years ago to begin my doctoral studies in voice performance.
How did you keep your voice in shape during the pandemic?
First, by staying alert mentally. Next, I used the downtime to write my dissertation, which enabled me to keep up a pretty studious mindset through it all. As a student enrolled at U of M, I had access to its facilities and could still work on projects in spite of the pandemic. While it was tough sledding given the public health restrictions, I was still fortunate enough to work on my stuff, meet my deadlines and be around others who simply inspired me.
What are you most eager about with respect to your participation at ICAV?
To just work with a wide range of musical personalities in the field, coaches, instructors and whatnot. But there is also the very important task of knowing how to get one's career off the ground, all the more important for me, who really needs advice and support in these areas.
If you landed on a desert island and had but one piece of music to listen to, which one would that be and why?
I think I would have a different answer on each day but for now, I'd pick "Votre habit a craqué dans le dos" from Offenbach's La vie Parisienne. If I were alone on an island, that would be quite a predicament, so I would really need to have a good laugh.
How do you see your voice evolving over the next decade?
I think my voice could go in one of two directions, one would be to let it become more agile in the upper register, the other would be to give it more depth and warmth. Both of these suit me equally. I am striving for greater vocal flexibility in order to give it new shadings, yet never in a forced way. Only time will tell.
Do you follow a specific routine before going on stage?
I like to use those hours before showtime as best as I can, so as to give me enough time to dress up for the part, to get my hair done and warm up my voice. I like to do all of this with my fellow cast members around me, and in a relaxed way at that. Around the half hour mark before the curtain rises, I make my rounds by greeting everyone and wishing them to break a leg, just to perk up everyone for the occasion. Fifteen minutes later, I shut myself out from my surroundings and go into my own space; with score in hand, I try to run through the whole show in my head. Finally, as I head out on stage, I reconnect with the world around me and just go for it.
What makes a good voice teacher?
To me, a good teacher adapts to the student's needs instead of the other way around. He or she must also be smart enough to find the right answers rather than pointing out the mistakes.
What is your take on competitions?
For years, I hated them as they were so unfair. Now, I am totally in agreement with their objectives and ensuing opportunities for career advancement. Yet, one must be realistic on their importance and the level of impact they have on fledging artistic careers.
Translated by Marc Chénard
This page is also available in / Cette page est également disponible en:

Francais (French)