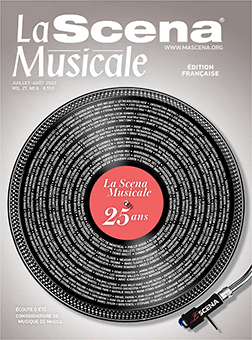 This page is also available in / Cette page est également disponible en:

Francais (French)
Vienna 1840: Romantic Viennese Music
Pascal Valois, guitar
Analekta, 2022

Johann Kaspar Mertz, for whom no exploration of Viennese Romantic music would be complete without his compositions, dominates the album Vienna 1840: Romantic Viennese Music. Guitarist Pascal Valois tackles Mertz's Barden-Klänge, Op. 13 in a series of five highly expressive and technically demanding tempo rubato works. Valois's virtuosic talent is on full display in the latter half of Tarentelle: Più Allegro, and in the entirety of Fingals-Hohle: Maestoso—the transitions between chord-playing and fingerpicking are made imperceptible through careful arpeggiation, and his ostinato is never dull. In line with the Romantic theme, Valois takes the guitar to its limits in Giulio Regondi's Nocturne "Reverie" with beautiful tremolo picking.
Further adding to the romanticism of the album is the raw, unprocessed nature of the recording. From the creak of wood as Valois adjusts his grip on the guitar's neck to the string noises and controlled breathing, the microphone picks up the subtlest of sounds. This makes listeners feel like they're sitting right next to the musician and sharing an intimate moment with him.
The only problem with this album is that it ends.
This page is also available in / Cette page est également disponible en:

Francais (French)