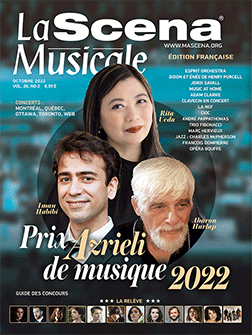 This page is also available in / Cette page est également disponible en:

Francais (French)
by Wah Keung Chan and Bill Rankin
Awards/Competitions
Glenn Gould Prize: On Sept. 25, Venezuelan-born conductor, violinist and music education activist Gustavo Dudamel was named as the 14th Glenn Gould Prize Laureate. The jury included Bob Ezrin, Sir Andrew Davis, iskwē, Karen Kain, k.d. lang, William Leathers, Robert Lepage, Lü Jia, Loreena McKennitt, Hélène Mercier and Charles Officer.
BISQC 2022: On Sept. 4, the Juilliard-based Isidore String Quartet won the lucrative and career-enhancing 14th Banff International String Quartet Competition, which began in the Rocky Mountain resort on Aug. 29 with nine quartets. One quartet had to drop out due to a player's injury. Opus13, from Norway and Sweden took the $12,000 second prize, and the American Balourdet Quartet won $8,000 for third. The $4,000 prize for the best performance of the newly commissioned quartet by Dinuk ­Wijeratne went to Quatuor Agate who also competed in the last BISQC. BR
Dora Awards: The 42nd Annual Dora Mavor Moore Awards celebrating excellence in Toronto theatre, dance and opera were handed out on Sept. 19. Of the 46 recipients, Tapestry Opera's R.U.R. A Torrent of Light won the most with six Doras in the Opera Division for Outstanding Production, Outstanding Performance by an Ensemble, Outstanding New Opera, Outstanding Musical Direction, Outstanding Direction and Outstanding Achievement in Design. Talk is Free Theatre's Sweeney Todd heads the ­Musical Theatre Division with five Dora Awards including Outstanding Production, Outstanding Performance in a Featured Role and Leading Role, plus Outstanding Direction and Outstanding Original Choreography
The International Resource Centre for Performing Artists (IRCPA) announced sopranos Jaclyn Grossman and Jocelyn Fralick were awarded financial help toward the cost of upcoming auditions. They were chosen by baritone Brett Polegato, who in October 2021 provided singers with valuable performing and career advice in a daylong Encounter, as part the IRCPA's fourth edition of Ten Singing Stars: The New Generation.
Orchestras Canada (OC) presented the 2022 Betty Webster Award to Katia Makdissi-Warren, composer and Artistic Director of Oktoecho, at its Annual General Meeting, to celebrate her long-standing contributions to diversity, equity and inclusion in the Canadian music community.
News
12-year-old Vancouver piano prodigy Audrey Sung will be donating her recent $30,000 competition winnings to three Canadian charities: I'm HIPpy, which helps kids living with hip disorders; Pacific Rim ­International Music & Education Society and the Royal Conservatory, which help children receive better access to music education.
Appointments/Retirement
Montreal Baroque Festival founder and co-artistic director Susie Napper will retire this fall after 20 years at the helm of the festival.
Richard Roberts retires from the Montreal Symphony after 40 years as the Concertmaster of the orchestra. He began his position as OSM Concertmaster in 1982, while the orchestra's Music Director was Charles Dutoit.
NACO extends the contract of Alexander Shelley as Music Director of the NAC Orchestra from Sept. 1, 2023, to Aug. 31, 2026.
Banff Centre announces Ingrid Mary Percy as New Director of Visual Arts and Residencies.
After 10 years with the Kronos Quartet, Sunny Yang will leave at the end of January 2023 to pursue other projects, and cellist/composer Paul Wiancko will join the group.
Deadlines
Fondation Père Lindsay: Fonds de développement pour jeunes ­musiciens et musiciennes. Dec. 15, 2022
Canada Council: Oct. 5 (Explore and Create); Oct. 12 (Supporting Artistic Practices); Oct. 19 (Arts Abroad); Nov. 16 (Cultivate Grants, Media Arts Equipment Acquisition Fund)
CALQ: Ordre des arts et des lettres du Québec: Oct. 14
Montreal Arts Council: multiple deadlines in October and November
Ontario Arts Council: multiple deadlines in October and November
Mécénat Musica Prix 3 Femmes

The 2022-23 winners for the third edition of the $50,000 Mécénat ­Musica Prix 3 Femmes will create four new contemporary Canadian ­operas to be premièred in 2024.

French Language work:

Analia Llugdar, composer (Montreal/Argentina)

Indigenous (BIPOC) work: Alejandra Odgers, composer (Montreal/Mexico) & Nicole O'Bomsawin, librettist (Odanak, Que.)

English Language work: Rebecca Gray, composer, and Rachel Gray, librettist (Ottawa)

French Language work – Encouragement Prize: Danaë Ménard-Bélanger, composer, and Maïa Ménard-Bélanger, librettist (Montreal)

Mécénat Musica Prix 3 Femmes is an initiative by Montreal's Musique 3 Femmes (M3F), Ensemble Vocal Arts-Québec and Mécénat Musica dedicated to developing new operas by emerging female and non-­binary Canadian creators who demonstrate extraordinary promise in opera creation. The biennial award supports emerging female and non-binary composers and librettists through commission funding for new works, mentorship with industry professionals, and funding support for a musical workshop. The 2022-23 jury consisted of M3F's Kristin Hoff and Jennifer Szeto, and guest jurors Luna Pearl Woolf, composer, dramaturg, CEO of Oxingale Music, and Jaap Nico Hamburger, ­Mécénat Musica Composer-In-Residence.
This page is also available in / Cette page est également disponible en:

Francais (French)