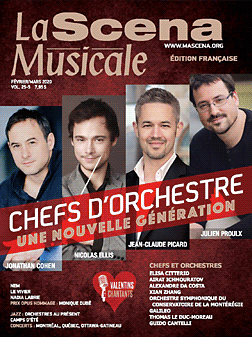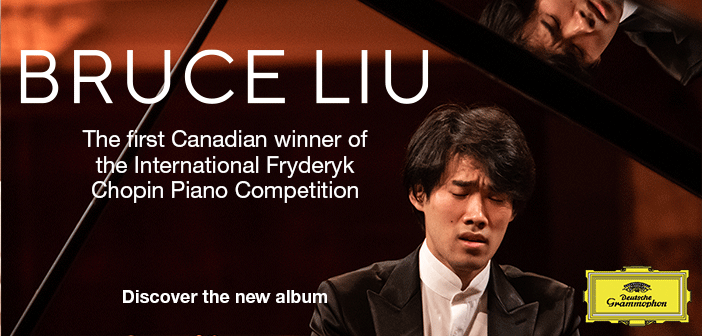 This page is also available in / Cette page est également disponible en:

Francais (French)
Twenty years ago, La Scena Musicale's February 2000 issue featured on the cover the young and relatively unknown Montreal conductor Yannick Nézet-Séguin, who had joined the Opéra de Montréal as chorus master and assistant conductor in September 1998. Little did we know that in just months, after much intrigue, Yannick would be thrust into the artistic directorship of Montreal's Orchestre Métropolitain, a position he has held ever since, and to which he was recently been appointed for life. And in the last 20 years, Yannick has gone from one success to another, reaching the pinnacle of his profession as music director of the Metropolitan Opera.
In this special national issue, we shine a light on conductors and orchestras. Our French edition looks at a new generation of conductors in Quebec (Jonathan Cohen of Les Violons du Roy, Nicolas Ellis of the Agora Orchestra, Jean-Claude Picard of the Orchestre de Trois-Rivières, Julien Proulx of Drummondville Symphony). Twenty years from now, will one of these reach the stature of Yannick?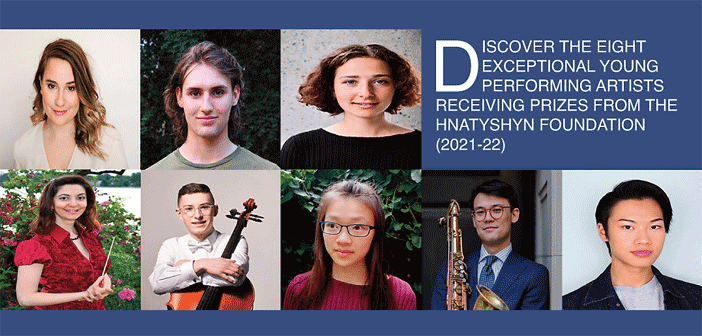 Our English edition has a decidedly Toronto flavour, featuring on the cover Elisa Citterio, the new conductor of Toronto's Tafelmusik, and a special on the GTA with profiles of Arts Centres in Aurora, Brampton, Burlington, Markham and Richmond Hill. The English edition also includes a contribution from conductor Yoav Talmi on the rhythmic markings of Schumann's Symphonies.
February/March is also La Scena Musicale's issue for Summer Education and our 23rd annual Summer Camp Guide. Finally, check out our regular features – music coverage, CD reviews, jazz column, regional calendar, and concert picks.
Dance
La SCENA arts magazine continues in this issue with a special on Dance, thanks to section editor Nathalie de Han and writer Marion Gerbier, this time focused on the Masculine, after our special on Women in Dance in the December/January 2019 issue. On the cover, we feature the hilarious male ballet company Les Ballets Trockadero de Monte Carlo, which will tour North America with stops in Toronto and Montreal. We pay tribute to the individual approach of the legendary Paul-André Fortier, winner of the Grand Prix de la danse de Montréal last December; the physical prowess of José Navas, the goldsmith of solos, who becomes introspective with his latest creation of Schubert's Winterreise; and the somatic approach of Jean-Sébastien Lourdais, who will soon present Les appuis imaginés. At Les Grands Ballets, Raphaël Bouchard and Maude Sabourin reflect on the models of Danser Beethoven.
Singing Valentines
On Feb. 14, La Scena's 2020 Fundraising Campaign begins with our 10th annual Singing Valentines Fundraiser with celebrity baritone Gino Quilico, and featuring soprano Chantal Dionne, mezzo Marie-Annick Béliveau, tenors Wah Keung Chan and Adrian Rodriguez, and singer Dino Spaziani. For a donation of $30 to $70 ($20 for students) – the cost of a bouquet of flowers – you can offer your loved one a unique Valentine on Friday, Feb. 14 in the form of a song or aria sung by trained opera singers over the telephone.
Visit www.mySCENA.org to see the list, which includes such favourites as "Mon coeur s'ouvre à ta voix," "Che gelida manina," "My Funny Valentine" and some pop delights. See singer availabilities, listen to clips, and read the testimonials before you place your order at 514-948-2520×3 or [email protected]
Subscription Drive & NEW Discovery Box
It's no secret that the Internet is reshaping the media landscape. Advertising budgets are shifting. This impacts negatively our advertising receipts, which have traditionally accounted for 80% of La Scena's revenues but have now decreased to 70%. Furthermore, a change in Quebec's Mécénat Placements-Culture program mean that our three-year grant under Volet 2 will not be renewed, leading to a shortfall of $17,000 in this year's budget.
Since 2001, La Scena has been recognized as a registered charity and all donations are gratefully acknowledged with a tax receipt. See page 19 for the list of our donors for 2018-19. We also take this opportunity to launch our 2020 subscription campaign.
La Scena is the largest arts magazine in Canada that is fully bilingual and dedicated to serving Canadians across the country. If you subscribe, you receive each issue by mail (we also have an option for weekend Montreal home delivery) with supplementary translations in your preferred language. Every two-year subscription comes with a free commercial CD. This would make a great holiday gift for parents and grandparents or musicians and music students. See the subscription page on page 25.
Furthermore, we have launched the NEW La Scena Discovery Box, which will allow customers to discover concerts/events and recordings three times a year; it comes in a $99 package or a premium version at $299. See the article on p. 60 for more details. Any form of contribution is greatly appreciated and will go far in promoting artists here and abroad.
LSM Boutique
Thanks to our partners we have acquired tickets to select classical performances, including those of the Opéra de Montréal, Les Violons du Roy, the Orchestre Classique de Montréal and many others. We sell these tickets to raise funds; LSM subscribers get a 15% discount. See www.mySCENA.org or sign up for our e-newsletter at [email protected]
Enjoy Valentine's Day with music and the arts!
This page is also available in / Cette page est également disponible en:

Francais (French)