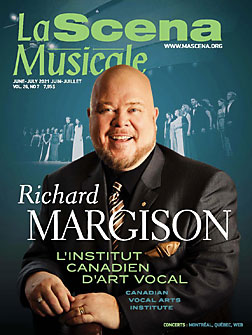 This page is also available in / Cette page est également disponible en:

Francais (French)
This section is an advertising supplement. To announce here, contact [email protected]
Studio Piccolo Session
Stick&Bow. Leaf Music LM242
Discover the new videos of the two young musicians of Stick&Bow as they revisit the Cuban masterpiece Che comandante by Carlos Puebla, rewrite the rock success of Sting's She's Too Good For Me and perform two commissions written especially for them, Romanza by Luis Naon and Folk Suite by Jason Noble. Recorded at the prestigious Studio Piccolo in the heart of Montreal, the Canadian duo Stick&Bow bring life and energy to "Studio Piccolo Sessions."
Eckhardt-Gramatté: 28 Alphabet & Character Pieces "From My Childhood" No. 28, Nocturne E93
Jennifer King, piano. Leaf Music LM2011
From the upcoming album O Mistress Moon: Canadian Edition, Nocturne E93 by Sophie Carmen Eckhardt-Gramatté is a childhood piece written around the age of 13 and later revised and expanded. There are influences of Chopin and Schumann but this is clearly the work of an expressive and independent artist. Jennifer King brings feelings of a sleepy fairytale unfolding into a chirpy middle section and then settles back into a blissful dream. 
Music of the Spheres
Halifax Camerata Singers, Jeff Joudrey, conductor, Lynette Wahlstrom, piano
Leaf Music, LM241
This program is recorded live with narrators Lara Lewis, Lucy Haché, Elyse Delaney and Ben Caplan. Listen and recover your sense of limitless wonder. Throughout the album's 21 tracks, lush harmonies of music and the beauty of the poetry reflect like light through the world's many challenges. Through this celestial journey of music and poetry, may a sense of awe, marvel, and hope in something much greater than we see around us linger long after the closing chords. 
Matthew Larkin plays Casavant Opus 550
(St. Paul's Anglican Church, Toronto)
Matthew Larkin, organ. ATMA ACD22857
ATMA Classique is pleased to present the label debut of Canadian organist Matthew Larkin. Recorded on the Casavant Opus 550 organ at St. Paul's Anglican Church in Toronto, this two-disc recital showcases the remarkable breadth and beauty of one of North America's most famous organs.
15 Histoires de guitares
David Jacques, guitar. ATMA ACD22821
Guitarist David Jacques returns with a second volume of Histoires de guitares, which presents 15 historic guitars from his private collection, most built by the best luthiers of the 19th century. Each guitar is presented in repertoire suited to the character of the instrument, and each has a story to tell. 
This page is also available in / Cette page est également disponible en:

Francais (French)