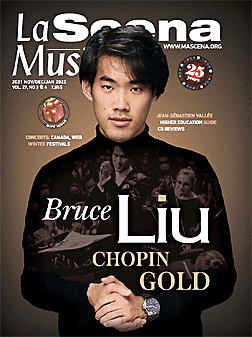 This page is also available in / Cette page est également disponible en:

Francais (French)
Bach: Goldberg Variations
Sarah Hagen, piano
★★★★☆
The first thing one notices about Sarah Hagen's self-produced recording of Bach's Goldberg Variations is the length of 1:41:42, which requires two CDs and is longer than Angela Hewitt's 78-minute recording (Hyperion) from 2018, and much longer than Glenn Gould's landmark 1955 recording or his final 1981 recording. Hewitt's was played with repeats, while Gould's 1955 was notoriously played without repeats and was considered too fast by Gould himself, whose last recording was more introspective. As a fan of Gould's 1981 version, with his underlying humming, I was reminded of the breadth of his opening Aria in Hagen's first track. She is able to sustain that sense of breadth throughout her version. The playing is consistent, with feeling and a sense of purpose throughout, including a touching Track 26. There are a few minor problems in the later variations – a bit too much staccato in Track 20, some stumbling in Tracks 24 and 30. Her use of ornaments here and there are welcome additions. Recorded in 2020 during the lockdown, this is a heartfelt performance worth adding to the collection.
This page is also available in / Cette page est également disponible en:

Francais (French)