On April 27, 2022, Canada's largest and most respected music education institution, The Royal Conservatory of Music (RCM), held the 'Music Lights the Way' black-tie concert at Toronto's Koerner Hall to launch the sixth edition of their newest Celebration Series® piano books. Some invited pianists played for the audience in person, while others sent virtual greetings and performances.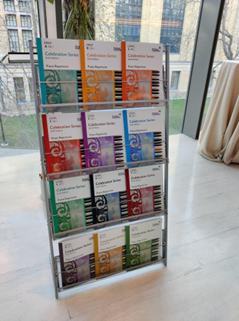 During the pre-concert reception, attendees were the first in the world to browse through the Celebration Series®, Sixth Edition. The concert hosts then announced a series of upcoming student piano competitions, as well as an unprecedented decision to provide free sets of new Celebration Series books to teachers who have used the RCM curriculum and examinations over the last five years.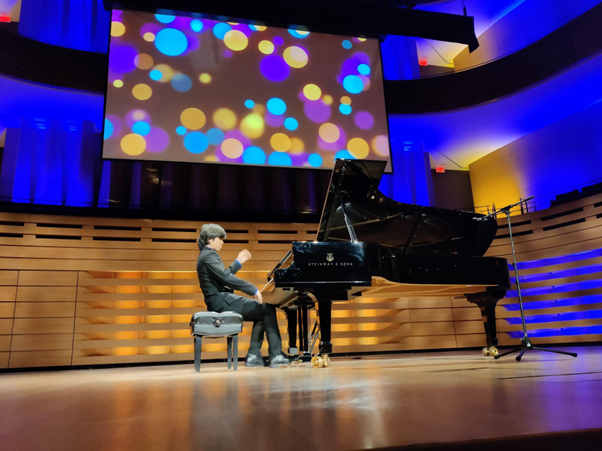 Tony Yike Yang was the first performer of the night. Although he won the 5th Prize at the 17th International Fryderyk Chopin Piano Competition at age 16, he did not play Chopin. He instead opened with the first movement of Mozart's Sonata in C Major, a simple and elegant sonata that's particularly suitable for the start of a concert.
Polish-Canadian pianist Jan Lisiecki, who had a prior engagement the evening of the concert, pre-recorded a dreamy and airy rendition of Chopin's Nocturne in E flat Major, op. 9, no. 2, with exceptional sensibility and beautiful rubato.
Stewart Goodyear, RCM resident artist and one of the few pianists in the world to have completed a marathon of Beethoven's 32 sonatas, played both Oscar Peterson's Land of the Misty Giants and The Cat and Mouse Tango by American composer Gary K. Thomas with a wonderful sense of style and colour.
Renowned Bach interpreter Angela Hewitt recorded Gigue from Bach's English Suite No. 4 in F Major, BWV 809 with remarkable clarity and sensitive use of tonal qualities.
Following the announcement of a highly anticipated and expensive music competition that will be inaugurated later this fall, for which all piano students using the RCM curriculum in the US and Canada will be able to participate free of charge, pianist Lang Lang played Enrique Granados's Canción de mayo, op. 1, no. 3. The performance was recorded with Lang's cellphone and played on an upright piano.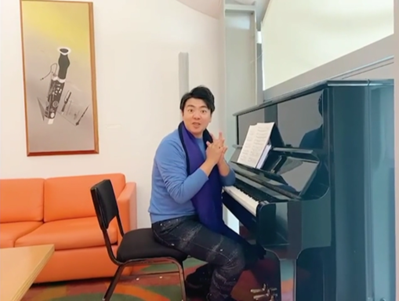 Lang Lang mentioned during the recording that the Lang Lang International Music Foundation is collaborating with the RCM, "the finest music institution in the world," to develop a curriculum that will also be used in the UK. The curriculum will be accompanied by the donation of several hundred pianos to UK public schools, and it will be incorporated into piano labs, some of which are already being run by trained teachers in the US and China.
The audience also heard the World Premier of Edward Han Jiang's A Moonlit Night on the Spring River, performed by Yang. The pianist later said he was particularly pleased with his performance, since the work highlighted his Chinese heritage. Yang said he believes the future of piano music will include a lot more world music and contemporary music, be it in music conservatoires or in traditional performance venues.
Dr. Peter Simon, RCM's CEO, spoke on the release of the Celebration Series® Sixth Edition: "This highly anticipated series of piano books features new pieces that are being published for the first time, as well as a broader selection of repertoire in different styles." Indeed, the sixth edition includes 12 repertoire books and 10 etude books, with a repertoire from 222 different composers (70 living ones) across 20 countries and all periods.
35 selections were composed especially for the series. Vincent Ho and Gary K. Thomas were two of the living composers who were commissioned to write pieces for the book, and for performance at the event's concert. While addressing the audience, Ho and Thomas said their daughters were the inspirations for the compositions. Their daughters were then invited to perform.
Ho said he was inspired to write The Twelve Chinese Zodiac Animals because of the lack of Asian-themed works in the piano repertoire his daughter was learning from. He said there were even fewer works in the repertoire that reflected Chinese cultural themes.
Thomas, a TV and film music composer, said he couldn't find enough repertoires for his daughter that included either Jazz music, or contemporary music with irregular time signatures, so he wrote five solo pieces to be included in this new edition.
During a post-concert interview, Ho and Thomas agreed that world music will be the future trend of music education, and that music conservatories will shift towards a music identity that is more inclusive towards all musical genres. They both said that with their newly commissioned RCM pieces, that transformation is already happening.
The launch of the Celebration Series has been hailed by piano teachers from both US and Canada. RCM is offering 20,000 copies of all three sets (24 books) of the Repertoire and Etude books for free (including shipping). The three free sets are: Elementary set (level Prep A through to Level 4); intermediate set (level 5 through 8); and advanced set (level 9 and 10). Eligible teachers are those who use the RCM curriculum and who have sent students to take the RCM examinations in the last 5 years.
To re-watch the concert, click: https://www.royalconservatory.live/featured-category/videos/music-lights-the-way