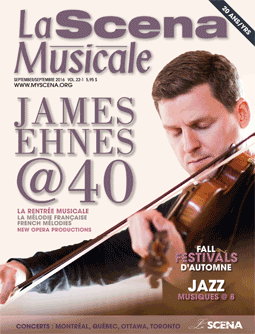 This page is also available in / Cette page est également disponible en:

Francais (French)
Simon Gamache is the new Executive Director of the Orchestre de chambre I Musici de Montréal, beginning this month. He replaces Stéphanie Rose, who held the position for the past five years. Most recently, Gamache has worked at the Banff Centre overseeing classical music programs and other events, as well as the Banff International String Quartet Competition.
The McGill Chamber Orchestra has engaged Marc-Antoine d'Aragon as its new Executive Director, effective immediately. An operatic baritone, d'Aragon is the founder of the opera singer support web portal operaop.com and has consulted with opera companies from Syria to Saguenay.
Opéra de Montréal has announced that ­Pacific Opera Victoria's Patrick Corrigan will become the company's new General Director beginning in September 2017. He succeeds Pierre Dufour, who joined Opéra de Montréal in 2000 and will retire at the end of this season. Filling Corrigan's shoes in Victoria is Ian Rye, who is promoted to the company's Chief Executive Officer from his previous role as Director of Artistic Administration.
The Toronto Symphony Orchestra (TSO) has named Gary Hanson its Interim CEO. A Toronto native, Hanson served for 12 years as the Executive Director of the Cleveland Orchestra until his retirement, at the end of 2015.  Jeff Melanson resigned as the orchestra's CEO in March, following allegations of personal and professional impropriety by his estranged wife Eleanor McCain. The TSO also recently announced its third consecutive year-end surplus and a five-year high in attendance, with 44 sold-out performances last season.
After almost fourteen years with the company, Astrid Chouinard is leaving her role of General Manager with Les Violons du Roy et La Chapelle de Québec in order to lead the Orchestre symphonique de Québec as President and General Director.  Les Violons du Roy plans to announce a successor shortly.
Awards & Honours
Violinist Mira Benjamin is the winner of the $25,000 Virginia Parker Prize. Benjamin is recognized for her performances of new and experimental music, with a special interest in microtonality and tuning practice, and for commissioning composers at all stages of their careers. She is also the co-director of NU:NORD – a project-based music and performance network which instigates artistic exchanges between music creators from Canada, Norway, and the UK. The Canada Council for the Arts offers the award annually to a worthy Canadian classical musician under the age of 32.
In June, the Governor General announced 113 new appointments to the Order of Canada. Among them were Eli Kassner, a major force in the development, performance, and study of classical guitar in Canada; and Barbara Hannigan, an acclaimed soprano, renowned for her risk-taking operatic roles and, most recently, noted for making forays into the world of conducting.   
The city of Montreal has named a park after Ethel Stark, founder and conductor of the Montreal Women's Symphony Orchestra, Canada's first professional all-female orchestra, which ran from 1940 to 1965. The park at the corner of Prince Authur and Clark had previously been named after the disgraced Claude Jutra. Stark was 101 when she died in 2012.
The Toronto Symphony Orchestra recently unveiled Sir Andrew Davis Lane in honour of its Conductor Laureate. The Toronto laneway, which sits near Rose Avenue and Prospect Street, is so named in honour of Sir Andrew Davis's 40th anniversary on the podium of the TSO. The initiative was supported by individuals living in the Cabbagetown area, where Sir Davis resided during his time as the TSO's Music Director, from 1975 to 1988.
Robert Cooper, Artistic Director of the Orpheus Choir, has been awarded the 2016 Distinguished Service Award by Choral Canada. The award is given every two years in recognition of significant and transformative service in building, nurturing and promoting choral music in Canada. Cooper was commended for his lifelong commitment to choral music, including his role as long-time producer of Choral Concert on CBC, and mentoring countless young singers.
During a recent concert by the National Youth Orchestra Canada in Montreal, The Honourable Mélanie Joly, Minister of Canadian Heritage, took to the stage to announce an award of $525,000 for the youth orchestra's pan-Canadian signature initiative, Edges of Canada Sesquicentennial Concert Tour. The funds are part of the Canada 150 Fund, created to fund arts groups participating in Canada's 150th birthday celebrations in 2017. The orchestra intends to use the funds to travel to Northern communities for concerts incorporating collaborations with local Indigenous artists, as well as mentoring and outreach activities for aspiring young musicians in these communities.
Canada Meets the Met
Canadian violinist Nikki Chooi is the newly appointed Concertmaster of the Metropolitan Opera, in New York City. A graduate of the Curtis Institute of Music and The Juilliard School, Chooi has begun his initial one-year term beginning next month – and continuing through to the end of the 2016–17 season. The announcement came only one month after the Met named conductor Yannick Nézet-Séguin as its new Music Director, effective in 2020.
This page is also available in / Cette page est également disponible en:

Francais (French)