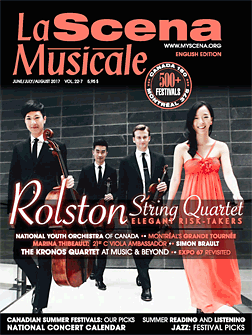 This page is also available in / Cette page est également disponible en:

Francais (French)
When Barbara Smith and Blanche Israël greeted me at the NYO's downtown Toronto office, they had a weary-yet-determined air – familiar to any arts administrator labouring over a cherished project. "We're getting down to the wire," they explained, citing less than a month until the National Youth Orchestra begins its 2017 season and welcomes 92 talented young ­musicians, chosen from over 500 applicants, into its training program. I commented that it's an exciting time. "Well okay, if you say so!" they chuckled dryly before admitting that it is indeed an exciting time. The orchestra will soon embark on the Edges of Canada tour, the most ambitious in its 57 years.
The National Youth Orchestra of Canada was founded by the Toronto Symphony Orchestra's Walter Susskind in 1960 as a training institute for musicians aged 16 to 28. Its primary ­mandate is to prepare a student orchestra for an annual cross-Canada tour. The importance of touring is manifold, according to Smith, the institution's Executive Director. "It's first of all an opportunity [for musicians]to see their own country. But more importantly, it's the opportunity to develop a network of colleagues and friends. When you spend that much time ­together, traveling across the country, you form a bond that really is life-long."
As time went on, the NYO's focus broadened to include world-class musical training, including orchestral rehearsals, sectionals, and private lessons, as well as courses in career development and injury prevention, and, since 2009, chamber ensemble training. The NYO offers musicians more hours of ­practical orchestral training in one summer than most university programs offer in one year – and is completely free. Today, over one third of Canada's professional orchestral musicians are alumni of the NYO.
While the NYO has had tour dates in Canada, the U.S., Europe, and Asia, they've never tackled something quite like this. "It's the biggest tour we've ever undertaken, ­covering huge geography," says Smith. "We're going to places that we don't traditionally go to, like Charlottetown and Whitehorse. When we go to Whitehorse, we'll be the largest orchestra that's ever toured up there. And we're moving a hundred-piece orchestra, staff, and equipment."
The orchestra will rely on a variety of modes of transportation, including train, ferry, and both commercial and charter flights. Of course, with geography as expansive as Canada's, that means a fresh set of challenges. "One of the challenges we have with Whitehorse, for example, is harps," says Smith. "We can't get our own harps up there, so we rely on trying to rent them locally, and they don't have them in Whitehorse. So we had to adjust our programming."
And adjust they have – the different ­programs for each of their 12 concerts are, like the tour itself, the most expansive in the orchestra's history. "They're going to have a lot on their plate," says Israël. "But I think that's what the musicians want. There's that desire for more professional and more challenging experiences that feel like the real thing: working in an orchestra." This varied repertoire will include the participation of the National Youth Choir, another first, for four performances. And for six performances, the NYO will present an interdisciplinary program combining music with spoken word, called The Unsilent Project.
"The Unsilent Project sort of evolved from our desire to have a response to Truth and Reconciliation, and especially in this important year for Canada, we wanted very much to be a part of that," says Smith. "We're a youth ­organization. It's an opportunity for us to educate our youth about the issues surrounding the Truth and Reconciliation Commission's report." In 2015, Canada's Truth and Reconciliation Commission released its report along with 94 calls to action, many of which called for greater education and awareness of the cultural genocide of Canada's indigenous population – notably, the horrors of the state-sanctioned residential school system, which only fully ended in 1996. For The Unsilent Project, the NYO reached out to partner with a number of indigenous artists, including director Michael Greyeyes of Toronto's Signal Theatre.
"It started out with us having an idea, and not really knowing how to go about creating this work, particularly since it was very important to us that it be a collaboration as opposed to an appropriation," says Smith. What followed was a series of meetings and workshops involving various parties. Israël points out that the principle of the Two Row Wampum, which originates in a centuries-old treaty emphasizing equality and partnership between the Haudenosaunee and Dutch settlers, is now being held up as a model, notably at the most recent Canada Arts Summit. "I think that without having known about that concept going in, we're embodying it in our partnership with Signal Theatre. We're working very much together, side-by-side, listening very collaboratively."
Ultimately, the work of Zaccheus Jackson, a renowned slam poet and youth educator who was killed in a tragic accident in 2014, was chosen as a unifying theme for The Unsilent Project. This year, the NYO is commissioning new works by Ian Cusson and Juliette Palmer, who draw inspiration from Jackson's work. "Zaccheus tells painful truths though his ­poetry that speak to the relationship between Indigenous and settler Canadians," says Palmer, who is composing a piece named for Jackson's poem Invicta. "He was a poet who saw injustice in the world around him and ­called it out with energy and brilliance. Invicta is a high-speed Canadian history lesson that everyone needs to hear. There's so much emphasis on Canada's multiculturalism that our history of colonialism and cultural ­genocide is all too often avoided."
Thanks to increased funding to the ­orchestra's RBC Emerging Artist Program, an expanded roster of young artists are participating in The Unsilent Project, including director Falen Johnson and performance artists Lindsay "Eekwol" Knight, Brendan McLeod, and Zoey Roy. The theatrical and spoken word aspects must be considered when imagining new pieces. "Falen Johnson is exploring ways to enhance the theatricality of the performance using light, costumes and subtle changes to the rituals of concert music," says Palmer. "It's different to work with ­spoken word performers rather than actors or singers. I'm aware that they are creative artists with their own voices, so I'm careful to give them room to express themselves in their interpretation of Zaccheus' poem."
"Trying to picture The Unsilent Project has been a challenge from the beginning, because it morphs and we want to leave it open to what magic will come out of this summer," says Israël. Smith adds, "Like any newly-commissioned work, you don't really know what you're getting until you get it. Because it is very much up to the artists and the composers to work together to develop this, we don't really know what it's going to be like. It's a big risk for us. But the NYO has always been an organization that takes risks, and this is just the latest one."
Indeed, the collaborative nature of this ­project is so fundamental that it marks a departure from traditional top-down ways of creation. "The orchestral medium is by nature a collective one – dozens of musicians working together to realize a shared artistic vision," says Palmer of the creative process. "However, it can also be read as a stark example of ­political hierarchy and control. Challenging this paradigm is one of the reasons I find this project so compelling."
Newly-commissioned works won't be the only ones featured in The Unsilent Project. "We had already programmed a work by Richard Strauss, Death and Transfiguration, and during our first workshop with the artistic team, it became evident that Truth and Reconciliation and Death and Transfiguration worked well together," says Smith. Palmer adds, "We were all unanimous that Strauss' [piece]made for a powerful ending to the ­project." Israël mentions that this juxtaposition between the traditional and the contemporary will be echoed in another Signal Theatre/NYO collaboration this summer: Bearing, a dance-opera premiering at Toronto's Luminato Festival, will have musicians from the chamber program performing Bach and Vivier in ­another multidisciplinary piece dealing with residential schools.
While the creative artists have already learned much from their collaboration, the orchestra's musicians are about to embark on their own journey of discovery – and not just a musical one. The orchestra will visit a former residential school as well as help develop land acknowledgements for the various cities that the orchestra will visit. "We're going to have our work cut out for us, making sure that they're educated on the genesis of this and how important their role is," says Smith. "And I think that will ­translate into a more moving and exciting performance for the audience as well."
In the meantime, the NYO administrators have plenty to keep them busy, organizing details such as webcasts from Toronto, Montreal, Vancouver, and Ottawa. "I think it's going to be a life-altering experience for the musicians," says Smith. "I think the audiences, too, are really going to love what they hear – and see. As they always do!"
---
The NYO is coming to a city near you! Tickets are free, but must be reserved.
July 22    National Arts Centre, Ottawa
July 23    Maison symphonique, Montreal
July 25    Koerner Hall, Toronto
July 30    Confederation Centre of the Arts, Charlottetown
July 31    Rebecca Cohn Auditorium, Halifax
Aug 3       Centennial Hall, Winnipeg
Aug 6       TCU Place, Saskatoon
Aug 8       Winspear Centre, Edmonton
Aug 10    Yukon Arts Centre, Whitehorse
Aug 13    Port Theatre, Nanaimo
Aug 15    Chan Centre, Vancouver
This page is also available in / Cette page est également disponible en:

Francais (French)