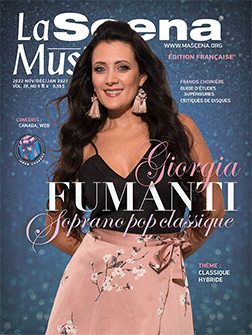 Space Time Continuo – Pachelbel : Les fugues Magnificat
Amanda Keesmaat, cello, 5-string cello, director; Elinor Frey, cello, piccolo cello; Andrea Stewart, cello; Camille Paquette-Roy, cello; Sylvain Bergeron, archlute; Luc Beauséjour, organ
Analekta, 2022
The new CD by the Space Time Continuo ensemble mainly features works by Pachelbel, in particular the Magnificat Fugues. One of the most interesting features of this CD is the sound, brought to life by the exchanges and dialogues between the various types of cellos. In this way, the polyphonic fabric is always sharp. In addition, the bright articulation never allows boredom to settle.
A case in point is Luc Beauséjour's lively touch at the organ, which adds even more clarity when the number of instruments increases. In terms of what the recording has to offer, the choice to insert a more melodic work within contrapuntal works is a winning one: the Partita in C Major, from the Musikalische Ergötzung (The Musical Delight), is a touch of  freshness. The second movement, the Aria, is rendered with a beautiful balance and with a beautiful dancing character. Two other moments worthy of note begin with Noeuds borroméens by Maxime McKinley, a contemporary work that, recalling the psychoanalytic meaning of the title, really is a challenge of balance between the cellos. An intriguing and well-executed work.
Finally, the Sarabande "L'Amant soupirant" attributed to Pachelbel, played with a beautiful narrative stretch by Sylvain Bergeron at the archlute. In short, an interesting CD, both for the choice of repertoire and for the quality of the performance.