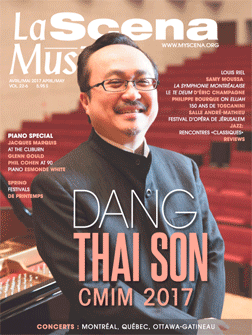 This page is also available in / Cette page est également disponible en:

Francais (French)
We celebrate the 150th anniversary of Italian conductor Arturo Toscanini's birth and the 60th anniversary of his death in 2017. He had an epic start to his conducting career when, at 19 years of age, he replaced the conductor for a performance of Verdi's Aida in Rio de Janeiro at the last minute and conducted the work by memory. He shaped the musical world and much more with his personality and convictions.
Some of Toscanini's major career highlights include conductor in residence at Teatro alla Scala in Milan between 1898 and 1908 and musical director at the same opera house between 1921 and 1929. Additionally, he was conductor of the Metropolitan Opera from 1908 to 1915 and guest conductor and musical director of the New York Philharmonic from 1926 to 1936. He was conductor at the Bayreuth and Salzburg festivals in the 1930s. In 1936, he conducted the Palestine Orchestra, which became the Israel Philharmonic Orchestra in 1948, and became musical director for the NBC Symphony Orchestra established for him between 1937 and 1954 once he took up residence in the United States.
Toscanini's musical culture was broad; his ear and memory phenomenal. It is believed that he conducted 117 operas and 480 concert pieces by memory, both during rehearsals and concerts! (His myopia contributed much to this talent.) He conducted world premieres of Puccini's La Bohème, La fanciulla del West, and Turandot, Leoncavallo's Pagliacci, and orchestral pieces such as Samuel Barber's Adagio for Strings. He was known for his exemplary performances of Italian opera and orchestral works by Wagner, Beethoven, Brahms, and Debussy.
Toscanini was exemplified by exceptional accuracy and clarity in conducting, great energy seen in his performances, and tension in the orchestra from the start to the end of his career. All these endeavours pointed to performances filled with the most tension possible, helping to create dramatic expression. Toscanini was constantly looking for balance—an incredible equation between an exhilarating orchestra and a singing, Italian-style orchestra. Dynamics played a key role in Toscanini's forward motion and energy throughout the music and were not something apart from the work. They served as a moment for us to admire or pause during performance.
Describing Toscanini's talent is difficult. If we were to watch videos he left behind, however, there would be clear features to point out. His right-hand motion showing the measure was a circular, left-to-right gesture from the shoulder, indicating the music's movement and forward motion. Musicians watching the conductor noted the measure and movement of his gestures. The left hand was discreet and sometimes inactive. It became useful when accenting or correcting dynamics, especially when piano markings were required amidst the orchestral tension. His face was an expression of work needed to keep the suitable level of tension and clarity while keeping the musicality in dynamics. A great Toscanini performance was an exciting exercise in intellectual and dramatic concentration, a momentum he perceived as music's human dimension. All this work and concentration allowed Toscanini to emphasize beauty and sensuality in sound when he was at his best. This can be heard in his noteworthy performance of Bizet's Carmen Suites filled with instrumental charm not immediately linked to the great conductor.
A major difficulty in liking Toscanini's works, however, lies in the dryness of the acoustics in the recordings, a lack of reverberation and resonance, and a lack of sound dimensionality. While we have a good idea of the orchestra's real sound coming from Toscanini's great contemporaries such as Furtwängler, the recordings fail to give us an accurate idea of Toscanini's orchestral sonority.
Arturo Toscanini was committed to fighting back against fascism and Nazism. As a way of opposing fascism, Toscanini left Italy and refused to conduct in Salzburg and Bayreuth after the Nazis strengthened power in Germany. He took part in the Allies' antifascist coalition war efforts. Moreover, he gave many concerts in the United States to collect victory bonds.
To celebrate the Allies' victory in Italy, Toscanini conducted Verdi's Inno delle nazioni in 1944. This work had been composed for the 1862 International Exhibition in London and incorporated the British and French national anthems, leading to what would become Italy's national anthem. To pay tribute to the American and Soviet Allies, Toscanini conducted "The Star-Spangled Banner" for the United States and "The Internationale" for the Soviet Union. A film focused on McCarthyism and the Cold War deleted "The Internationale," but it is possible to watch the entire film on YouTube today.
"The direction of my life has been, is, and always will be the echo and reflection of my conscience," said Toscanini. It is hard to better portray this conductor who still inspires us.
Translation: Dwain Richardson
This page is also available in / Cette page est également disponible en:

Francais (French)