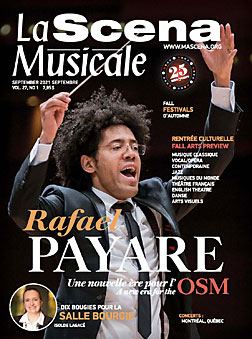 On Sept. 12, the Ladies' Morning Musical Club (LMMC) will open its 130th season at Pollack Hall, celebrating the milestone with faithful audience members, some of whom have been subscribers for over 60 years. As per usual, the organization has put together 10 concerts of the highest calibre, allowing its audience to discover some of the world's finest musicians.
"Last season, McGill University opened the hall especially for us and we are eternally grateful to have been able to continue giving our concerts there," says Rosemary Neville, managing director of the LMMC. "This year, McGill has decided to welcome audiences again at a reduced capacity of 50% – 300 as opposed to 600 in our case – and every second seat will be marked off." 
Following the Quebec government's as well as the university's safety guidelines, proof of two COVID-19 vaccination doses accompanied by photo ID will be required to attend the concerts. There will be no intermissions, programs will not be handed out and tickets will be available before each concert at the welcome table. In an effort to reduce congestion at points of entrance and in common areas, arrival times will be staggered and assigned in advance by email.
Unlike many societies, the LMMC has decided not to offer a combination of live and virtual concerts. "Our mission is to present live music to live audiences." Neville says. 
The opening concert will showcase Canadian violinist Blake Pouliot, Grand Prize winner of the 2016 Montreal Symphony Orchestra Manulife Competition. Other artists and ensembles include the Doric String Quartet, cellist Matt Haimovitz, the Quartetto di Cremona, pianists Stewart Goodyear, Lise de la Salle and Pavel Kolesnikov, the Goldmund Quartet, the Fauré Quartett and the Han-Setzer-Finckel Trio.
While it is presenting a full season with visiting musicians scheduled to fly to Canada without having to quarantine if they are fully vaccinated, the LMMC remains cautious in order to avoid having to cancel any concerts on account of the many uncertainties that lie ahead. 
"Just as it did last year, the artistic committee has put together a shadow program with Canadian artists who are able and willing to jump in," Neville says. "Some of the musicians have been away from the stage for nearly two years now and they are more than happy to be flexible." 
For the moment, only full subscriptions for the
10-concert series are available, at $300 or $80 for students 26 years old and younger. Should any concert be canceled by the LMMC, a full refund will be issued.
For more information, please call at 514-932-6796, email at [email protected] or visit www.facebook.com/ladiesmorningmusicalclub.