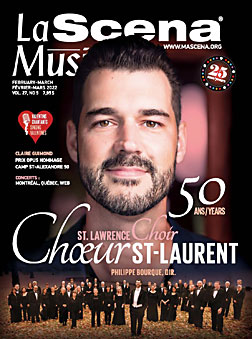 This page is also available in / Cette page est également disponible en:

Francais (French)
Over the past 20 years, Marie-Ève Scarfone has carved out an enviable place for herself on the Quebec music scene. Recognized as one of the most versatile pianists of her generation, she is known as much for her work as a vocal coach, repetiteur and chamber musician as for her work as a pedagogue. After several years of working with institutions such as the Opéra de Montréal and McGill University, performing all over the world and recording for the ATMA Classique and Analekta labels, she has chosen to continue her musical journey in Zürich.
Originally from Montreal, she began her musical training rather late compared to most professional musicians. "I started studying piano to follow my friends at Pierre-Laporte High School. Being a bit behind in my development, I took extra courses in music theory and solfeggio and, during summer vacations at the family cottage, I spent hours reading sonatas by Haydn, Mozart, Debussy's La Cathédrale engloutie, the Grieg Concerto…" It was during this period that her ability to sight-read, an important asset for collaborative pianists, was developed. 
When she arrived at L'École de musique Vincent-d'Indy for her CÉGEP studies, she was quickly solicited by professors who needed a student who could sight-read quickly. "My path to the vocal arts came about somewhat by chance. By word of mouth, at the age of 17, I had young singers like Marie-Nicole Lemieux and Kimy McLaren as clients. With them, I went through the vocal repertoire before I even realized what exceptional talent I had right in front of me."
She furthered her studies at Université de Montréal, where she completed bachelor's and master's degrees in piano under the tutelage of Jean Saulnier, and later at the Manhattan School of Music, where she perfected her skills in the class of Warren Jones. The two met during a summer program at the Music Academy of the West. "I had many revelations during the workshop in Santa Barbara. It was Warren who really made me want to do more opera. It was after this experience that I joined the Atelier lyrique de l'Opéra de Montréal as a young artist."
After building a solid reputation in opera and chamber music, notably through partnerships with artists such as Marianne Fiset, Stéphane Tétreault, and Layla Claire, she was offered the position of head coach at the Atelier lyrique in 2017. After three years at the helm of the young artist program, the first lockdown was imposed.
"I must admit I was a little relieved to have some time off. The projects at the Atelier and my concert schedule were taking over at a dizzying pace. However, after a month spent behind a computer, it became very difficult." A few weeks later, a Swiss-based friend gave her a call and let her know that a vocal coach-repetiteur position at the Zürich Opera House would soon be available. "At first, I didn't even think about sending in my application because I was happy with where I was at in my personal life and with my work in Montreal. It was my partner who pushed me to take a chance. An opportunity like this rarely comes around twice. I decided to audition for the music director, Fabio Luisi, mainly to give myself a personal project at a time when everything was at a standstill. I was offered the job and had to make a decision very quickly. I decided to make the jump and move to Zürich."
Marie-Ève Scarfone started her first season at the Zürich Opera, one of Europe's most prestigious musical institutions, in September 2020. While the vast majority of opera companies had kept their doors closed as a precaution, the company took a rather bold stand by equipping itself with an ultra-sophisticated fiber-optic communication system. This allowed the choir and orchestra to play from a rehearsal room one kilometer away from the opera house while the singers were onstage performing for a live audience.
As soon as she arrived she took part in the preparation of a Verdi gala with Luisi, the then outgoing general music director, recently succeeded at the end of his mandate by Gianandrea Noseda. Despite the inevitable cancellations, most of the operas which had been assigned to her, such as Orphée et Eurydice, Les Contes d'Hoffmann and Lucia di Lammermoor, were still being rehearsed. New productions had to be mounted as a priority for future seasons. Her first months with the new company allowed her to forge partnerships with world-renowned singers, including tenor Benjamin Bernheim, with whom she collaborated in a recital of melodies and lieder in Lucerne. Now the French repertoire specialist of the company, she is currently working on a production of Dialogues des Carmélites, which opens February 13.
"Being in a hub of excellence like the Zürich Opera and feeling that I am surrounded by people who are constantly pushing their own limits is wonderful. Everyone has different strengths and everyone has the opportunity to bring their best to a particular project. It's a huge opportunity for me to learn more about my craft."
This page is also available in / Cette page est également disponible en:

Francais (French)