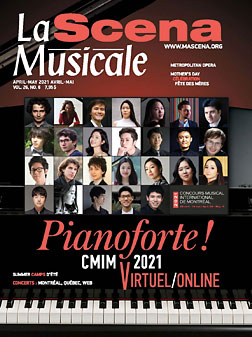 This page is also available in / Cette page est également disponible en:

Francais (French)
Adam Johnson is known across Canada for his work as a conductor, particularly with the Montreal Symphony Orchestra, where he served as assistant conductor and resident conductor between 2016 and 2019. During his tenure at the MSO, he conducted over 65 concerts and collaborated closely with Kent Nagano on recordings for Decca and Analekta, as well as contributing to performances at Carnegie Hall, the Salzburg Festival and on a major European tour.
Prior to his arrival in Montreal, he spent three seasons with the Calgary Philharmonic Orchestra, first as assistant conductor and eventually as associate conductor. In 2018, he won a Opus Award in the best youth concert category. Last year, Johnson was named Mécénat Musica's first educator-in-residence. Mécénat Musica is a cultural program that encourages music lovers to make an in-perpetuity donation of $25,000 to an organization that is important to them.
"I ended up collaborating with Mécénat Musica because the people there knew of my involvement in education as well as my work as a performer," says Johnson. "What I'm doing with them is a bit different from a lot of educational programs I've worked with. My mission here is to bridge the gap between professional performance practices and music education. For example, one of my goals is to help equip high school band teachers in the public system with tools and techniques that I've amassed while working in the professional world."
Having been through a high school band program himself, Johnson is in a position of look back on his student days and reflect on what methods might be improved. As an assistant conductor, he spent thousands of hours observing top conductors, orchestras and soloists working together and delivering world-class performances. He took note of the best practices and now uses those to enhance the Canadian music education curriculum.
"When I was working with youth ensembles and adjudicating competitions, I noticed consistent patterns coming up with young musicians all around the country," he says. "I kept thinking that I would love to be able to help them and make as big an impact as possible in how music education is undertaken for the younger generation. Since being appointed Mécénat Musica educator-in-residence, I realized it's not just a matter of sharing what I've learned as a professional conductor. I also need to understand the unique challenges facing band teachers if I'm going to bridge the gap between professional practice and public education."
While music education was an important part of the high school curriculum across Canada until the early 2000s, parents now have a myriad of options when it comes to choosing a program for their children after elementary school. Teenagers can now specialize in science technology engineering, take enriched maths or be in a sport-études program, among others. In a rapidly changing world, music education can sometimes be difficult to sell.
"We need to make sure that those who are making decisions about classes, class sizes and what programs are available in high schools understand the tremendous benefits of music education," he says. "There's a problem of perception around music education, mainly by those who haven't had a music education themselves. They sometimes think of it as something that is passé when in fact it is something that is very much useful today.
"One of the things that I find interesting is that every study ever done on the effects of music exposure and education for youth shows tremendous benefits in brain development, focus and even resilience to bullying, because of developed self-esteem and working in a group setting. There are so many attributes that come along in getting a music education that benefit our young people throughout their lives no matter what profession they go into."
Like everyone else, Johnson's plans were suddenly interrupted at the beginning of the pandemic. Unable to travel across Canada to give workshops and meet with educators, he finally found himself being able to reach more people than he would have otherwise.
"One of my goals going into this was to reach as many music educators as I could," he says. "That is actually being helped by the pandemic because I'm able to connect with far more people online, especially now that there is more of a structure for that kind of communication. I'm working on developing an online program called Mastering Musicianship which will be a collection of practices and tools I've put together. It will be available to teachers as well as educators in a broader sense even after my residency with Mécénat Musica is over in two years. It'll be about tying together what are the best ways that we can help make music really fulfilling and fun for our youth."
While technology has allowed him to get closer to his goals during the pandemic, he reminds us that the shared experience of making music together, in the end, has the most rewarding and long-lasting effect.
"We can use technology in ways that will help us make the art form evolve but we can't forget that making music is a human art," he says. "Singing together, making harmonies and sharing vibrations is the kind of experience that benefits everyone and should be shared by everyone."
This page is also available in / Cette page est également disponible en:

Francais (French)