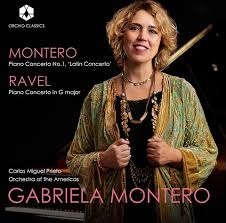 Most musicians go through life trying to avoid trouble, especially of the political kind. Gabriela Montero is an exception. Venezuelan by birth and an exile from childhood, she made her name as a flamboyant soloist in 20th century piano concertos. As encores she invented her own riffs on themes requested by the audience. Over time, these became full-length compositions.
Unable to ignore the Government-impelled disintegration of her home country, she infused many of her musical thoughts with a political message of range and hope.
The main item in this release is a piano concerto by Montero fusing Latin American tropes with a large-form vision. The themes are ear-catching and the development never flags. Montero is up front and centre as soloist with a percussion-heavy orchestra playing obbligato accompaniments, mostly with dance and jazz rhythms. It's 30 minutes long and the concluding Allegro Venezolano is definitely not downbeat. Montero is a life-affirmer. Venezuela will rise again. Have fun.
The companion piece is a cracking rendition of the Ravel G major concerto, jazzier than most interpretations and with an authentic 1920s swing. In the adagio, where Montero takes deep breaths, one gets full measure of the original artist she is.

Sign on to the blogfeed: www.slippedisc.com

Visit the website: www.normanlebrecht.com