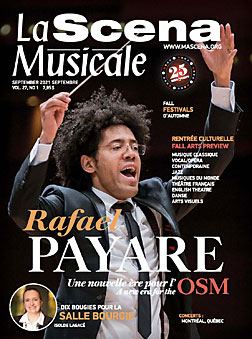 This page is also available in / Cette page est également disponible en:

Francais (French)
During the pandemic, instead of putting up a fight, I preferred to set aside our big concerts and try to develop things we wanted to try for years, but never could," says Julien Proulx, artistic director and conductor of the Orchestre symphonique de Drummondville. "The pandemic gave us some freedom." And it is exactly under the aegis of freedom and novelty that the OSD is announcing its 2021-22 season. The Grands Concerts return but with two new more intimate series inspired by the pandemic: Beethoven au salon and the Causeries musicales.
While Beethoven au salon takes up the idea of ​​musical salons from the time of the master, the Causeries musicales are chamber music concerts hosted by Proulx, sometimes with a guest presenter. "The causeries will be presented in a fun setting," says Proulx. "We tried to plan relaxed hour-long concerts. The public will be able to have a drink with the musicians. We give them some music, we chat, they can ask questions. 
The first concert includes music of Western Europe – which is also the theme of the season. The second causerie focuses on Quebec composer Auguste Descarries and the third explores the music of Louise Farrenc.
The return of the Grands Concerts is eagerly awaited by the musicians and their conductor. The orchestra will welcome the German baritone Johannes Held, who performs Schumann's Dichterliebe in a rarely heard arrangement by Théodore Dubois. "We will also be playing Dvořák's Seventh Symphony," Proulx says. "I felt I had two choices to start this season: the joy of celebrating the fact that we can be together again or something more thoughtful that communicates all the emotion we have accumulated during the year."
For the first time, the OSD will have a young soloist in residence, pianist Jean-Michel Dubé. He performs with the orchestra in the Grands Concerts series as well as offering chamber music training and giving master classes.
Also new, the orchestra has set up the Jeunes musiciens de l'avant-scène program, which allows young players from the region to be heard during a gala and as a prelude to the Grands Concerts.
The OSD presents Les amours du poète as part of the Grands Concerts series on Nov. 18 at 7:30 p.m. at the Léo-Paul-Therrien Hall in Drummondville.
This page is also available in / Cette page est également disponible en:

Francais (French)