This page is also available in / Cette page est également disponible en:

Francais (French)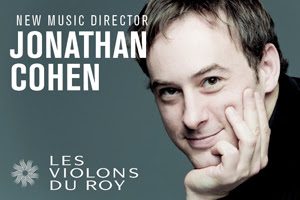 Conductor Jonathan Cohen named music director of
Les Violons du Roy
Quebec City, October 6, 2016 – The management and musicians of Les Violons du Roy orchestra today announced the appointment of renowned British conductor Jonathan Cohen to the position of music director. Known as a brilliant conductor as well as a harpsichordist and cellist, Jonathan Cohen will assume his new role in the 2018–2019 season and continue until 2021.
In the interim, he will be very active with the orchestra and will begin serving as designated music director in February 2017, with a concert performed by Les Violons du Roy at Palais Montcalm – Maison de la musique in Quebec City.
Regarding his appointment, Jonathan Cohen said, "I am honored and delighted to accept the position of music director of Les Violons du Roy. The orchestra is a remarkable ensemble that I feel close to musically and that I admire for its consistent quality of the highest order. I also love its commitment and its unique spirit of taking pleasure in making music.
"I'd like to express my gratitude and admiration for Bernard Labadie's outstanding work with the orchestra. I can't wait to experience the same stimulating partnership with these great musicians, both in Quebec City and around the world, and to work with the management and board of directors of Les Violons du Roy. I look forward to performing again for Quebec City audiences on my next visit to Palais Montcalm in February."
Jonathan Cohen will take over the reins from Bernard Labadie, founding conductor of Les Violons du Roy, who hailed the appointment of the new music director. "I am very pleased to welcome the appointment of Jonathan Cohen as music director of Les Violons du Roy," said Labadie. "Jonathan is a young musician of great stature with a bright future ahead of him, and there's no doubt in my mind he will guide Les Violons du Roy to continued growth and development in the coming years. As founding conductor, I am proud to see him take over the helm of the orchestra, and I assure him of my complete cooperation and support. I also applaud the painstaking process that led to his selection by the musicians, management, and board of directors of Les Violons du Roy. Welcome, Jonathan!"
Highly esteemed within the international artistic community and known for his passion and commitment to chamber music, Jonathan Cohen is comfortable with a wide range of material, from baroque opera and the great classical symphonies to the romantic repertoire. The conductor is also artistic director of Arcangelo, associate conductor of Les Arts Florissants, artistic director of the Tetbury Music Festival in England, and artistic partner of the famous Saint Paul Chamber Orchestra in Minnesota.
His recent engagements include concerts with the Scottish Chamber Orchestra, Saint Paul Chamber Orchestra, Royal Scottish National Orchestra, Swedish Radio Symphony Orchestra, Kammerakademie Potsdam, and Glyndebourne Festival.
Les Violons du Roy concertmaster Pascale Giguère has nothing but praise for Jonathan Cohen: "Today is a milestone in the life of Les Violons du Roy. As a growing organization, Les Violons du Roy has chosen an exceptional musician as its new music director. Jonathan is an attentive and generous artist whose work reflects not only his respect for and delight in chamber music, but also the rigor and attention to detail so integral to the spirit of Les Violons du Roy. We look forward to sharing many meaningful and exciting musical moments thanks to the commitment and dedication of Jonathan Cohen, our new music director!"
The selection process for the new music director spanned a two-year period. The board of directors, management, and musicians joined with a representative from the cultural community to lay the groundwork for the appointment of Jonathan Cohen in accordance with the group's artistic nature and mission: "Jonathan Cohen's arrival is the result of the exceptional rapport the conductor established with the musicians of Les Violons du Roy," explained Jean Houde, chair of the Les Violons du Roy board of directors.
Les Violons du Roy executive director Hugo Sanschagrin added, "Not only were the musicians unanimously in favor of Jonathan Cohen's appointment, but his international reputation is an incredible boon for the orchestra's future development.''
They wrote about Jonathan Cohen :
« On a pu se rendre compte assez rapidement d'un changement dans la sonorité de l'orchestre. Attaques plus rondes, plus souples. Jeu délicat, plus retenu que de coutume. L'orchestre était manifestement tombé sous le charme du maestro. Et de toute évidence l'auditoire également. » – Le Soleil
« Quelle intelligence musicale ! Jonathan Cohen, ne choisissant pas cette voie-là, apparaît comme l'un des porte-voix d'un « Baroque 2.0 », qui a digéré les acquis pour passer à une autre étape. » – Le Devoir
« From his vantage point at the harpsichord, Cohen didn't always need to do much conducting… His interpolations of instrumental works supplied contrasting textures and highlighted the breadth of expertise he had to showcase. » – The Times, London
« Cohen, with his exceptional choral and instrumental forces, resists pursuing a single overall textural ideal and instead seeks an evolving, unrushed relationship between each movement according to the musical stage in the journey. » – Gramophone Magazine
-30-
This page is also available in / Cette page est également disponible en:

Francais (French)