This page is also available in / Cette page est également disponible en:

Francais (French)
Montréal, January 22, 2019 — 24 of the world's most promising young violinists—15 women and 9 men between the ages of 16 and 28, from 13 nations—have been selected to participate in the CMIM (Concours musical international de Montréal) running from May 29 to June 5, 2019. The United States leads the selection with seven violinists, followed by Japan and South Korea with 5 violinists each. Germany is represented by two competitors and the following nations are each represented by one competitor: Austria, China, Czech Republic, France, Latvia, Russia, Spain, Taiwan and Ukraine. The 24 competitors will vie for over $150,000 in prizes, awards, and grants, including a First Prize worth more than $100,000. Here is the list of the Violin 2019 competitors: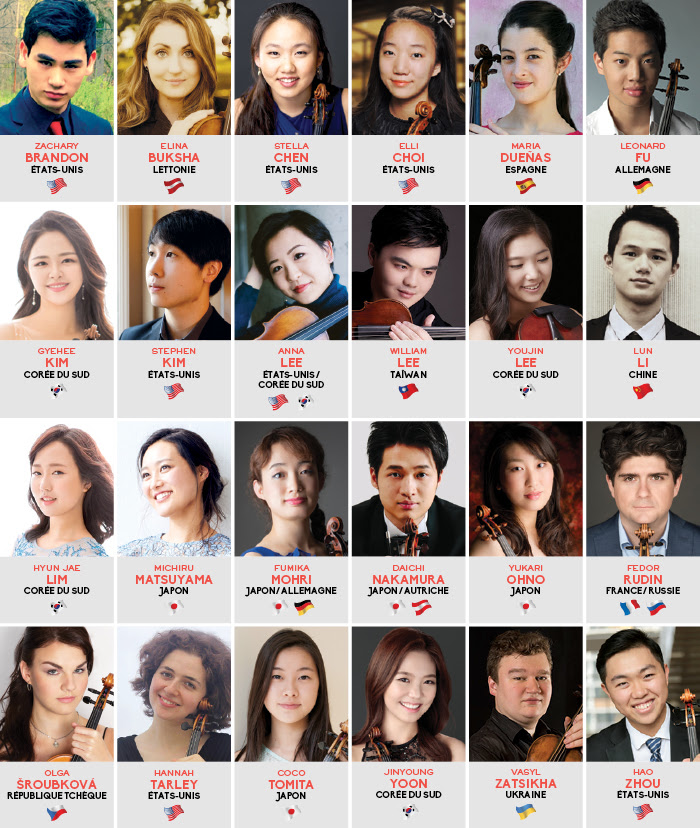 Zachary Brandon, United States
Elina Buksha, Latvia
Stella Chen, United States
Elli Choi, United States
Maria Dueñas, Spain
Leonard Fu, Germany
Stephen Kim, United States
Gyehee Kim, South Korea
William Lee, Taiwan
Youjin Lee, South Korea
Anna Lee, United States / South Korea
Lun Li, China
Hyun Jae Lim, South Korea
Michiru Matsuyama, Japan
Fumika Mohri, Japan / Germany
Daichi Nakamura, Japan / Austria
Yukari Ohno, Japan
Fedor Rudin, France / Russia
Olga Šroubková, Czech Republic
Hannah Tarley, United States
Coco Tomita, Japan
Jinyoung Yoon, South Korea
Vasyl Zatsikha, Ukraine
Hao Zhou, United States
The jury 
Presided over by Zarin Mehta, the 2019 international jury is comprised of Pierre Amoyal (France), Michael Haefliger (Switzerland), Kim Kashkashian (United States), Boris Kuschnir (Austria), Cho-Liang Lin (United States), Mihaela Martin (Romania), Barry Shiffman (Canada), Dmitry Sitkovetsky (United Kingdom/United States), and Pavel Vernikov (Israel/Switzerland).
Box office and information
The First round (May 29 and 30) and Semi-final round (June 1 and 2) will be held at Montreal Museum of Fine Arts' Bourgie Hall with morning (11 am), afternoon (3 pm) and evening (7:30 pm) sessions.
The Final round will take place on June 4 and 5, both at 7:30 pm, at Maison symphonique, where violinists will be accompanied by the Orchestre symphonique de Montréal led by guest conductor Alexander Shelley. Before each final, jury member Cho Liang Lin (June 4, 6:30 pm) and maestro Alexander Shelley (June 5, 6:30 pm) will participate in a pre-concert talk.
First round (May 29 & 30) and Semi-final round (June 1 & 2) :
Bourgie Hall / mbam.qc.ca/cmim  |  514-285-2000, option 4
ABOUT THE CMIM
Founded in 2002, the CMIM (Concours musical international de Montréal) aims to further the development of the world's most promising young singers, violinists, and pianists, while making classical music more accessible to the greatest possible number of people. The CMIM is held annually and features three disciplines (piano, voice, and violin) in a three-year rotation. Since its first edition dedicated to Voice in 2002, 3,700 hopefuls have entered the Competition, and close to 500 have been welcomed to perform in Montreal.
Complete details at concoursmontreal.ca
Facebook/Twitter/Instagram: @CMIMontreal
This page is also available in / Cette page est également disponible en:

Francais (French)