Advertisement / Publicité
Toronto – The Canadian Opera Company announced today a new mainstage commission: The Old Fools bycelebrated Montreal-based composer Ana Sokolović and seasoned British librettist Paul Bentley. La Reine-Garçon, first announced in 2015, is moving forward as a co-commission with the Opéra de Montréal; it's the first mainstage collaboration of its kind between the two major Canadian opera companies and at its helm are two exceptionalCanadian artists: Julien Bilodeau as composer and Michel Marc Bouchard as librettist.
The Old Fools
This opera in two acts was inspired by "The Old Fools" by renowned English poet Philip Larkin. The poem concerns Larkin's fear of aging and death and composer Ana Sokolović says the following lines, in particular, were deeply touching: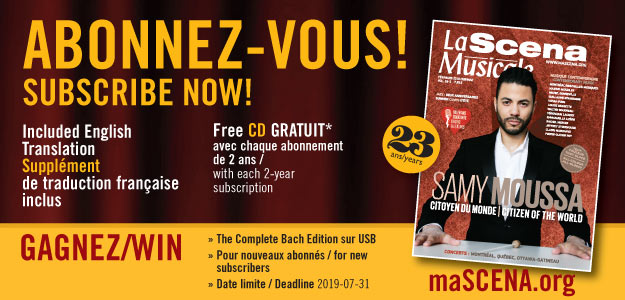 Perhaps being old is having lighted rooms
Inside your head, and people in them, acting
People you know, yet can't quite name; each looms
Like a deep loss restored…
"I have created the central role in the opera for an old man, negotiating the end of his life," says Sokolović. "He can't live at home anymore because he is no longer physically independent. The subject matter is universal and poignant, as we're seeing a growing phenomenon of more and more old people spending their last days outside of their homes. In spite of his frail physical appearance, the old man escapes his surroundings by climbing into the lighted rooms in his head. In these rooms, he recollects intense emotional moments of his life when he experienced overwhelming joy, friendship, and love."
Sokolović's repertoire is expansive, consisting of works for soloists and orchestra, operas, and several pieces of chamber music. Her many awards include the Prix Opus Prize given to composer of the year by Quebec Music Council (2007), the Jan Matejcek SOCAN Prize in 2008 for concert music, and the Serge-Garant prize by the Foundation Émile-Nelligan (2015). Her 2011 opera Svadba-Wedding for Queen of Puddings Music Theatre received six nominations for Dora Mavor Moore Awards and took home the prize for Outstanding New Musical/Opera before going on to tour across the country and internationally.
"One of the things I enjoy most about Ana's work is that they are stories that tap into a shared human experience while simultaneously challenging our perceptions of what that is," says COC General Director Alexander Neef. "Paired with Paul Bentley as librettist, the two have created something very special and unique for the COC stage; The Old Foolstakes what we assume to be one person's reality and opens our eyes to a whole other world within."
British writer and actor Paul Bentley has written librettos for five other operas that include Poul Ruders' The Handmaid's Tale (performed at the COC in 2004), Philip Glass' Kafka's Trial, and The Midnight Court with Ana Sokolović.
"Paul is a great librettist," says Sokolović. "After working together once before, he understands me very well."
When approached about The Old Fools, Bentley says he was thrilled at the chance to reunite with Sokolović. "It's always good fun working with Ana, but I knew this was going to be very different for us," he says. "Whereas creating the libretto for The Midnight Court had been simply a question of adapting an existing poem for the operatic stage, Ana's imagination is the source here."
"Meeting the demands of Ana's imagination is, I would say, a challenge to my imagination!" adds Bentley. "But I rather enjoy being challenged."
Bentley brings a wealth of theatrical experience to his role as librettist. His stage career spans more than three decades and includes appearances at Gielgud Theatre, The Old Vic, Regent's Park Open Air Theatre, and Royal Festival Hall. His television work includes roles on BBC's Doctor Who and HBO's Game of Thrones.
The Old Fools will be sung in English and French and is expected to premiere in 2021. Additional information regarding the opera's creative team, as well as casting and design, will be released as details become available.
Extract from "The Old Fools" by Philip Larkin, taken from High Windows (Faber & Faber, 2015). Copyright (C) The Estate of Philip Larkin, 1974. Reproduced by permission of Faber & Faber Ltd.
La Reine-Garçon
La Reine-Garçon is inspired by Sweden's Queen Christina, whose scandalously flamboyant and unconventional reign ended at 27 when she abdicated the throne. The opera zeroes in on a tumultuous time for the young monarch when a visit from French philosopher René Descartes upends everything she previously stood for – including her love for the Countess Ebba Sparre.
The work is a co-commission between the Canadian Opera Company and the Opéra de Montréal, making La Reine-Garçon the first mainstage collaboration between the two companies. Recently, innovative Quebec composer Julien Bilodeau joined the production's creative team, alongside award-winning writer Michel Marc Bouchard of Montreal.
"We're delighted to be partnering with the Opéra de Montréal on La Reine-Garçon," says COC General Director Alexander Neef. "Collaborations like this are key to unlocking the potential of Canadian operatic storytelling."
"Our artistic director, Michel Beaulac, and I are thrilled to offer our audiences this exciting new operatic adventure by two of Montreal's most eminent artists," says Patrick Corrigan, General Director of the Opéra de Montréal. "The Opéra de Montréal is truly delighted to partner with the Canadian Opera Company in our first co-commission of a new work together."
"The creative process with any new work is rarely linear," adds Neef of changes to La Reine-Garçon. "As an opera begins to live and breathe, new directions often emerge; we are fortunate to work with artists who take risks, embrace exploration, and invest themselves fully and courageously in the process of operatic development. Julien and Michel Marc bring so many individual strengths to this particular production. Julien's range as a composer is an extraordinary fit for the incredible spectrum of nuance Michel Marc has drawn out in these characters."
Julien Bilodeau is one of the most prominent artists of his generation. In 2006, he was awarded the Robert Flemming Prize, given to the most promising young composer, by the Canada Council for the Arts. Most recently he was awarded Composer of the Year at the 2018 Opus Awards for his first opera, based on the lyrics of Pink Floyd's Another Brick in the Wall. His works boast a diverse aesthetic and have been performed around the world by leading ensembles that include Montreal Symphony Orchestra, Metropolitan Orchestra, and Nouvel Ensemble Moderne. 
Bilodeau says music for the opera immediately came to mind as he read through Bouchard's libretto. "This story is about the foundation of modern society and the birth of great ideas that shaped the principles of humanism that are still, and even more, relevant today," he says. "Free spirit, gender equality, and scientific knowledge – just to name a few – are well addressed in this beautiful text and Christine, the reine-garçon, embodies all, making her the perfect subject for an opera. She is ahead of her time and asks forbidden questions because she seeks to know who we are as human beings."
"Working with Michel Marc is a true privilege," adds Bilodeau. "His gift for words and his sensibility for music have led to a collaboration that is rightly challenging for me, as a composer."
La Reine-Garçon is the third operatic work by Michel Marc Bouchard. "It is a pleasure for me to work with Julien," says Bouchard. "He is a true source of inspiration. Julien's musical writing is masterful and incorporates the lyricism and sensitivity required to portray the many sides of Sweden's queen. Whether we are creating scenes of great intimacy or epic grandeur, Julien can convey both the most delicate and most powerful of emotions."
Bouchard counts the National Arts Centre Award, the Chalmers Award, the Dora Mavor Moore Award and the Lambda Literary Award among his numerous literary prizes. In 2005, the Montreal playwright was made an Officer of the Order of Canada and, in 2012, a Knight of the Order of Quebec. To date, he has penned more than 20 plays that have been translated into over 15 languages and performed around the world; six of those works, including Les Muses orphelines, Tom à la ferme, and Christine, la reine-garçon, have been adapted for the screen. His Les Feluettes, which explored same-sex love in the early 20th century, was adapted into an opera that premiered in 2016 at the Opéra de Montréal; the company subsequently commissioned his second opera, La beauté du monde, set to premiere in 2021.
"I am heartened at the artistic dialogue seeing the work grow and develop with each meeting," Bouchard says. "Julien and I have certainly embarked on a long creative journey in creating this opera for the COC, but it is a course that we travel with enthusiasm, every step of the way."
La Reine-Garçon will be sung in French and is expected to premiere in 2023. Additional information regarding the opera's creative team, as well as casting and design, will be released as details become available.
---
ABOUT COC COMMISSIONS
La Reine-Garçon and The Old Fools are the sixth and seventh mainstage operas commissioned by the COC since 1950 to have a world premiere on the company's mainstage. The COC's previous mainstage commissions are Hadrian, which premiered in October 2018 by composer Rufus Wainwright and librettist Daniel MacIvor; The Golden Ass (1999) by composer Randolph Peters and librettist Robertson Davies; Mario and the Magician (1992) by composer Harry Somers and librettist Rod Anderson; Héloise and Abélard (1973) by composer Charles Wilson and librettist Eugene Benson; and The Luck of Ginger Coffey (1967) by composer Raymond Pannell and librettist Ron Hambleton.
ABOUT THE CANADIAN OPERA COMPANY
Based in Toronto, the Canadian Opera Company is the largest producer of opera in Canada and one of the largest in North America. The COC enjoys a loyal audience support-base and one of the highest attendance and subscription rates in North America. Under its leadership team of General Director Alexander Neef and Music Director Johannes Debus, the COC is increasingly capturing the opera world's attention. The COC maintains its international reputation for artistic excellence and creative innovation by creating new productions within its diverse repertoire, collaborating with leading opera companies and festivals, and attracting the world's foremost Canadian and international artists. The COC performs in its own opera house, the Four Seasons Centre for the Performing Arts, hailed internationally as one of the finest in the world. Designed by Diamond Schmitt Architects, the Four Seasons Centre opened in 2006. For more information on the COC, visit coc.ca.
ABOUT THE OPÉRA DE MONTRÉAL
Well-established in Montreal, at the crossroads of North American and European culture, the Opéra de Montréal acts as a catalyst for the city's artistic creativity and celebrates Quebec and Canada's rich vocal heritage, showcasing opera at its most diverse and daring. From great classics of the opera repertoire and innovative new works from home and abroad, to a training program for the finest young Canadian singers and outreach efforts in the community and educational system, the Opéra de Montréal offers unforgettable operatic events at which everyone is warmly received and feels welcome.