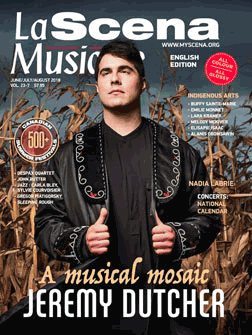 This page is also available in / Cette page est également disponible en:

Francais (French)
Now residing in Montreal, Inuit singer-songwriter, film director and activist Elisapie will release The Ballad of the Runway Girl at the end of summer. About 30 concerts are already planned in connection with this new album. Elisapie launches her cross-province tour in Lavaltrie and travels to Val-d'Or. Montreal welcomes her on Sept. 27.
Elisapie's fourth album was inspired by the life of Willie Thrasher, an Inuit singer. "Sent to a residential school in the south, deprived of his language and traditional lifestyle, Willie Thrasher did not have an easy life, but this fighter gave me force and influenced my work," Elisapie explains. Does the first track of the new album, Wolves Don't Live by the Rules, signify a return to roots? Didn't she sing for the first time on stage with her uncle, leader of an Inuit folk-rock music group?
During the production of the album, Elisapie was inspired by folk music she listened to when she was young. This music fed her imagination. "Wolves was the creative-process trigger of the album," she says. The song is also a chant for resistance and an ode to survival, nomadism and Inuit freedom and spirituality. Archival photos from the 1960s used in the video clip show the winds of change that were sweeping Inuit communities back then. They restore in us the hope that drives the hearts of First Nations youths today.
www.elisapie.com
Translation by An-Laurence Higgins
This page is also available in / Cette page est également disponible en:

Francais (French)