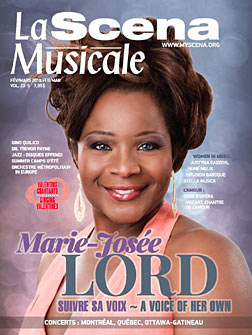 This page is also available in / Cette page est également disponible en:

Francais (French)
This year, the Association des orchestres de jeunes du Québec (AOJQ) presents the 20th edition of its Quebec Festival of Youth Orchestras. The festival allows eight youth orchestras to be matched with four distinguished guest conductors, one of whom is Alain Trudel, who also happens to be the event's spokesperson.
In addition to performing onstage at the Salle André-Mathieu in Laval under the direction of their respective conductors, the orchestras will be grouped in pairs and will receive the guidance of a mentoring musician. They will then present the fruits of their labour during a gala concert held at the Maison symphonique on April 1.
The program features works by Beethoven, Schubert, Prokofiev and Marquez. This pairing will allow young musicians to work with some of their more seasoned peers, and to be led and inspired by internationally-renowned conductors. This year, the participants will have the chance to collaborate with Julien Bénichou, Dina Gilbert, Patrick Baton and, of course, Trudel. A former participant himself, Trudel describes the festival as an opportunity to meet other youth who share the same passion.

"Often, in schools, musicians who specialize in classical music are seen as aliens, so to be surrounded by like-minded individuals makes us realize that we are normal," he says. "…For me, as a conductor, it is an occasion to work with the youth, and also to spot those who are the ones to watch."
Trudel says he is grateful for the education he has received from people he encountered at every step of his musical training, including teachers from the École Joseph-François-Perrault, the Conservatoire, and the Ritmiks of Montreal. Now he wishes to help others by getting involved with the AOJQ.
Alain Trudel and AOJQ president Jacques Clément stress the importance of patience, compassion and discipline during the festival. The orchestras will have rehearsed their works in advance, but teaming up with another orchestra and being directed by a new conductor will be quite a challenging adaption for these young musicians. "That being said, their energy and wonder when they discover works are true rewards for any conductor working with a youth orchestra," adds Trudel.
Each in his own way, Clément and Trudel inspire young musicians to get involved within their communities. Throughout the year, the AOJQ has forged links between youth orchestras by facilitating inter-orchestra exchanges, establishing a communal library, and creating a newsletter, among other initiatives. Founded in 1979, the AOJQ rejoices in seeing the development of several youth orchestras in Quebec, and hopes to continue supporting and helping the rising stars of tomorrow.
The Quebec Festival of Youth Orchestras runs from March 30th to April 1, 2018. www.aojq.qc.ca
Translated by Natasha Beaudin Pearson
This page is also available in / Cette page est également disponible en:

Francais (French)