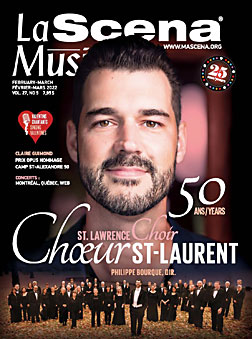 This page is also available in / Cette page est également disponible en:

Francais (French)
To mark the 50th anniversary of the St. Lawrence Choir, we have given voice to those who forged its identity.
Iwan Edwards: Looking Back
When he founded the St. Lawrence Choir in 1972, Iwan Edwards had one ambition: to bring people together through music. Fifty years later, he is moved to see that the choir is still very much alive, ­brimming with new projects. "When the choir first came ­together, I didn't imagine that it would still be there 50 years later. The goal was just to give singers from the West Island an opportunity to sing in a choir, that was my mission. It was a ­relatively small group at the ­beginning and it grew over time," recalls the conductor emeritus of the St. Lawrence Choir.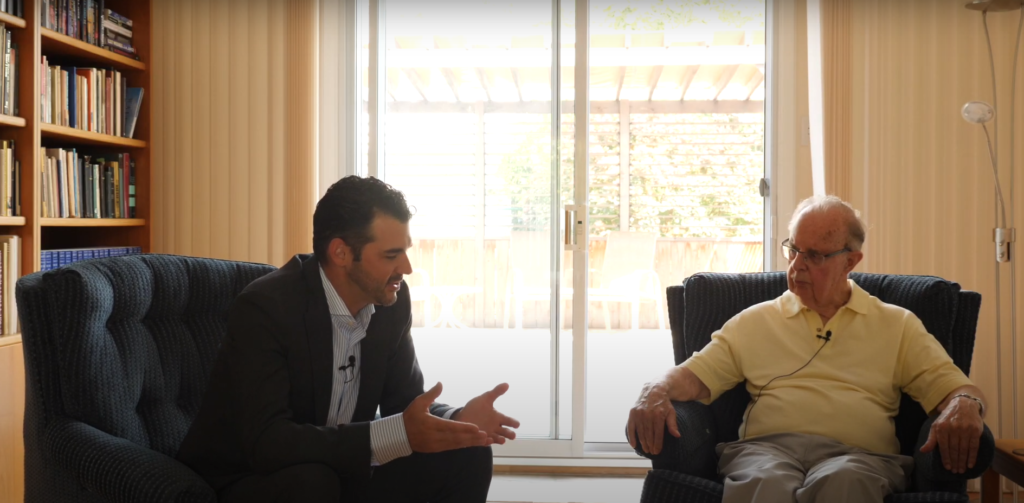 From the very beginning, the choir focused on oratorio and sacred music, even if it did not ­exclusively perform works from this ­repertoire. "It was a repertoire that came naturally to me, because I had been immersed in it since my childhood. By choosing this repertoire, I was trying to fill what I ­perceived as a gap in the community in which I worked. I don't know if I was right or wrong, but we had a lot of success when we did ­sacred repertoire, so we kept going," he says. "The main thing for me was to bring texts to light, not just the technical aspect of the music. We were always aiming for perfection, but expression was the most ­important thing."
The bilingualism of the choir was also self-evident. From the very first years, French speakers joined the ranks of the choir and its ­bilingual status was established. "It was natural for me. I grew up in a bilingual society where Welsh and English were mixed. I wasn't ­politically involved and the issues that existed in Quebec at the time didn't particularly appeal to me. All I was (and still am) interested in were humans and humanity."During his long career with many amateur and professional singers, Iwan Edwards has made a name for himself in the Canadian music community. He became a member of the Order of Canada in 1995 and was awarded the Elizabeth II Golden Jubilee Medal in 2002. He has led the St. Lawrence Choir to a very high level, with the choir being ­invited for 25 years to perform as the main component of the ­Montreal Symphony Orchestra Choir. "I don't know if I can say that I was ­inspiring to the choristers, but I didn't shout, I encouraged them, I joked with them. Through the encouragement, they became better and gave their best. I did what I could to help them, quite simply."
In parallel with the St. Lawrence Choir, Iwan Edwards worked from 1965 to 1979 at Lachine High School and from 1979 to 1990 at FACE (Formation artistique au cœur de l'éducation) where he set up choral programs. "I have always loved working with children. For me, there is no difference in the way I work. You have to treat children and young people as adults. This is how mutual respect develops. That's where humanity comes in."
Since the time when Iwan Edwards was conductor of the St. Lawrence Choir, then with Michael Zaugg (2008-2013) and Philippe Bourque (since 2014), there has always been room for an assistant conductor within the choir. This position was formalized in 2019 as the Iwan Edwards Conducting Mentorship Program to provide young conductors with an opportunity to further their knowledge and lead a major choir. "Mentoring is a privilege and does crucial work with young conductors because they need guidance and experience. It's a program that I support 100%," he says. "At the St. Lawrence Choir and then at McGill University, I had the chance to pass on my knowledge. I didn't necessarily want to be an ­example, but I wanted to help ­people and have fun doing it."
Not having received that kind of support himself at the beginning of his career is the reason he feels so strongly about the mentorship ­program, and about educating young conductors in ­general. A self-taught ­violinist, he learned to conduct through his ­experiences and various professional commitments. As a youngster he sang in his parish choir and it was through this expe­rience that he was already sensitive to choral ­conducting.
When he moved to Montreal in the early 1970s, there was not a great choral tradition in the city, nor in the province in general. "There was the Montreal Tudor Vocal Ensemble, which was made up of professionals, and the Elgar Choir, which I directed for a year, but that was about it. The success I had in Montreal may have sparked an interest in choral singing. I don't know if I really had an impact, but there is now a great diversity of choirs in the city. I did what I thought needed to be done."
Edwards, who has been at the helm of the St Lawrence Choir for 36 years, wants it to continue to shine and grow: "If it continues on this path, it will be successful, thanks to good administration and a very good conductor. That goes without saying. I sincerely hope that it will survive another 50 years and more!"
Philippe Bourque: Looking Forward
Philippe Bourque is passionate. This is immediately apparent when discussing his profession as a choirmaster of the St. Lawrence Choir and the major concert celebrating its 50th anniversary. If the conductor has a special relationship with the St. Lawrence Choir, it is because he adores the vast repertoire of the oratorio. "As a conductor, I have always had difficulty choosing between conducting only an orchestra, a choir or soloists. What I really like is the amalgamation of the three. Also, the possibility of directing works ranging from the Renaissance to modernity offers an incredible range of works. The works often require large forces and I like to have a choir of 100 voices and an orchestra of 50 musicians and all the possible combinations," he explains. Son of a Protestant minister, he developed a great interest in philosophy and theology. He understands well the subtleties of the sacred repertoire and texts chosen to be set to music. This link with the Protestant Church is one of the reasons why the maestro is attracted to the music of Mendelssohn, the latter being a Lutheran of Jewish origin. This Protestantism colours his music. It also influences the way he composes for the voice. "Mendelssohn is one of the few composers who can write for orchestra as well as for voice and choir. Everyone feels very comfortable in their voice and it is very pleasant. He is also able to take elements from the past and project them into the future."
To celebrate the 50th anniversary of the St. Lawrence Choir, and wanting to avoid the conventional repertoire of masses and requiems, the artistic director turned to Mendelssohn's Lobgesang. This hymn of praise seemed to him to be the perfect piece to celebrate the choir's past in a grand way while looking to its future. Composed in 1840 for a festival celebrating the 400th anniversary of Gutenberg's invention of printing, the symphony-cantata was seen by Mendelssohn as a celebration of the victory of the human spirit and divine light over darkness, the invention of the printing press being the symbol of knowledge. The texts of the Lobgesang are taken from the Bible, the first book to have been printed on a large scale, but were all paraphrased by Mendelssohn, except the chorale Nun danket alle Gott, often used in Lutheran music. "Mendelssohn greatly elevated early music, especially Bach. He composed a lot of choirs, he wanted to show that he was a "true" Lutheran and he was keen on the dissemination of knowledge for the whole congregation. There is a very participatory side to his music," adds Mr. Bourque. This is the first time that the rarely performed Lobgesang will be sung by the St. Lawrence Choir.
The form of the Lobgesang is unique, which has prompted many to call it Symphony No. 2. Indeed, the first three movements are exclusively orchestral and represent 30 percent of the complete work.
Professor and conductor at McGill University, Bourque invited the Grand Chœur of McGill University to join the St. Lawrence Choir. "For this kind of work, I like to have a ratio of two singers for one musician. The contribution of the McGill Grand Choir allows me to obtain this very satisfying amplitude. It was also in a desire to transmit knowledge, like Mendel­ssohn," comments the choirmaster. A teacher at heart, Bourque also set up a choral conducting mentorship program for young conductors three years ago. The St. Lawrence Choir is also innovating by creating its own orchestra. The April 1 concert will therefore be the first time we will have the opportunity to hear the St. Lawrence Choir Orchestra, made up of professional musicians from Montreal. The first violin will be none other than Antoine Bareil, who plays with, among others, within the renowned Quatuor Molinari.
The concert will open with Brahms' Schicksalslied, a romantic work that evokes fate, particularly in its use of timpani. "The text is based on Greek mythology, which compares the idea that the gods are freed from all evil, rid of all burdens and in ineffable joy as we poor mortals must suffer as we make our way on earth. It made me think of COVID when the artistic world is suffering and must continue on a very difficult path. It also made me think of the St. Lawrence Choir's 50-year history with its ups and downs. You always have to start over and renew yourself. I like the idea that there are good days in the future."
"To celebrate our 50th anniversary, we wanted to call on artists who have a well-established career. Soprano Marianne Fiset leads an international career and she is a pride of Quebec. Soprano Ellen Wieser is very well known on the Montreal scene and we had worked with her before. Tenor Benjamin Butterfield has already sung with the St. Lawrence Choir, under Iwan Edwards, who gave him his first experiences as a soloist. I thought it made a good connection with our concert," underlines Mr. Bourque.
Chorister Perspectives
Being part of a choir means sharing your passion for music, meeting new people and living memorable and diverse experiences. To mark the 50th anniversary of the founding of the Chœur Saint-Laurent, some of its members share their experience.
A member of the choir since 1974, soprano Barb Moffat was invited to sing there at the end of her studies at Lachine High School where she sang under the direction of Iwan Edwards. It was in 1977, within the choir, that she met Brad Moffat who would become her husband two years later. "We've been singing together in the choir all this time," she says, "and we manage our schedule around the choir's activities. We have long-time friends who are part of the choir and some of them also met while singing in the choir."
Several of the interviewees highlighted the importance of choral singing in their lives and their deep commitment to the choir, comparing choral activity to being part of a sports team, but without the competitive aspect. Such is the case of soprano Carol Tremaine, who has been part of the choir since September 1984, only a few weeks after immigrating to Canada. "My love of choral singing is certainly largely due to sharing a unique experience with colleagues. Being in a group of friends who share a passion and working together with a common goal is something very special," comments Tremaine. Soprano Natalia Grijalva, member since 2013, adds: "There is a certain purity in choral singing, an unparalleled cosmic experience. It is a universal language that transcends the very expression of speech. Each voice is unique, but it is the synergy of the whole that comes to seek us, the singers as well as the audience, in the depths of our being."
Singing in a major choir like the St. Lawrence Choir also means being part of major events. The older members remember the long association with the Montreal Symphony which allowed the choir to sing several times at Carnegie Hall and Lincoln Center and to participate in recordings. "Being a member of the St. Lawrence Choir means being part of the history of choral music in Quebec and sharing the stage with outstanding musicians," according to Grijalva. For tenor Simeon Goldstein, member since 2014, a particularly significant moment was performing Mozart's Requiem with the Ottawa Choral Society in 2018. Moffat recalls the first time the choir presented a complete oratorio. It was Haydn's Creation, sung in English, at the Saints-Anges-de-Lachine church in 1976. Many also mentioned the intensive weekends, notably at CAMMAC, which allowed the choristers to perfect their skills and to come together as a group.
Tenor Christopher Gaudreault, a young choral and orchestra conductor who benefited from the mentorship of Philippe Bourque between 2014 and 2018, remembers a very important moment in his young career: the first time he conducted a symphony orchestra. "On May 7, 2017, during the rehearsal of Elijah de Mendelssohn, Philippe wanted to hear the acoustics of the Saint-Jean-Baptiste church, so he invited me to lead a movement. It was then that I decided to continue my training in orchestral conducting."
All the singers we spoke to agree that Bourque is an excellent teacher. "Philippe is generous, patient and very clear. He doesn't count his time and even sacrificed his breaks during rehearsals to teach me and show me new notions," underlines Gaudreault. Grijalva describes Bourque as "the reason why the St. Lawrence Choir stands out today."
Choristers have compared Bourque and Edwards, highlighting their humor, work ethic and passion for music. "Although their styles and teaching methods differ, the two have a common vision: choral singing is above all about sharing stories, emotions and art with the public", underlines Moffat.
If the pandemic has affected, and still affects it, the St. Lawrence Choir has nevertheless managed to maintain significant vitality. The board of directors and Bourque have decided to continue the activities of the choir virtually. In addition to learning and rehearsing new works, choristers had access to vocal technique, music theory, lectures on music history to learn about composers and great musical works as well as speakers. All of these activities have been put in place to ensure that the choristers are mobilized and ready to return in person as soon as possible. The St. Lawrence Choir successfully presented Bach's Four Missa brevis with Les Boréades last November. "Singing at a distance was quite a challenge," confides Moffat. "It is more difficult to create a sound cohesion."
While the choir is once again forced to continue its activities virtually, the choristers are excited at the idea of ​​celebrating the 50th anniversary at Maison symphonique on April 1. "Not every ensemble makes it to 50. It's exciting to be part of such an occasion. Of course, with very beautiful music," concludes Goldstein.
The 50th anniversary concert of the St. Lawrence Choir, April 1, 2022, at the ­Maison symphonique. www.choeur.qc.ca
This page is also available in / Cette page est également disponible en:

Francais (French)