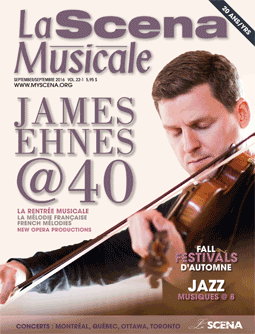 This page is also available in / Cette page est également disponible en:

Francais (French)
With its eight pieces, the octet is an intermediate size group: larger than a jazz combo but falling short of a big band. For the composer, however, it gives him the chance to write more intricate arrangements in which each instrument can still be heard. Two such groups will be performing in town in the upcoming weeks, to whit in the city's Maisons de la culture circuit. Pianist Felix Stüssi will premiere late this month an expanded version of his trio Les Malcommodes at the Chapelle historique du Bon-Pasteur. Throughout October, bassist Olivier Hébert will present his Lofi Octet on four occasions, with more shows to come early next year.
Felix and his Cats
Featured in this section in 2014, Felix Stüssi has been a fixture on our scene for close to two decades.
A native of the Glarus region in Switzerland, up in the mountains south of Zurich, he first landed on our shores thirty years ago. After a few back and forth trips, he chose to settle in Montreal in 1997. Eight years later, he issued a first self-produced album of a quintet that would go on to win the annual competition staged by the city's big jazz festival. A second album ensued, this one bolstered by star trombonist Ray Anderson, leading to a nationwide tour and a live recording. Not long after, the sextet headed over to Europe for several dates in Switzerland, with a fourth album appearing in 2014.
Previous to that, Stüssi put together a trio with two local stalwarts, bassist Daniel Lessard and drummer Pierre Tanguay. The band's name, Les Malcommodes, which roughly translates as "the cantankerous ones," is by no means an annoyance; in fact it's quite playful, at time humorous due to the leader's Monkish leanings. It is this unit that lies at the basis of this new project of this, one he has put together for a special reason.
"In October of last year," he states, "I turned 50, so I just wanted to splurge, and this is what I came up with. My idea was to get a cast of players together who I like very much individually, most of whom have never played with before, likewise for them. I've written a bunch of new pieces, two of them with lyrics of my own. The most important, though, is that the players dig it, otherwise I can't see how the audience could have a good time listening to us."
Looking at the lineup, it is indeed eclectic: for starters, the the twin saxophonists, Jean Derome and André Leroux are both established names locally, yet their musical pursuits are vastly different. Trumpeter Jacques Kuba Séguin and vocalist Sonia Johnson (singing both the pianist's and her own lyrics) are of a younger age group and have not worked together before. Last but not last, Mr. Anderson is back, chipping in with one tune and a bit vocal work as well.
Also of note, the band will play an evening show and a matinee the next day, all of which will be recorded for an album release next year. To fulfill his ambitions, the pianist launched a crowd funding initiative earlier this year, which closes in the days preceding the shows. To find out more, click here.
» www.haricot.ca/project/malcommodes
» In concert Chapelle historique du Bon-Pasteur, Sept. 24 (8PM) and Sun. 25 (11AM).
You Must Believe in Strings
While identical in numbers, the Lofi Octet of double bassist Olivier Hébert is a totally different animal than Stüssi's. It is a blend of two quartets, one very classical with two violins, viola, and cello, the other more typically jazzy with piano, bass, drums, and a horn, the latter a trumpet. Yet, this ensemble is not the result of two existing groups merging into one, but a single unit specifically created for this purpose by its leader. Given its instrumentation, the music is heavily skewed towards the classical idiom, its repertoire comprised in many cases of through composed pieces by the bassist, but others allowing the jazz half of the band to improvise a few chorus.
A graduate of the University of Montreal, Hébert straddled both music worlds during his studies and the forming of this group was his way of bringing both of them together. In 2013, he issued an eponymously titled debut album on the Odd Sound label. All but one tune are penned by the bassist, many of which feature him and the strings alone, with no improvising. Of the jazz players, David Carbonneau is particularly impressive in his solos, pianist Jérôme Beaulieu not too far behind. The only cover, however, is something of a surprise: the strings close off the disc with John Coltrane's harmonic labyrinth "Giant Steps," giving it the aura of a salon music piece, not unlike something the Kronos Quartet would have done during their passing fling with jazz.
Early last summer, the bassist got his band together again after a hiatus, playing two concerts. These shows were preludes to what will be a busy season for him and his charges. Selected by the city's arts council to tour its cultural centres, the Lofi Octet has four October dates for this year, and then resumes its activities in February and the months thereafter. Currently the leader is building a whole new repertoire for the purpose of a follow up album to be recorded and released in 2017.
There is one change of personnel worth noting here, and that is the hiring of violinist Josianne Laberge, whose experience in jazz settings adds another potential improviser to the mix. A group worth checking out at a Maison de la culture near you.
» In concert at the following Maisons de la culture (8PM, unless otherwise indicated).
6-10: Pointe-aux-Trembles
15-10: Maisonneuve
20-10: Marie-Uguay
27-10: Église Jean-XXIII (7:30PM)
This page is also available in / Cette page est également disponible en:

Francais (French)