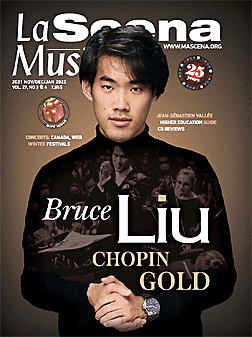 This page is also available in / Cette page est également disponible en:

Francais (French)
A little over a year ago, in October 2020, Montreal's Off Jazz Festival barely made it as an event, reduced to a two-day, four-show edition, made possible via live online broadcasts, with no audiences in attendance. For its 22nd annual event, held a little over a month ago, it sailed through one of its biggest editions ever, 18 events, including three double bills, all well attended, in spite of seating capacity restrictions.The following are a sampling of the goods on its bill.
Oct. 2 -8 : Happy Hour @ Resonance
Of the more congenial music dens in town, the Café Résonance on Parc Avenue hosted once again a series of shows of newcomer groups in its customary Happy Hour time slot. An excellent opportunity for this writer to do some scouting around for some new and forward-looking musical talents in town, of which there more than a handful.
The opening band, on Oct. 2, was a foursome bearing the quasi Germanic moniker of Le Jager, which should be actually be spelled Jäger, meaning "hunter". Its leader, guitarist Jean-Michel Leblanc, had that somewhat distorted sound espoused by all rock plectrists, one of them being the late Sonny Sharrock, albeit not completely over the top. Kudos go to saxophonist Damien Jade Cyr for his loose canon on the deck playing, skittering through all ranges of his axe almost recklessly, yet never over-indulging.
On the following day, the stylings were definitely mellower with the quintet of saxophonist Gabriel Genest. Save for a guitar, the lineup was typical, with a trumpet-tenor frontline backed by three rhythm. The music was more on the pensive side, a kind of controlled freedom tailored to the leader's compositions bearing a 1960s Shorter imprint. The performance marked the launching of this musician's self-produced debut Triptyque, which includes a string quartet on three tracks. Also worth mentioning, Genest was awarded the festival's François-Marcaurelle Prize, created to promote the development of local talent, the award coming with a stipend for the recording of a new album.
Next in the series was saxophonist Claire Devlin. Profiled in the jazz section last Winter (more on her here), this promising talent is something of a musical poet, her pieces akin to tone poems; delicate for the most part, they evolve continuously rather than sticking to the usual jazz format of theme-solo-theme, ending in completely different places from where they started. Devlin's music is not one that grabs you by the collar, even if it does from time to time get a little feisty, but nevertheless captivating in its way of nudging you into her space.
Two nights later, Devlin was back again for the finale of the series, as part of bassist Summer Kodama's quintet, the Sun Warriors. Months after her McGill graduation and a return to her home town stateside, this bassist (both acoustic and electric) came back to her old stomping ground where she plans to settle, at least for now. The lineup of two saxes, piano/accordion, drums and bass looked promising on paper, yet the music heard over two sets came across as very tentative, the players almost struggling to make something out of what sounded like musical sketches at best, most of which never coalesced. Only the final number of the show had some focus to it due to its a more sharply contoured opening statement, but it seemed just too little, too late. There will be other occasions for sure, at least we hope, yet these warriors and their leader should devise some more engaging field maneuvers in the meantime.
Oct. 2, Cinquième salle (Place des Arts): Double bill served on a Platter
As mentioned at the onset, the festival presented three double bills (called "Plateau double" in French), the first of which was staged at one of the halls housed in the city's main arts complex, the cinquième salle. A rather subdued affair it was, both in its opening act reuniting tenor saxophonist Frank Lozano with pianist Gentiane Michaud-Gagnon, likewise in the second half (more on that below). The duo's performance was something of a friendly exchange between the veteran reedman, playing exclusively his main axe, and the upstart pianist, their topics of conversation drawn from the material found on their debut recording of last year The delivery was unhurried, with neither of them willing to up the ante at any point.
After intermission, a quartet took over the stage, one built around the Doxas brothers (Chet, tenor, Jim, drums), with bassist Adrian Vedady and New-York pianist Marc Copland supporting them. Like the duo, this foursome issued a recording of its own in 2020, (The Circle, Justin Time Records), its repertoire drawn from that side and finally performed that evening before a live audience. Once again, the music was introspective in tone, even in the quicker numbers, their set ending on an almost mournful note with the wistful Goodman classic Goodbye. This quieter dynamic was due in no small part to the drummer who definitely favoured the brushes over the sticks, a suitable decision for the pianist, whose own preference is to stroke the ivories gently rather than pounding them. Beyond the musicians' predilection to play it on the safe side, there is the fact that the hall dampened the music a lot, it being a rather dry sounding room. Even a big band like Montreal's ONJ, known to blast with the best of them, came across rather lackluster in their performances there a few months prior.
O

ct 3, Salle du Gesù: Quiet Now
If the room of the evening previous played a role in the overall sound, there was an equally quiet vibe to the Sunday performance at the Gesù Theatre, but the music itself was fully responsible for that. In his second festival appearance, Marc Copland was back on stage, teamed up with the reedist Philippe Côté (tenor, soprano sax) as well as four string players, a.k.a. the Quatuor Saguenay. This matchup automatically conjures memories of that much maligned Third Stream aesthetic of half-a-century ago, a well-meaning yet poorly realized attempt of blending jazz and classical music. The seed planted back then still valiantly tries to flourish in our times, more often missing the mark than not. Even if Côté might not agree at being pidgeon-holed there, both this and previous undertakings of his do point to this convergence of genres that are not natural bedfellows. A shotgun wedding perhaps? At the heart of the concert was an extended composition of the saxophonist, recorded in 2018 but issued shortly after the event on an album simply entitled Variations. The string players, for their part, provided sotto voce accompaniments, each one glued to his or her part, while the jazzers followed theirs, with spaces left for them to go out on a limb a bit. Listeners were confronted anew with these parallel worlds running on separate tracks, the string players incapable of breaking out of their mould, the composer obviously knowing that and not ready to challenge them in his writing. Although we can give this cast an a for effort. the end result was a pass mark at best, the somewhat underwhelming audience response making the point.
D'autres critiques en français sur la page liée à celle-ci.
This page is also available in / Cette page est également disponible en:

Francais (French)