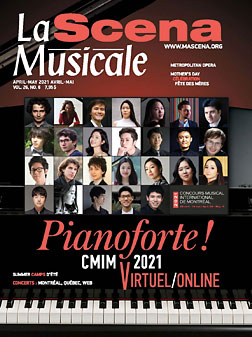 This page is also available in / Cette page est également disponible en:

Francais (French)
When the first lockdown hit Montreal a year ago, working opportunities ground to a halt for performing artists. Then there was a glimmer of hope in the summer but from October on, it was back to square one, or just about. To pick up some of the slack, some found work by staging shows online or, as an alternative, turning to teaching on the Web.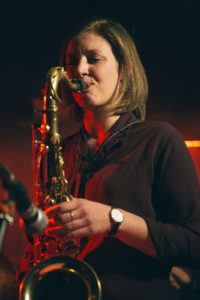 Claire Devlin is one such musician who now tutors her base of students virtually, some on tenor and alto saxophones (her main axes), a couple on piano, the instrument she began with as a child. This native of the nation's capital was exposed to music through her father, a semi-professional trombonist. Her sister was also into music, as a classically trained trumpeter. Thel music program at Nepean High School enabled Claire to gain her first direct exposure to jazz as a member of its big band. Her interest in the saxophone took root there thanks to her teacher Mike Tremblay, and listening to its great exponents like Dexter Gordon and Hank Mobley. Now hooked, she became an habitué of the Ottawa Jazz Festival, of which she has many a fond memory, the duo concert of tenorman Joshua Redman and Brad Mehldau coming first to mind. Seeing those two in action made her realize that music would be her calling.
In 2012, the budding saxophonist arrived in Montreal to enroll at McGill University. In 2018, two years after finishing her bachelor's degree, she entered the master's program, which she completed last spring, albeit not in keeping with its usual requirements. "To earn your diploma, you have to perform a program of original music, written and arranged for a larger size ensemble," explains Devlin. "The music was all there, ready to be played, but the lockdown nixed it, a letdown to say the least. But given the circumstances, they allowed me to graduate anyway. Someday I'll go back to it, maybe for my next record."
Devlin has found her way into the scene over time, essentially showing her mettle as a dependable side-person in a variety of settings. Yet, she waited until last summer to finally present her own music, leading a band of fellow McGill grads on guitar, bass and drums. "I wanted to bring it out last year," Devlin says, "and did a run of 150 [CDs], just enough for a Western Canadian launch tour I had booked, but which also went by the wayside."
Aside from those aforementioned influences, Coltrane notwithstanding, Devlin is much impressed these days by Tony Malaby and Ingrid Laubrock, having gone to New York to take a few lessons with the latter. Among her teachers, Claire is much indebted to Chet Doxas for furthering her knowledge of the instrument, John Hollenbeck for his broader musical concepts and Christine Jensen as a role model. As spotty as shows still are, Devlin will take part on May 29 in Equal Orchestra, a concert given under the auspices of the Orchestre national de jazz Montréal. The band that night will be composed almost half and half of women and men with a program of originals composed and arranged by the former.
Claire Devlin Anyone (Floraphone Records – Artist produced)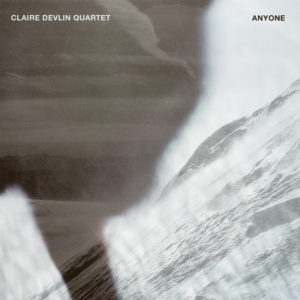 For her debut as leader, Claire Devlin has chosen four equally youthful McGill graduates like her, guitarist Roman Munoz, drummer John Buck and two bassists alternating, Mathieu McConnel-Enright and Summer Kodama. A first album is a momentous event for any newcomer, an opportunity to be seized upon to put one's best foot forward. More often than not, musical upstarts are eager to show their mastery of the art form by showing how well they can play it by the book. Yet, there are a few freer spirits out there ready to stick their necks out a bit more right from the start. In this recording, Claire Devlin seems quite willing to do that and not fall flat on her face. Over the course of the fifty some minutes playing time and the eight originals of hers, this promising newcomer shows much imagination in the way she writes her music. For one, she uses a wider array of devices than the well worn one of unisson theme playing. Beyond that, the tune structures and lengths do not neatly fit into the typecast jazz drawers of 12 and 32 bars, nor do they follow the perfectly circular form with a theme recap at the end; instead, endings are abbreviated, leaving the listener hanging on occasion. Devlin's tone is nicely burnished, her playing at times reflective and slightly mysterious, elsewhere letting it rip with a few shrieks. There all sorts of surprises strewn throughout the album, not astonishing ones as such but still good enough to seize the listener's attention, the most striking one being the unexpected appearance on the fifth track (Dial Up) of a voice (that of Sarah Rossy), singing wordlessly and in a non-conventional way as well. Without pointing to any single underlying influence, Devlin's music is somewhat elusive, not easily pigeonholed in terms of style, intriguing to listen to but quite engaging, too. How about your yet-to-be-played music for tentet as a follow up?                             Album available online on all streaming platforms, Spotify, I-Tunes, Google Music, etc.
This page is also available in / Cette page est également disponible en:

Francais (French)