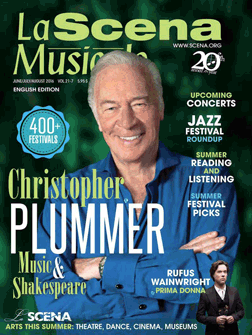 This page is also available in / Cette page est également disponible en:

Francais (French)
Canada certainly has its act together when it comes to jazz festivals. With some 20 member organizations, the Jazz Festivals Canada network enables events to share both costs and musicians on tour in the early weeks of summer. Starting this month, both native players and guests from down south and beyond will criss-cross the land, from Victoria to Halifax. With a wide selection of styles, ranging from pop to experimental jazz, fans of all stripes have more to choose from. Here are just a few acts to watch out for.
Sure Bets
Joe Lovano Classic Quartet
Arguably the quintessential American modern jazz musician of our time, tenor saxophonist Joe Lovano is a torch bearer whose music never sounds passé. Together with his current working band, he'll be headlining four events in Western Canada after first reuniting for a night with his old guitar buddy John Scofield. Lovano is a major stylist who enjoys great popularity without making any concessions.
» Ottawa 6-25 (with Scofield), Victoria 6-26, Vancouver 6-28, Edmonton 6-30, and Saskatoon 7-2.
Lincoln Center Jazz Orchestra (LCJO)
The LCJO is a living institution of traditional jazz, as is its star leader, trumpeter Wynton Marsalis. The New York elite team heads north for a brief three-city run in Eastern Canada, poised to play a well-oiled repertoire of classic big band charts, with maybe a couple of new ones thrown in for good measure. A model of its kind.
» Toronto 6-28, Ottawa 6-29, and Montreal 6-30.
Jackie Terrasson Trio
Hailing from France, pianist Jackie Terrasson is one of the rare Europeans to have made it on the American scene, his success due to his early exposure on American major labels. This summer he heads west for three festival gigs. A must-see for all aficionados of crafty keyboard playing.
» Saskatoon 6-24, Vancouver 6-27, and Victoria 6-28.
Chick Corea Trio
Hard to believe, but true, pianist Chick Corea turns 75 this coming June 12. To celebrate in style, he is slated for three shows in Eastern Canada, all backed by the sure-fire bassist Christian McBride and boss drummer Brian Blade. What more can be said about this veteran of jazz trenches who has played with everyone from Miles Davis to Al Di Meola?
» Toronto 6-28, Ottawa 6-29 and Montreal 6-30.
Canadian Content
Oliver Jones
At 81, Montreal pianist Oliver Jones packs it in for good this year. Before his final curtain call, he takes his trio across the country. In his hometown, he'll be backed by the ONJ (Orchestre national de jazz) for a one-time swinging affair.
» Winnipeg 6-20, Victoria 6-24, Vancouver 6-25, Toronto 6-28, Montreal 7-7, and Halifax 7-14.
Amanda Tosoff
A former winner of the Montreal jazz festival competition, this West Coast native pianist is on the road again after a few years away from the spotlight. This time around she presents her new project, Words, for which she has written both the original music and the lyrics.
» Winnipeg 6-23, Ottawa 6-28, Vancouver 6-30, and Victoria 7-2.
Rachel Therrien Quintet
Upstart trumpeter Rachel Therrien makes her debut tour across the country this summer, buoyed by her win at last year's jazz competition in Montreal. A promising new name on the city's scene, Therrien and her equally talented young charges perform a repertoire of her lively originals, spiced with a few Latin touches.
» Calgary 6-17, Medicine Hat 6-20, Victoria 6-26, Vancouver 7-1, Montreal 7-7, and Halifax 7-14.
Jacques Kuba Séguin Litania Projekt
Last winter, this Montreal trumpeter launched the second chapter of his Litania Projekt, a musical journey influenced in part by his Polish ancestry. In it, he performs with his own jazz quartet and the city's Bozzini String Quartet, a force to reckon with in contemporary music circles. The latter will be on hand for the Montreal show only.
» Vancouver 6-26, Victoria 6-28, Edmonton, 6-30, and Montreal 7-8.
Discoveries and Darings
The Thing
This Nordic threesome, spearheaded by the feisty Swedish saxophonist Mats Gustafsson, is anything but cool. This is one band with attitude that spares no punches and lets nothing get in its way. At Montreal's Suoni per il popolo festival, they up the ante with guitarist James Blood Ulmer for what will surely be an explosive evening of music making.
» Montréal 6-19, Vancouver 6-24, and Ottawa 6-28.
Flat Earth Society – Tribute to Zappa
A 12-piece outfit better known in Europe than on our side of the Big Pond, the Flat Earth Society makes its way from the Flemish part of Belgium to three Canadian festivals, this time with their own take on the music of the iconic American original Frank Zappa. Fans of the late musician will surely not want to miss this one.
» Montréal (Suoni per il popolo) 6-22, Vancouver 6-25, and Saskatoon 6-27.
Alexander Hawkins Trio
British piano wizard Alexander Hawkins is currently one of the most highly touted newcomers on the improvised music scene. He may well possess some of the energetic brilliance of Cecil Taylor, but he's also a force to reckon with on his own terms. Apart from two West-Coast appearances, he makes one Eastern stop in Ottawa.
» Ottawa 6-24, Vancouver 6-28, and Victoria 6-29.
Endangered Blood
This pianoless band, comprised of twin reedmen Oscar Noriega and Chris Speed, bassist Trevor Dunn and drummer Jim Black, was first formed in 2009 to pay tribute to one of their own, Andrew D'Angelo, sidelined by health issues. If post-free jazz is your thing, this quartet fits the bill.
» Ottawa 6-26, Montreal (Café Résonance) 6-27, Toronto 6-28, and Vancouver 7-2.
For more information on festivals, times and places of shows: www.jazzfestivalscanada.com
This page is also available in / Cette page est également disponible en:

Francais (French)