This page is also available in / Cette page est également disponible en:

Francais (French)
If trade fairs enable businesses to find new markets, then performer showcases serve a similar purpose in the arts world, the main difference being the presentation of people and their works rather than goods and services. The performing arts are particularly well suited for showcase events, geared for an audience of tradespeople (agents, show presenters and media outlets).
Showcases are windows of opportunity for artists in all fields, jazz included. The Northern German city of Bremen, for instance, is now recognized internationally for hosting jazzahead!, one of the if not the leading event in its field, First established in 2006, this music fair ran annually until 2019 when it, too, had to cancel in the wake of the first pandemic outbreak the year after.
Now set to return from April 28 to May 1, this four-day event will be chock full of acts from all corners of the world, with a special focus on Canada. Its presence at the fair was actually part of a publicly funded initiative to promote our country's culture in Germany that year, which also extended to the Frankfurt Book Fair — it too shelved, at least until October last. From its beginnings jazzahead! has incorporated a guest country feature in each of its editions, with our country now being spotlighted for the second time. But fate has not been particularly kind to us, not only because of this postponed edition, but also the dreaded volcanic eruption in 2011 (remember Eyjafjallajökull?) that grounded all transatlantic flights, with just a handful of Canadians making it over in the nick of time.
Opening Night
Hope springs eternal in this new season when Canada finally steps into the Bremen spotlight on April 28, with a slate of 15+ acts presented over the three first days. On the first evening, a.k.a. Canadian Jazz Night, no less than eight groups will share the bill, half from Quebec, a pair from ROC and another two headlined by Stateside Canadian expats.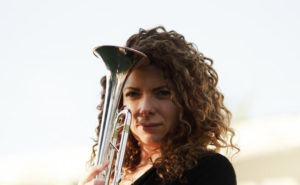 Of the latter, trumpeter Steph Richards (now based in California) and drummer Larnell Lewis (a New York transplant who drives the currently popular outfit Snarky Puppy) perform in vastly different styles, the first decidedly more experimental, the second very much out of the fusion bag. Hailing from the West are the much talked about Edmonton-based trombonist Audrey Ochoa and her band as well as the Vancouver guitarist-pianist Itmar Erez leading a quartet including the formidable clarinetist François Houle.
Speaking of quartets, Montreal's François Bourassa brings his stellar unit back for his third appearance, once again with his Stella group. Pianist Marianne Trudel also makes a return visit, this time in a duo format with one Montreal's great new additions, drummer and educator John Hollenbeck. Rounding off the Quebec contingent is Silvervest, a voice-double bass tandem of Kim Zombik and Nicolas Caloia, and, lastly, altoist François Carrier with his buddy drummer Michel Lambertm joined by England's ubiquitous free-improv bassist John Edwards.
Also in Store
Billed as a gala concert, the second event on April 29 is headlined by two vocalists, Malika Tirolien and Leila Biali, the former better known in the Quebec market, the latter in English Canada. More Canadian content is also in the offing on the following evening, when jazzahead! opens its doors to the public at large for its Jazz Night, staged on International Jazz day. No less than two dozen venues around town will open their doors to groups from countries both near and far, Canada included. Can Con will be front and centre at the Metropol Theatre, with guitarist Gordon Grdina's Iranian-influenced septet Haram and the Creole gumbo of Haitian singer Vox Sambou topping the program. Billed elsewhere that evening are the DJ-stylings of Kookum, singer Barbara Lica, the mid-size combo the Brooks and trumpeter Lina Allemano (another Berlin emigré) with her Toronto quartet.
The Artist Perspective: Two Views
Listings names is one thing, but what about the artists' take on the Bremen showcase? Here are some thoughts offered by two of the participants for the upcoming 15th edition. First, pianist François Bourassa from the vantage point of a return visitor, followed by Steph Richards as a first-timer.
François Bourassa
Having been there twice before, I know what to expect. For one, time is really tight, so you really have to choose pieces to impress the audience. But there is so much music going on and so many people milling about that it is hard to sit down and listen, like at a festival. In my case, I will be in and out that day with my quartet, because the date is sandwiched between gigs in Budapest and Paris. However, I am taking this opportunity to break in a new repertoire, one I want to record this coming June for the next album of my band. So it's worth going to, and I also consider myself lucky because I have an agent who takes care of all the business aspects, the tour and meeting tradespeople. That way I can devote all my energies to just playing the music in the most convicing way.
Steph Richards
I am very much looking forward to connecting with a community again, after years of isolation. I'm proud to represent Canada and will have a killer band lined up for the show. My expectations are quite open: I've never attended anything like this before and am mostly looking forward to playing my stuff, hearing what others are doing, and just hooking up with a greater community that makes it possible for all this music to happen in the first place. I'm also looking forward to learning from curators and presenters – I'm passionate about progressive ways that experimental and creative music can be presented and believe that if the music is honest and evolutionary, it will be relevant and accessible to audiences, no matter how far out it is, or is perceived to be.
See here jazz book reviews.
This page is also available in / Cette page est également disponible en:

Francais (French)