This page is also available in / Cette page est également disponible en:

Francais (French)
Steve Lacy (Unfinished)
Guillaume Tarche, editor
Lenka Lente Paris  2021, 556  p.
Few musicians rival the late soprano saxophonist Steve Lacy (1934-2004) in terms of recorded output. Aside from the more than a couple of hundred records, his life story has been documented in book form (Steve Lacy, Conversations) and his music in a self-written treatise (Soundings). The copious 500-page tome herewith, published last year,  is a celebratory work about the artist's life and times as seen through the lenses of friends and associates, scholars and students, journalists and critics, not to forget his partner in life, singer Irene Aebi. From words of praise and anecdotes, to musicological analyses, lengthy, if not exhaustive discographical listings, all is there — or just about. This work is squarely intended for those really in the know, not only of the artist, but of languages, too, as there are contributions in English, French and a smattering in Italian (so keep your dictionaries close by). Also welcome are some more critical assessments, like one that calls into question Lacy's dismissive attitudes towards the Argentinian new music scene during his lengthy stay in its capital city Buenos Aires in 1966, or musician Josh Sinton's questioning the saxman's decision to withdraw one of his more daring pieces (New Duck) from his repertoire. Jazz fans will discover some nuggets among the anecdotal tidbits, like his sitting in with Miles Davis' band for a tune (a fast blues)… at the latter's behest! If this man and his music is your thing, this will be a page turner, if not, it will take some time and effort, not unlike Lacy's music, for the uninitiated that is.
Phil Freeman
Ugly Beauty (Jazz in the 21st Century), Zero Books, 2022
250  p.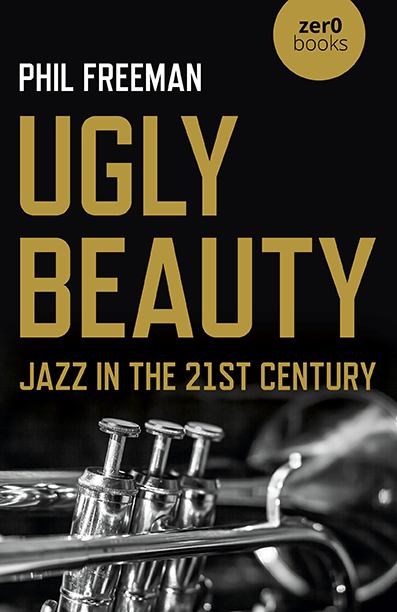 The focus of this book penned by New York jazz pundit Phil Freeman could not have been better spelled out when he states on page 235: "Musicians under 40 have grown up in an entirely different world than their elders. The most notable shift […] is the omnipresence of hip-hop." This work, however, does not primarily concern itself with this most current of popular music forms, but instead informs us to various degrees to the music of his subjects, 42 in total, 15 of them women, most of African-American descent. Front and and centre is the New York contingent, with such notables as Ethan Iverson and Vijay Iyer, guitarist Mary Halverson and current trumpet stars Ambrose Akinmusire and Christian Scott. But there are a few outliers, too, like California's much talked about tenor phenom Kamasi Washington and a handful of rising talents from the U.K. of which Shabaka Hutchings and Nubya Garcia are the most talked about.  In essence this book is a gallery of musician profiles, with selected quotes from the subjects inserted into the narrative. Devoid of scores, theoretical discussions and even pictures, the work is less of a critical appreciation, but rather a series of literary impressions penned by an advocate. So much so that it is hard to find any reservations or doubts towards anyone in his assessments. The writing flows nicely, the chapters are concise, none over 10 pages, all ending with a cursory discography. Probably the first of its kind in this new century, this work allows the reader to get a sense of the lay of the land in today's hippest jazz forms, all writings on these people and their music covered solely in magazine features.
Mark Miller
Oneliness — The Life and Music of Brian Barley
Self-published, Toronto, 2022, 115 p.

Canada's jazz historian par excellence has done it again. After his previous two books on the retired legend Sonny Greenwich and the vanished one Claude Ranger, Mark Miller focuses this time on the late tenor saxophonist and clarinetist Brian Barley, also written about in Fourteen Lives, his first collection of Canadian jazz musician portraits published in 1983. The stuff of legends, this promising tenor player was seemingly felled by an epileptic seizure in June 1971 at age 28, a condition he had developed after being involved in a car accident five years earlier. A classically trained clarinetist, Barley chose the saxophone as his main axe over the course of his scant five-year career. True to form, Miller gives his insights on each of the musician's recordings, including unissued material, and tries to pin down his influences, Sonny Rollins seemingly far more prominent that the prevailing one of the era, John Coltrane. Given Barley´s short life, the book is slim, a little over 100 pages with a few pictures, a couple hitherto unknown. Anyone familiar with Miller's prose knows how reader-friendly his works are, and concise as it is, you will need no more than an evening to get through it. But for anyone with an interest in jazz history north of the border, this work is well worth the read, the author managing to dig up some added facts and obtain new first hand accounts from people unknown to him in his first piece.
See here the main article of the jazz section.
This page is also available in / Cette page est également disponible en:

Francais (French)