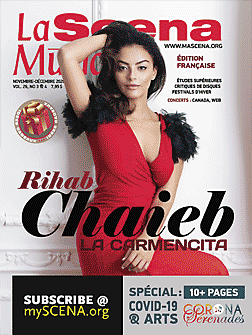 This page is also available in / Cette page est également disponible en:

Francais (French)
The National Youth Orchestra of Canada (NYO Canada) enjoys an iconic reputation as Canada's orchestral finishing school, providing in-depth training for the country's top young classical musicians. Each summer, NYO Canada discovers and inspires young orchestral musicians, supports emerging composers and artists and builds an appreciation for classical music. One-third of Canada's professional orchestral musicians are alumni of NYO Canada.
For its 61st season, NYO Canada is poised to launch a comprehensive online training institute with expanded programs, internationalized masterclasses and scholarships for all.
"With uncertainty around the virus set to continue well into 2021, we have been hard at work reimagining the future," comments Barbara Smith, President and CEO of the National Youth Orchestra Canada, "Rather than taking a step back, we are innovating and growing forward."
Scholarships, Awards and Equipment
As well as free tuition, each musician receives a $1,000 scholarship and has the chance to compete for 10 new Awards of Excellence of $5,000 each. These awards are in addition to the annual Michael Measures Prizes ($25,000 and $15,000 for first and second prizes, respectively).
Special microphones for use during the session will be provided free to all musicians who need them. Faculty also receive training to create an optimal online teaching environment.
Internationalized Masterclasses
With online instruction opening unlimited geographical possibilities, NYO Canada has assembled an unprecedented international faculty for 2021. NYO Canada musicians not only enjoy the guidance of a core faculty from Canada, but also gain insights from international guests hailing from renowned schools and orchestras in the United States, Germany, Austria and Japan.
Expanded Mental Health Program
The onset of the pandemic has reinforced the need for ongoing mental health support. This year, the NYO Canada launches an expanded mental health program that emphasizes performance focus training and mindfulness support.
More Lessons, Workshops and Performances
Musicians will benefit from triple the number of individual lessons as compared to previous years. Newly added workshops explore audio capture, video production, online marketing, earning royalties, and how to use social media as an artistic medium. The work of the
training institute will flow into a series of online public performances, which will be accessible not only to Canadian audiences, but to an expanded global audience.
Applications for NYO Canada 2021 open from November 1 to January 1. www.NYOC.org/auditions
This page is also available in / Cette page est également disponible en:

Francais (French)