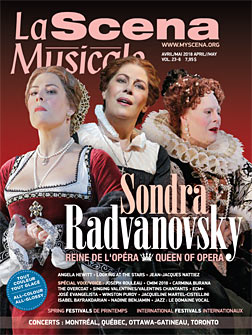 This page is also available in / Cette page est également disponible en:

Francais (French)
Radio-Canada destroys CD collection
The French service of the CBC is destroying part of its CD collection. The reason is an expection of moving in 2020 to a smaller space that cannot accommodate the entire collection. It is also an exercise in music conservation, since compact disc support is now outdated.
Part of the collection remains accessible. Discarded CDs will be recycled. No fewer than 151,000 CDs of more than 200,000 are implicated. In order to save as much as possible, the CBC and Radio-Canada will combine their digital archives.
Material already processed and digitized by the CBC but not Radio-Canada will be added to the 56,000 duplicates and made available to cultural organizations.
#metoo
James Levine Fired by Met: After an internal investigation, on March 12, the Metropolitan Opera fired conductor James Levine for credible evidence that he had engaged in "sexually abusive and harassing conduct." Subsequently, Levine vowed to sue the Met for wrongful dismissal.
Daniel Lipton Avoids Canada: former Hamilton Philharmonic conductor Daniel Lipton is at large after a warrant was issued for his arrest in Hamilton, Ontario for a sexual assault that his accuser claims occurred three decades ago.
Appointments
Yannick begins at Met Opera in September 2018.
Yannick Nézet-Séguin will start work early at the Metropolitan Opera in New York. Announced in 2016 and initially scheduled to begin in 2020-2021, Nézet-Séguin's appointment was accelerated, not least because his predecessor, James Levine, Met music director for 40 years, has been the subject of several allegations of sexual harassment.
Nézet-Séguin will also conduct the Orchestre Métropolitain de Montréal and the Philadelphia Orchestra.
COC General Director Alexander Neef appointed Artistic Director of Santa Fe Opera
Alexander Neef est nommé directeur artistique du Santa Fe Opera. Le directeur général de la Canadian Opera Company prendra ses nouvelles fonctions dès la rentrée, au mois d'octobre 2018. Dans le même temps, la présidente du Santa Fe Opera a annoncé l'arrivée de Robert K. Meya comme directeur général et du Britannique Harry Bicket comme directeur musical.
Winnipeg Symphony Appoints Daniel Raiskin Music Director
Daniel Raiskin has been appointed as the new music director of the Winnipeg Symphony Orchestra. He will take office in August. His first appearance is on Sept. 17 at the gala of the Asper Foundation. The Russian conductor has already conducted the WSO three times since 2015, most recently in October 2017.
Deaths
Alexander Sevastian, accordionist, Quartetto Gelato
The 41-year-old Toronto-based accordionist died suddenly on Feb. 16 while on tour in Mexico with Quartetto Gelato, with whom he had been a member since 2002. Sevastian was a renowned artist (accordion, piano, bandoneon) who won four International Accordion Competitions: the Oslofjord in Norway (1998), The Cup of the North in Russia (2000), the Anthony Galla-Rini Accordion Competition in the U.S.A. (2001) and The Coupe Mondiale in the U.S.A. (2007). Born in Minsk, Belarus, he attended the Glinka Musical College in Minsk and pursued advanced studies at the Gnessin Academy of Music in Moscow, where he received his Masters in Performance degree in 2002, studying with renowned performer and pedagogue, Friedrich Lips.
Jacqueline Desmarais
Philanthropist and patron Jacqueline Desmarais has passed away at age 89. She leaves behind a substantial contribution to the arts and particularly to the musical and the lyrical arts. Jacqueline Desmarais created a fund to support promising musicians and has provided financial support to numerous cultural institutions, including the Montreal Symphony Orchestra, the Maison symphonique and the Montreal Museum of Fine Arts. She held several honorary titles. Jacqueline Desmarais was made an Officer of the Order of Canada in 2013 and, in 2016 received the Opus Homage Award.
André Bourbeau
The president and co-founder of the Concours musical international de Montréal, André Bourbeau, passed away on March 25 at the age of 81. In addition to co-founding the CMIM with his friend and colleague Joseph Rouleau, André Bourbeau was president of the competition for more than 15 years and served as the non-voting president of the jury. Through his foundation, this former Quebec finance minister was the instigator of several projects, including the Vocal Art Fund, the renovation of the Maison des Jeunesses Musicales du Canada, which now bears his name, and of course the CMIM he has successfully placed on the world stage major international music competitions.
Maestro José Antonio Abreu
Maestro José Antonio Abreu, founder of the National System of Youth and Children's Choirs and Orchestras of Venezuela, died March 24 in Caracas, Venezuela at age 78 after facing chronic ailments that afflicted him during the last years. Abreu founded El Sistema in 1975, the program in which conductor Gustavo Dudamel developed, as well as other young musical stars, such as Christian Vásquez, Diego Matheus, Joshua Dos Santos and Edicson Ruiz. El Sistema was one of the few successes of the Hugo Chávez presidency in Venezuela. However, in recent years the relationship between El Sistema and the government of Nicolás Maduro have cooled, especially after Gustavo Dudamel spoke on social media against the regime.
Awards
George London Award Winners:
Canadian soprano Lauren Margison and mezzos Rihab Chaieb and Emily D'Angelo are one of six winners of the 47th Competition. Mezzo Raehann Bryce-Davis, baritone Benjamin Taylor, and Bass-Baritone Lawson Anderson each also won the $10,000 Award.
2018 Governor General Performing Arts Awards
Andrew Alexander, broadcasting; Geneviève Bujold, film; Peter A. Herrndorf; Angela Hewitt, classical music; Ginette Laurin, dance; Murray McLauchlan, popular music; Florence Junca Adenot, RJH Award; Tegan and Sara, NAC Award
2018 Juno Awards (Classical)
Classical Composition: My Name is Amanda Todd, Jocelyn Morlock (Analekta); Classical Album, Large Ensemble: Chopin: Works for Piano and Orchestra, Jan Lisiecki with NDR Elophilharmonie Ochester (Deutsche Grammophon); Classical Album, Solo or Chamber: Chopin Recital 3, Janina Fialkowska (ATMA Classique); Classical Album, Vocal or Choral: Crazy Girl Crazy, Barbara Hannigan with Ludwig Orchestra (Alpha Classics)
First Glyndebourne Opera Cup
Samantha Hankey, mezzo, USA (First & Media Prize), Jacquelyn Stucker, soprano, USA (Second), Elbenita Kajtazi, soprano, Kosovo (Third & Audience Prize). Canadian tenor Charles Sly made the finals.
Deadlines
April 1 Ministry of Canadian Heritage, Canada Arts Presentation Fund (Professional Arts Festivals and Performing Arts Series Presenters)
April 1 Ministry of Canadian Heritage, Canada Arts Presentation Fund (Presenter Support Organizations)
April 26 FACTOR (The Foundation Assisting Canadian Talent on Recordings), Support for Eligible Music Companies
April 30 Ministry of Canadian Heritage, Building Communities Through Arts and Heritage
May 31 FACTOR, Artist Development
May 31 FACTOR, Juried Sound Recording
June 1 FACTOR, Showcase Production for Export-Ready Artist
Translated by Viviane Reid
This page is also available in / Cette page est également disponible en:

Francais (French)