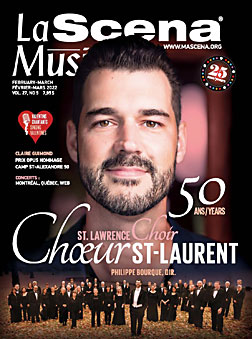 This page is also available in / Cette page est également disponible en:

Francais (French)
by Wah Keung Chan & Jacqueline Vanasse
Awards
Order of Canada
The Arts were well represented in the latest round of Order of Canada recipients: 
COMPANIONS: Yann Martel (literature); 
OFFICERS: Neil Devindra Bissoondath (literature), Liona Boyd (classical music), Tomson Highway (theatre), J. Roger Léveillé (literature), Helga Stephenson (film), Ian Tamblyn (folk music); 
HONORARY MEMBER: Jackie Richardson (jazz); 
MEMBERS: Francine Bois (literature), Janis Dunning, and Jacques Lemay (arts education), John Estacio (opera), Patricia M. Feheley (visual arts), Jane Heyman (theatre), Jean Houde (philanthropy), Olga Eliza Korper (visual arts), Marc Labrèche (theatre), Gilbert Lacasse (publishing), Yves Lambert (music), Andrew Paul MacDonald (music), Nona Macdonald Heaslip (philanthropy), Duff David Mostoway Roman (music), Janice O'Born (philanthropy), Barbara A. Paterson (visual arts), Robin Poitras (dance), David Roche (visual arts), Reginald Schwager (jazz).
Mezzo-soprano Rose Naggar-Tremblay won the 2021 Concours OSM worth $15,000+ held online in November. The second prize was awarded to mezzo-soprano Simone McIntosh, while soprano Sophie Naubert received the third prize. Rewatch the finals at www.concoursosm.ca
Vancouver native Benjamin Sigerson won the Toronto Mendelssohn Choir's 2021 Choral Composition Competition of $1000 with his composition Of Rest, set to a text by Vancouver poet j. h. Lee. The work will be premiered by the TMC at its Conductors' Symposium concert on June 28, 2022.
Canada Post is honouring groundbreaking jazz singer Eleanor Collins, age 102. The Eleanor Collins stamp features an illustration by David Belliveau based on photographs by Franz Lindner.
News
The Orchestre classique de Montréal (OCM) has launched the new Canimex Mentorship Program (with additional support from the RBC Foundation), available exclusively to 13 student instrumentalists and one young conductor at the Faculty of Music at Université de Montréal (UdeM). The program, supervised by Boris Brott, runs from May 13 to 28, 2022 and culminates in a concert on May 27 at Maison Symphonie. The conducting intern is doctoral student Evgenii Sakmarov.
The Quebec Opera Festival, the Opéra de Montréal and Les Violons du Roy announced the creation and the presentation of the world premiere of the Canadian opera Yourcenar – Une île de passions in summer 2022 in Montreal and Quebec City. The work in two acts, for six soloists, choir and orchestra, is composed by Éric Champagne, with a libretto by playwrights Hélène Dorion and the late Marie-Claire Blais, and staging by Angela Konrad, while Les Violons du Roy will provide the orchestra. 
Montreal's Vanier College Music Department will be launching the Vanier College Music School in fall 2022, aimed at offering evening and weekend music courses to the local community. The College has also introduced the Sheldon Sazant Memorial Fund to provide scholarships for private lessons. www.vaniercollege.qc.ca
A recent Orchestras Canada survey showed that 94% of Canadian orchestras have tried streaming concerts.
Appointments
Isolde Lagacé announced her retirement as founding general and artistic director of Bourgie Hall effective December 2022.
The Orchestre symphonique de Laval announced the appointment of Tatianna de Burbure as its general director and subsequently, a five-year extension of artistic director Alain Trudel's contract after 15 years at the helm.
The University of Montreal inaugurated the First Canadian Chair in Opera Research and Creation with the appointment of composer Ana Sokolovic.
Le Vivier appointed the tandem of Julie Legault and Jeffrey Stonehouse as its new artistic directors.
Edmonton Opera named innovative stage director Joel Ivany its new artistic director. 
Colin Clarke has been appointed artistic director of the Oscar Peterson Program – a new initiative that will provide comprehensive musical training and free tuition for young people in underserved communities – at the Oscar Peterson School of Music of the Royal Conservatory of Music.
The Toronto Symphony Orchestra has appointed Mark Williams its new CEO beginning in April. Williams has held positions at the San Francisco Symphony and IMG Artists New York, prior to his current role as Chief Artistic and Operations Officer at The Cleveland Orchestra where he oversees all aspects of artistic planning and programming, touring and orchestra operations.
The National Youth Orchestra of Canada (NYOC) named Sascha Goetzel as its music director through 2023. Born and raised in Vienna, Goetzel trained as a violinist and began conducting studies in Austria and with Jorma Panula at the Sibelius Academy. He worked with Seiji Ozawa, Riccardo Muti, Andre Previn, Zubin Mehta and Bernhard Haitink, and was a Fellow at the Tanglewood Music Festival. The NYOC also named Matonabee Paulette as 2022's visual artist.
Deadlines
Canada Council:
• John Hobday Awards in Arts Management: March 1
• Public Outreach – Project Grants: April 6
• Grow Grants – Expression of Interest: April 13.
The Conseil des Arts de Montréal: 
• General funding program: March 8
• Programme de soutien financier à l'occupation d'un atelier d'artistes: March 31.
Conseil des Arts et des Lettres du Québec: 
Mesure particulière à la diffusion de spectacles québécois for winter 2022: extended to March 7.
Erratum
In the English edition of our November / December 2021 issue, the article on the Fibonacci Trio was published with an incorrect translation: The word "upstart" should not have been used. We apologize for the error.
This page is also available in / Cette page est également disponible en:

Francais (French)